Consignment Chic
20 May 2014
Today's resale consignment stores offer top name brands and vintage clothing at deeply discounted pricing
By CECE NUNN » Photos by SUSAN FRANCY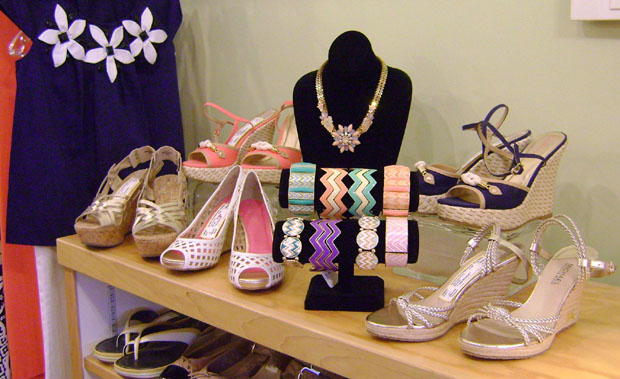 Shopper Charlene Pete recently got a pair of $400 Prada sunglasses for $40. In the same week, at a different store, Lily Pulitzer dresses originally priced at more than $200 were selling for $99 each.
But these bargains aren't unusual at Wilmington's consignment and resale clothing and accessory stores, especially those that cater to women who want high-end items at lower prices. Several of the stores sell designer label clothes and accessories, from Ann Taylor to Michael Kors, for a third of the price (or less) of other retailers. Bargain-hunting shoppers start taking advantage of the deals more often as the weather warms up, and more events require ensembles that stand out. Here is a highlight of three stores in Wilmington that resell some of the most sought-after clothing.
Encore Consignment Boutique
Of the growth of consignment stores, Encore Consignment Boutique owner Claire Mains says, "I think everybody's realizing that you don't have to pay full price to find something that's really nice, and a lot of women have a need to wear something only once or twice. They like to clean out their closets every season and start over, and there's customers that can pick up on that and find a good deal."
Mains has operated Encore Consignment Boutique for eight years at 5814 Oleander Drive. Her store has an inviting atmosphere and is carefully lit to highlight clothes that look brand new (and some are, with the tags still on).
"I'm an artist so I have a flair for designing and color, and I wanted something that was open and spacious. The lighting is good and the color of the walls is good. It's very organized; it's not cluttered; and it smells fresh when you walk in here," Mains said.
The way consignment works much of the time, people can bring in items they want to sell and split the profits with the store. For example, Mains gives her consigners 40 percent of the selling price.
"Consigners can walk in and drop their clothes off at any time," Mains said. "If I'm here, I go through them on the spot and if I'm not, the girls who work for me will take them and I go through them when I come in."
As spring started, the store was filled with sleeveless tops and dresses and other spring and summer clothing, including brightly colored Lily Pulitzer dresses for $99.
Detailed information about the store and how to sell clothes on consignment there is available on the store's website encoreconsignmentstore.com, or 910-452-4468.
A Second Time Around
To Meredith McCahan, owner of downtown Wilmington's A Second Time Around resale shop at 143 N. Front St., it seems like everyone wants to make a vintage statement.
"Everybody has always loved the vintage jewelry, but now more people are definitely wearing the vintage clothing and mixing it with their more contemporary pieces, their designer pieces, just for that more personal look," McCahan said. "We've probably seen the biggest upswing in sales of hats. We sell a lot of contemporary and new hats as well, but I've sold lots and lots of vintage hats."
At the same location for 10 years, McCahan mostly buys items outright rather than working with consigners, including designer- and department-store labels and vintage clothing and accessories. She says the store's clientele is a very eclectic mix of people of all ages, both locals and tourists, who buy not only for fashion but also for proms and period-themed (1920s, etc.) private parties and fundraising galas. Clothing with a 1970s look has been popular recently.
"We've never seen any polyester we didn't like," McCahan joked, "and we do really well with the 70s. Who would have thought?"
Halloween is another busy time for the store with shoppers looking for costumes. Owing to its historic background, the store has a vintage feel; it was a Butler's Shoe Store decades ago and McCahan has some of the tiles that spell out the shoe store's name in A Second Time Around's classic store-front windows. The windows are always ornately decorated, for which McCahan gives credit to employees Mical Caldwell and Amanda Moore.
From April until December, the store is open 11 a.m. to 6 p.m. Tuesday through Saturday, and sometimes until 7 or 8 p.m. on Fridays and Saturdays during the summer. People who want to sell their items can come in at any time, but calling first is a good idea, McCahan said. She is building an email list and a bigger presence on Facebook and other social media outlets to announce the stores many sales. 910-343-1043
Repeat Boutique Fine Consignments
Pete, the shopper who scored the marked down Prada sunglasses, isn't new to consignment shopping.
"I've bought clothes here that I've thoroughly enjoyed wearing," Pete said of the store owned by Georgeanne Banks and located at 5629 Oleander Drive. "She's got some phenomenal stuff."
Banks, who's been in the consignment business in the area for 20 years and lived in Wilmington most of her life, said shoppers like Pete want unique things without having to pay full price.
"It's kind of like a treasure hunt," Banks said. "You never know what you'll find because it's constantly changing. It's not like a normal retail store where there's just racks and racks of the same thing. I have a lot of customers who will come in once every week or once every two weeks just to see what's come in."
Banks and her employees work to create a welcoming atmosphere.
"All the ladies that work for me are like that ― very welcoming, very warm. They get to know the customers and the customers get to know us," Banks said.
While her items on consignment are already reduced from retail prices, Banks also marks items down further and holds sales. "I do special sales where everything is half off for a couple of days," Banks said. "I have a long email list and a big Facebook following."
Banks, who has two teenage children with her husband of 22 years, previously owned a consignment store called Repeat Performance with her mother-in-law and a store called Trade Secrets.
"I have a lot of loyal customers," Banks said. "I have customers who come to my store who remember when I was pregnant with my children at Repeat Performance."
In April, Repeat Boutique was accepting consignment items from 11 a.m. to 5 p.m., Tuesdays and Thursdays. For more information and a list of brands the store sells frequently, visit repeatboutiqueconsignments.com or 910-399-1327