COVID-19 and the Cape Fear
06 May 2020
The Port City unites to fight an invisible enemy

By JASON FRYE » Photos by KELLY STARBUCK and NHRMC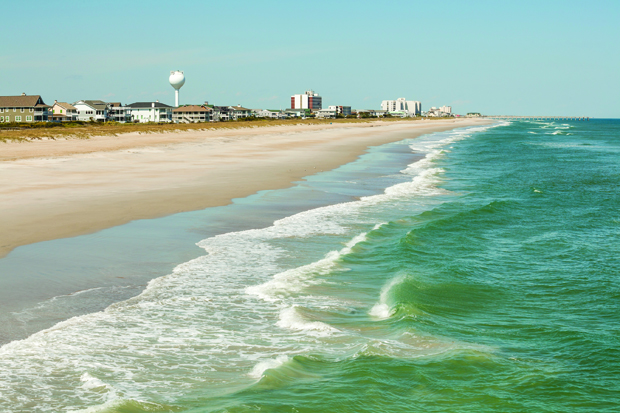 The beaches are empty. Playgrounds stand silent. Wilmington, a city that should be buzzing with post-Azalea Festival, early-summer energy, seems a ghost town. Welcome to the new normal ushered in by COVID-19.

On March 20, 2020, Governor Roy Cooper issued his first COVID-19 executive order: A 30-day stay-at-home directive that banned gatherings of more than 10 people, established social distancing rules, and shuttered businesses and facilities deemed non-essential. This executive order – the first of several issued at the time of this writing – and the ones that followed were intended to limit the exposure to and spread of COVID-19 across North Carolina. So far it seems to be working and our collective efforts appear to be "flattening the curve," which is to say slowing the rate of infection and keeping healthcare facilities like New Hanover Regional Medical Center (NHRMC) from being overwhelmed.

What is COVID-19 and how did we get here?

COVID-19, an abbreviation for coronavirus disease 2019, is a form of coronavirus, a relatively common virus among animals and humans. Most coronaviruses cause common cold-like symptoms and pose no serious threat; but COVID-19 does. Where a typical coronavirus produces the runny nose, congested sinuses, sore throat and general upper respiratory distress we tie to a simple cold, some coronaviruses are more serious and are linked to more serious outbreaks such as MERS (Middle East Respiratory Syndrome) and SARS (Severe Acute Respiratory Syndrome); COVID-19 is the latest of the novel (previously unidentified) coronaviruses to be recognized.

The COVID-19 pandemic began in December 2019 in Wuhan, China. Back tracing the virus through Wuhan, the capitol of the Hubei province, health researchers have identified "patient zero" (the first person to have had the disease), a woman in her 40s who works selling shrimp in one of Wuhan's public markets. It is currently unknown how or if this coronavirus made a zoonotic jump – transmitting from animal to human or vice-versa – and much about COVID-19 remains a mystery.

Since December 2019, COVID-19 has spread around the globe, leaving one continent – Antarctica – free from its effects. As of this writing, the United States has more than 550,000 cases and has suffered nearly 23,000 deaths.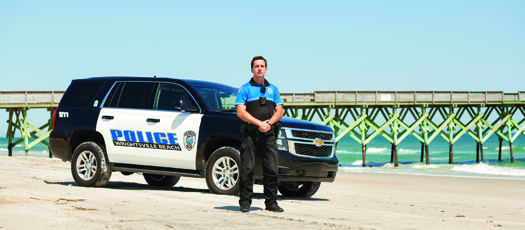 COVID-19 Locally

Locally, the impact of COVID-19 has been less severe. In North Carolina, the COVID-count as of April 13 stood at 4,816 infected with 86 deaths. New Hanover County showed 59 infected with only one death. Health experts agree that these numbers only stand to go up over time.

City, town and county governments have instituted stay-at-home-orders, closures and distancing regulations beyond those issued by Governor Cooper at the end of March. These measures range from the closure of beaches to modifying the constantly-shifting definition of "essential businesses." The most recent of such regulations to have an impact on daily life here came from Governor Cooper's office, and it reduces the number of people permitted in stores to 20 percent of fire capacity, or five people per 1,000 square feet. These measures are all designed to keep the public safe and healthy and to help facilities like NHRMC avoid becoming overwhelmed by a spike in COVID-19 cases.

In preparation for a possible rise in COVID-19 cases, NHRMC made several changes from erecting a temporary structure at the 17th Street campus Emergency Room (for triaging potential COVID-19 patients) to requiring daily temperature screenings for all employees and health care providers to offering telephone and video visits with physicians where appropriate. Their changes even include restricting the number of visitors to "all NHRMC facilities" as a way "to help protect our community, patients, staff
and providers."

According to Dr. Paul Kamitsuka, Chief Epidemiologist at New Hanover Regional Medical Center, visitor restrictions were a necessary step because, "it's difficult to practice social distancing in a congregant setting and we need to enforce social distancing to the greatest extent possible, it's currently our best tool against COVID-19."

NHRMC's preparedness goes beyond the steps mentioned so far and the hospital and its staff are prepared for a number of COVID-19-related scenarios.

"We have several contingencies in place to deal with surges if they happen," says Dr. Kamitsuka.

One such contingency is in "building [treatment] capacity at [all NHRMC] campuses." Currently NHRMC has 769 licensed beds and 180 ventilators, and according to a NHRMC spokesperson, they've "proactively postponed non-essential surgeries… …to free up staff, equipment and beds for a possible influx of patients." They are also looking at how to best use beds coming online as part of the new patient tower, whether those beds will be used to increase total capacity or to serve specific patients or providers.


What can we do?

"Public response [to social distancing and mask guidelines] will determine our ability to be successful in mitigating this pandemic and in keeping our healthcare system from being overwhelmed," says Dr. Kamitsuka. "Don't follow the guidelines and we run the risk of seeing a surge and potentially overwhelming hospitals."

Dr. Kamitsuka's prediction sounds grim, but it comes with a caveat: if we don't follow the guidelines. Facemasks, social distancing, self-isolation, limiting trips to the store (and shopping purposefully and respecting social distancing while there) are essential in keeping Wilmington from turning into an example of a healthcare system in dire straits. All it takes is a few of us acting irresponsibly and we can see COVID-19 cases spike, bringing into play the cities', county's and NHRMC's worst-case-scenario plans.


If you feel ill

At NHRMC's 17th Street campus, a temporary shelter has been set up for intake and triage of potential COVID-19 patients. But if you're feeling ill, don't make this your first stop. There are other steps to follow.

"The first step if you're experiencing fever and cough is to self-isolate and assume you have [COVID-19]," says Dr. Kamitsuka.

That means acting like you have it. Wear a mask in the house. Isolate yourself as best you can and share as few facilities (bathroom, kitchen, et cetera) with others as possible. Disinfect high-touch objects frequently and thoroughly.

Then wait

"Self-isolate for at least 7 days," Dr. Kamitsuka says. "After 72 hours without a fever and without medication, you can come off your self-isolation."

If you get worse – severe shortness of breath, the onset of additional symptoms – call your health care provider and let them know. Or, if your symptoms are severe, call 911.

"If you call and we ask you to come in, wear your mask and come to the temporary shelter by the [17th Street] Emergency Room. A nurse will meet you and begin an evaluation. You may be asked to come inside for further evaluation and consideration for admission, or, if your symptoms aren't acute, you may be sent home with further instructions,"
says Dr. Kamitsuka.


Vaccine on the horizon

Currently there is no vaccine available for COVID-19. Developing, producing and distributing a vaccine takes time, and according to Dr. Kamitsuka and experts at the Centers for Disease Control and World Health Organization, we are 12-18 months away from seeing a vaccine in the hands of health care providers, though that timeline could be longer.

Thus the need for continued strict adherence to social distancing and other public health guidelines.

"Until we have widespread and rapid testing and a vaccine available, we can't relax our social distancing practices," says Dr. Kamitsuka. "Yes, many of us are experiencing isolation fatigue, but we can't let our foot off the pedal."

To do so could result in a dramatic increase in COVID-19 cases and a spike in patients at area hospitals, overwhelming their capacity and endangering health care workers, patients and the public. And no one wants that. So, mask up, keep your distance, and stay healthy.
---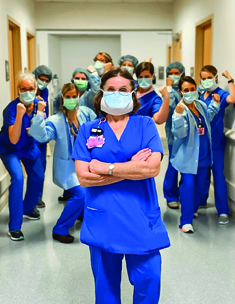 Symptoms of COVID-19
According to the Centers for Disease Control, the following symptoms may appear 2-14 days after exposure:

• Fever

• Dry Cough

• Shortness of Breath

Other commonly reported symptoms include:

• Extreme Fatigue

• Thick, Phlegmy Cough

• Severe Headache

• Bone and Joint Pain

Exacerbating Conditions

As with all viruses, some people are more vulnerable than others. The Centers for Disease Control, World Health Organization and other health experts have identified a number of conditions that increase the chance of contracting COVID-19 or experiencing acute symptoms of the virus. Those conditions include:

• Immunodeficiencies (including conditions such as lupus, cancer, Hashimoto's Disease, HIV/AIDS as well as immunodeficiencies caused by certain current or recent cancer therapies)

• Age (those age 65 and above face increased risk of contracting COVID-19 and experiencing severe symptoms; risk increases with age)

• High Blood Pressure

• Heart Disease and other Cardiac Conditions

• Chronic Lung Disease

• Severe Obesity (Body Mass Index of 40 or higher)

• Liver Disease

• Kidney Disease (including those being treated with dialysis)

• Severe Asthma

What to do if You Feel Ill

If you begin to feel ill – experiencing fever, cough and shortness of breath – you should:

• Self-isolate (limit contact with others as much as possible)

• Wear a Mask (even at home)

• Disinfect High-Touch Areas (doorknobs, remotes, handles, faucets…)

• Wash Your Hands (thoroughly and often)

If symptoms become worse, especially if you are experiencing worsened shortness of breath, call your healthcare provider or NHRMC to see if you require a visit to the doctor or admission to the hospital.

For severe respiratory distress, call 911 and tell the operator what's going on and that you believe it is COVID-19-related.

Online Assessment Tools

A number of self-check tools are available online and (as of this writing, in mid-April) tech companies like Apple and Google are reported to be developing smartphone-based assessment tools to make self-checks even easier.

While these self-check tools don't replace a visit to the doctor or hospital, they can help you make appropriate decisions on medical care.

• www.coronavirus.gov (follow the link "Check for Symptoms")

• www.cdc.gov/coronavirus (follow the "Self Checker" link)

• www.nhrmc.org (follow the "COVID-19" link at the top of the page, the self-checker is at the top of the next page)

Staying Healthy

The best thing to do during this pandemic is to keep yourself healthy. Guidelines from the CDC, WHO and health experts are easy to remember and to follow.

• Self-isolate (keep your circle tight and limit it to those you live with or care for, no one else. Keep trips to the grocery store, pharmacy and the like limited and follow proper social-distancing protocols while out)

• Maintain Good Social Distancing (keep at least 6' between you and anyone outside your home core)

• Wear a Mask (anytime you are in public, wear a mask. A simple cloth mask – like a scarf, bandana or homemade mask – will do. If you are ill, wear your mask at all times to reduce the risk of infection for those around you)

• Wash Your Hands (wash them properly and often: 20 seconds, hot water and soap; wash the whole hand and wrist, videos are available online)

• Use Hand Sanitizer (while you're out grocery shopping or are away from a place to wash up, use hand sanitizer to keep your hands clean)

• Disinfect High-touch Surfaces Regularly (doorknobs, remotes, mice and keyboards, controllers, faucets and handles, stair rails; but also your keyring, steering wheel and car interior, car door handles…)

• Don't Touch Your Face