Creating Memorable Moments
06 May 2020
The design team at Deeply Rooted Interiors offers endless creativity

By EMILY GORMAN FANCY » Photos by DREWE & KATE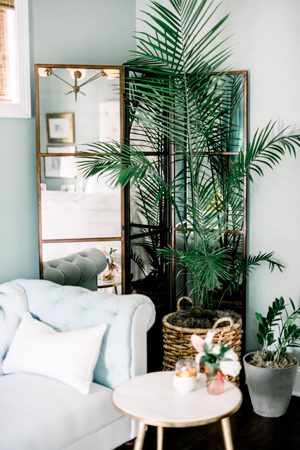 In November 2018, local interior designers Stacey Dunn and Morgan Dail joined efforts to start the design firm Deeply Rooted Interiors. The business took root (pun intended) from Dunn and Dail's commitment to providing clients with an unparalleled individual experience that harmoniously brought together the design concepts of two artists.

Deeply Rooted Interiors' mission is to transform their client's personal design goals and visions into visual realities. Taking an individualized approach to design involves careful consideration of their client's lifestyles and the ideas that inspire them. "We are lucky to live on the coast, and while we do love a good blue palette, blue doesn't work for everyone. We steer away from being too on trend and instead, approach our styles and selections to our client's individualistic goals, leaving each of them with the satisfaction that they are living in their very own custom palette," Dail says.

Deeply Rooted Interiors is a full-service interior design firm working with residential and commercial customers. When asked about the company's many services, Dail responds that she particularly enjoys space planning and room layouts. Clients often approach Dail and Dunn with complicated room and furniture challenges, claiming that they have reached a dead end.

"It's amazing what creativity and balance our clients achieve as their end result with the help of our professional design eye," Dail explains. "Furniture placement and finding objects or fabrics that tie a room together are really some of our favorite challenges. We love the plentiful options that we get to present to our client and the achievable results are endless!"

As an added benefit to clients, Deeply Rooted Interiors' Virtual Visions service brings their full spectrum of design services to you, all from the convenience of your own home. Clients appreciate the Virtual Visions service year-round, but it is particularly handy now as the community practices social distancing, Dunn says.

"Once we establish your end goal via email and phone communication, we'll create a beautifully designed customized box that includes our furniture suggestions, fabric samples, any finishes we recommend, paint samples and even floor plans with intricate step-by-step details on how to achieve your best space possible," Dunn says. "It allows our clients to be more involved in the design process."

Dail and Dunn have witnessed many design trends come and go in the Cape Fear area. One popular trend was the use of all whites or creamy palettes with soft-toned accents, they said. Now the trend is moving toward bolder, one-of-a-kind dyes and patterns inspired by the artwork of boutique or solo artists.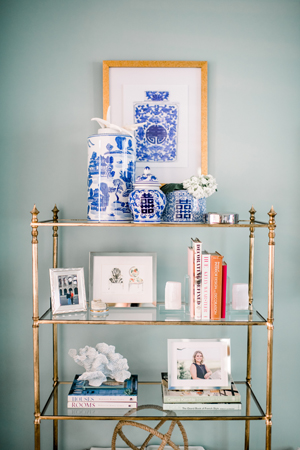 "The colors are vibrant, the patterns unforgettable and honestly ― it's hard to say no to it, but why would you want to?" Dail says. "Your artwork can now live off the wall and be admired on your favorite pillow that you crave every weekend, or on that sunroom banquette cushion that you read your current novel on while sipping your morning cappuccino. It gives you an artistic uniqueness in your daily routine that's achievable for every person."

Dunn and Dail met in a "Principles and Foundations of Design" class at Cape Fear Community College. Dunn was actually Dail's instructor in the class, and the two women quickly hit it off. "Sharing admirations for similar patterns, famous designers, and bold designs, we connected effortlessly when it came to stylizing a mood or theme for a room," Dail says. "We kept in touch after graduation, and when the opportunity came for us to be in this business that we both love, we couldn't resist. The rest is history!"

When asked what they enjoy most about their work, the designers responded that there is no limit on the materials, colors, and styles at their disposal.

"Possibilities and creativity are endless," Dail says. "But I think my favorite part about designing an interior is knowing that when you complete a project, you are leaving a part of your personal creativity that people are going to immerse themselves in on a daily basis. Being able to create certain memorable moments for clients that might not have presented themselves before the design work began makes it that much more of a delight to be in this line of work." 910-231-7697.