An Ambassador for Donors
06 May 2020
Fundraising efforts to help those at Lower Cape Fear LifeCare

By TERESA A. MCLAMB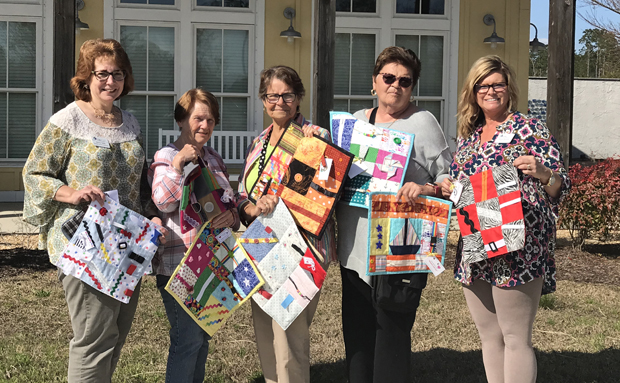 Anne Tatum Hewett may be one of the most recognized people in Brunswick County. As an advertising sales rep for the Brunswick Beacon for 23 years, she visited businesses throughout the county and beyond, regularly meeting face to face with clients and potential clients.

She brings that hands-on approach to her role as donor advisor for Lower Cape Fear LifeCare.

Hewett grew up in rural Kansas, the youngest of seven children of North Carolina natives Marshall and Margaret Tatum. Marshall's job with Rubbermaid sent him to Kansas as the company was developing the first plastic curbside trash receptacle, Hewett noted.

"My childhood was wonderful." The family lived on sixty acres where they raised cattle, and she had a pony. She was runner-up for Homecoming Queen, was a cheerleader, a member of Future Homemakers of America, and played volleyball. "I was a setter; I was pretty consistent."

Those who know Hewett will not be surprised that her senior classmates voted her as class clown.

An accomplished cook in high school, she helped teach the skill to children. Through 4-H, she competed in canning and jams at the county fair. "I won first place at the state fair for best cake," she said.

She also earned county fair ribbons in obedience training with her Collie, Wendy, a skill that pays off now as she fosters dogs who are up for adoption. "One of the responsibilities of being a foster parent is getting them as ready as you possibly can to be a good companion. We want them to have manners," she explained.

Throughout her childhood, the family vacationed at Ocean Isle Beach. "We had a lot of family that still lived in Charlotte, so we would all get together and rent a house." When her father sold his solid waste business and retired in 1990, they settled in Ocean Isle. Anne graduated the following year from Kansas State. "I interviewed to be a Kansas State ambassador but didn't make the final cut. My deal was if I didn't get that job, I'd move to the beach."

She quickly became involved in the community, playing volleyball with the county's parks and rec team. Her first job was with United Carolina Bank as a telephone operator, then teller, then customer service rep. At the same time, she was hostess at a restaurant in North Myrtle Beach and cashiered at a convenience store her parents were running. "They got bored with retirement and leased Jimmy's Pantry in Calabash for about 12 years." She quickly met a lot of people.

She met her future husband in 1993 and started working for the Brunswick Beacon in 1994. She and Kindle married in 2001.

Despite her education in the editorial side of journalism, Hewett responded to an ad for an advertising rep at the Beacon. "I really wanted to get back into the newspaper business." The job allowed her to occasionally write copy and cutlines. It also put her on the frontlines of interaction with business owners.

"I enjoy meeting a diverse group of people. I want to meet people who are different from me and grew up different from me," she said. "I ask a lot of questions." The Beacon was owned by Eddie and Carolyn Sweatt, whose in-person philosophy jived with Hewett's. "They wanted us to go out and meet with the people. Even when email came into play, they still wanted us to be in front of somebody. It was like if they know you and they see you, they're way more likely to trust you and put their faith in you when it comes to helping them with their advertising. The same is true for my job now in helping people to understand what their donation means."

Hewett's introduction to Lower Cape Fear LifeCare (formerly LCF Hospice) came in 2004 as they served her mother in her home. "It was a great experience. We had someone calling the house every day and asking if we needed them to come. We had a social worker and an aid, and then the nurse manager. This was the first time I had ever had anyone close to me die, so I didn't know anything about the process. It was a sad moment, but an educational moment for me." The caretakers explained to her family what is normal, she said. "These are the things that will happen to her body, and that's okay; it's part of the process," they told us. "They were very reassuring."

Watching her longtime friend LCFH employee Cindy Cheatham during the capital campaign which funded Brunswick County's care center construction, Hewett said she thought "I could do that. I knew I would love to work for them and be the face of Hospice. I knew I could be a good ambassador, so when the opportunity came up, after working somewhere for 23 years, I had to get help putting together a resume."

As a donor advisor, Hewett is responsible to raise money for the foundation of LCFLC. "We're a 501(c)3. A lot of funding comes from private donors, businesses and local and national grants. I write proposals and grants, and also do presentations to individuals and groups. A lot of the services we provide are not reimbursed by Medicare or private insurance." Medicare requires LCFLC to provide services like bereavement counseling but doesn't provide funding for it. Likewise, it does not pay for volunteer training which it requires or for charity care.

"Our agency was founded on helping those at end of life, navigate the last days of their life. The founders wanted people to be able to receive that care even if they couldn't afford it. There are a lot of people who cannot afford it," she said.

Care at any of the organizations three care centers (in New Hanover, Columbus and Brunswick Counties) costs about $1,000 per day, she said, and about 80% of it is reimbursed. "So that gap is what the donations make up. I raise money for that." Care recipients are never billed, she said. While Hewett is employed by the foundation, her fundraising focus is Brunswick County. Donations made to honor a patient served in Brunswick County, go back to the county as do any funds donated for a specific county program or effort. "They can specify that it goes to the care center; they can also specify that it goes for charity care," she said.

About a decade ago, the focus of Lower Cape Fear Hospice expanded to include palliative care. The name was changed this year to reflect it's ever broadening service. "The name changed as of January 1st because we offer a lot more than hospice care and want to continue to offer even more," Hewett said. "We have just as many palliative patients who we help with management of their chronic illness as we do hospice patients."

Dementia care has begun in New Hanover County with the plan to expand it to every county they serve (New Hanover, Brunswick, Columbus, Bladen, Pender, Onslow, Duplin, Horry and parts of Georgetown and Marion). "This is a fast-growing area of need, so we have to keep up. The average age in Brunswick County is around 55." Of the approximately 550 agency volunteers, more than 200 are in Brunswick County, she noted. The organization employs 359 full and part time people.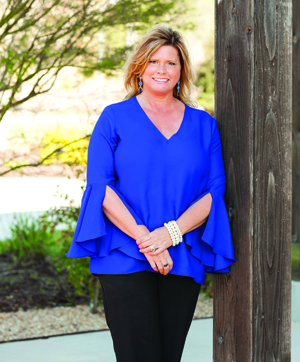 "Becoming LifeCare is a good thing," Hewett said. "It means we're growing and adding things to meet more needs and to help even more people. We have a team that is devoted solely to education and outreach. We do workshops and seminars and free clinics. All are free." They provide information about medical powers of attorney, and about the need to discuss end of life with family. "We go into neighborhood POAs and meet with them. We talk about being organized and having everything in place, and our social workers are a big part of that if a family needs help with a loved one's plan. They're a resource for that entire process."

We want to create a dementia care program that offers education and support of care givers and their loved ones, information on dementia resources, what to expect, personal care training, nutrition, self-care for caregivers. We want to educate individuals and families on developing care plans, respite in-home care and long-term planning. With dementia there are a lot of safety issues that are unique to the disease. Patients can wander off."

Volunteers must go through a national training program before being assigned to dementia patients. "I've been through it. You learn to meet the person where they are. You don't question them or argue with them. You go where they are mentally,"
she said.

They recently received a $1,000 grant from the Leland Rotary Club to be used for dementia patient headsets. Research has shown that listening to music helps to occupy patients. The same is true for fidget blankets, Hewett noted. Adorned with buttons and zippers, several of these handmade 24x24 squares have been donated by Blankets with Love, a group from Southport.

New volunteers are always welcome, she said. "We hold volunteer sessions in Brunswick and New Hanover." Now condensed to one day, the program includes learning the agency's scope and mission, a background check and a TB test. "They all come in and are trained so they're ready for direct patient care. I would say 80% of them choose to do other things like phone calls, letters, run errands."

"We just started a program where we're getting volunteers certified to take patients to doctors' appointments, so it gives caregivers a break. There are certain liability issues related to that so it's a process to meet all those guidelines. I think the volunteer program is extremely organized and the communication is excellent. In Brunswick County, we have pharmacists, doctors, attorneys, social workers who retire here and that gives them something to do on their schedule. They can work as many hours or as little as they want even if it's just to bring a meal to the care center."

"Our veterans' program is run by volunteers. There's a group out of Rivers Edge. Each branch of the military is represented by a gentleman. We do a pinning to honor veterans at their home or the care center. The ceremony honors their service to our country. We consider veterans to be very important. We have a designated veteran parking spot at every care center - even at the corporate office. That's part of our orientation."