Splish Splash!
06 May 2020

Take a dip with Angela Sinclair

By KIM HENRY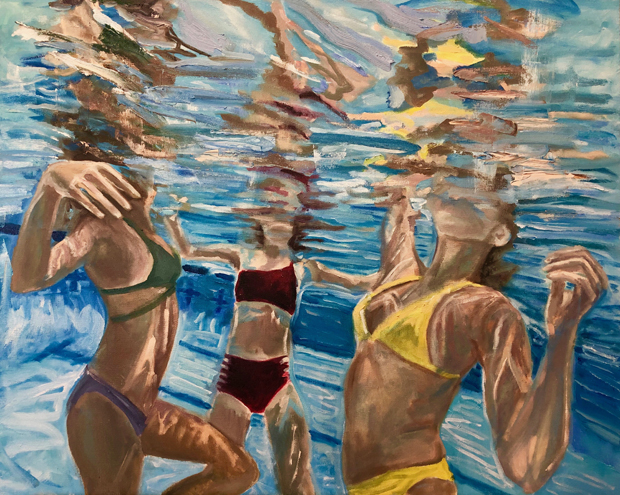 We've all had a moment of being mesmerized by the endless ripples just one drop of water can create. Or how the light plays with waves, making endless tones of color that appear to be alive in the interactive dance. Now imagine trying to capture this magic in a single image, and we find ourselves relishing the vibrant oil paintings of local artist Angela Sinclair.

Born in LA, Sinclair moved to New York as a young girl with her parents and brother. With the arts clearly guiding her path, she attended the High School of Arts, the School of Visual Arts, and the Art Students League in New York City. She also worked in her mother's Manhattan clothing store, which fueled her love of fabric and fashion.

Fast track to her late twenties and Sinclair moved to Las Vegas with her husband and two children where she began to teach art in schools. It was through this teaching opportunity that she discovered her interest in oil paints and their rich colors and textures. "The more I worked with oils, the more I appreciated how many colors you can create and blend, even making them transparent," explains Sinclair.

Both of her children were avid swimmers, which meant that Sinclair spent a lot of her time at swim meets, watching her kids compete in the water. Delighted by the reflections, and the infinite patterns that water makes when it's touched by people, Sinclair felt compelled to explore this subject further.

"I have always loved the water," smiles Sinclair. "It was one of the many reasons my husband and I fell in love with Wilmington." Working out of ACME Art Studios, Sinclair has many collections clearly inspired by this fascination of people within the water. Her process begins by choosing her models. Her own daughter features in many of her paintings, but sometimes Sinclair will meet someone and ask if they would work with her. "At first people may be a little taken back, but when they see my work and understand the goal, they are normally excited to take part," says Sinclair. "Many long lasting friendships have been made due to modeling for my paintings!"

Often dressing her models in particular items of clothing sourced from thrift stores, Sinclair's early connection to fabric reemerges. Inspired by the wet clothes and the way they float in the water and cling to the human form, Sinclair arranges her models, and then she takes a series of photographs, which are used to inform her paintings. "I like to paint at the saltwater creeks and sandbars inside the inlet because the different water depths and ever changing patterns in the sand are hard to capture, but add so much to my work," explains Sinclair.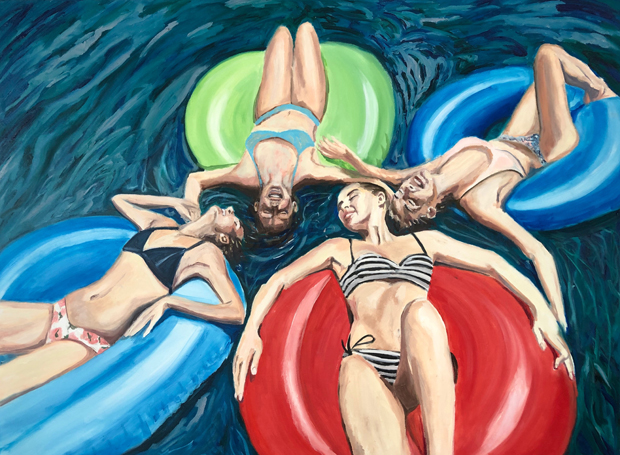 The 'Beautiful Drifters' collection highlights the sensual relationship between water, light, fabric, and people, and it emanates a sense of joy, peace and relaxation. "I'm lucky to have found my passion!" enthuses Sinclair. "Once I have my photographs, I go to the studio, put on my music and time flies by." Another body of her work, that happens to feature Sinclair's daughter is 'Circle of love.' This series highlights motion within the water, the movement of hair gently floating on the surface, and the celebration of sisterhood. This infectious sense of celebration is central to Sinclair's work. It is a celebration of water itself, the very source of life. Capturing the infinite play of light refracting into infinite patterns speaks to us of this artists' joyful zest for life.

Water is clearly Sinclair's muse, but a recent painting entitled "Underwater" took her study to a whole new depth – literally. The painting depicts two females under the water instead of above the water, allowing Sinclair to explore a new aspect of the light, movement and perspective.

Currently displaying her work in one of Wilmington's oldest galleries, New Elements in Downtown, Sinclair has also exhibited across the country from New York to Las Vegas. As a full time artist who has split her time between Las Vegas and Wilmington, Sinclair is excited to finally be settling down in Wilmington. "The art community here has always been my other favorite thing about Wilmington," beams Sinclair. Because of course, there's all that water.