Crafting a Community
15 Mar 2015
Craft breweries are popping up throughout Southeastern North Carolina, but there's more to it than just another place to grab a pint
By JESSICA MAURER Photos by JENNIFER SIMPSON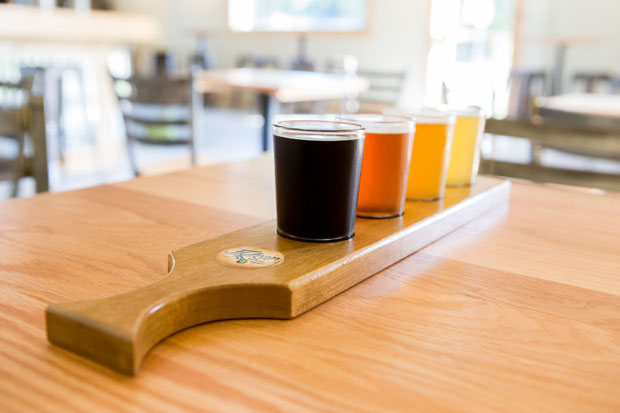 When Mike Barlas began studying for his Master's in Business Administration, he envisioned himself in a high-powered job, wearing a suit and tie and climbing the corporate ladder. Little did he know that rather than logging in long hours in an office he'd find himself in shorts, a t-shirt and flip-flops as he heads to work to do what he loves best: brew great beer.
Barlas was introduced to home brewing by a friend. "I was so completely intrigued," said Barlas. "The smells, the tastes, it just drew me in from the start and I was hooked. I spent as much time as possible home brewing and traveling to as many breweries as I could to immerse myself in the culture of craft beer."
What began as a hobby soon became a new way of life for Barlas. Not only did he discover his passion, he found the community he wanted to be a part of. Before long he had refocused his studies on developing a business plan for his own brewery. Barlas is the owner of Flytrap Brewing located in the Brooklyn Arts District of Downtown Wilmington.
Flytrap is one of a dozen breweries opening in the Wilmington area, making the Port City a new destination for beer lovers. But the industry is bringing more than just beer to the market. Craft brewers see themselves as part artisan, part educator, part community activist. Craft brewing is about bringing people together, sharing ideas and making connections. It is more than just a new industry—it's a new community.
"It's a vibe that can be difficult to put in words," said Barlas. "The breweries want to support one another and learn from one another. We don't view each other as competition because we're all working toward a common goal. We want to make connections with our customers and foster connections between them. When people start connecting over a shared interest, like craft beer, there are so many other connections they begin to make and often it's those connections that can really benefit the community. Everyone has something to bring to the table and this is a really fun way to bring people together."
While Barlas was still studying at UNCW he met John and Michelle Savard at Port City Brewers, a local home brewing club. John also began home brewing while earning his business degree at UNC-Ashevillle. While in school John worked at a large commercial brewery, learning the production and distribution side of the beer industry before shifting gears and taking a job with a home brew supply store. It was there that began to cultivate his brewing skills and develop a love for craft beer.
"Home brewing was something I was ten times more passionate about than working in a commercial brewing facility," said Savard. "There was room for experimentation, lots of trial and error with developing recipes, and people were constantly sharing ideas on how to brew fantastic beer."
Upon their return to Wilmington however, John and Michelle found that there was nowhere in town to purchase home brewing supplies. At that point in time Barlas and other avid home brewers were getting most of their supplies online, sometimes waiting weeks to receive their ingredients and equipment. Although John's dream was to one day own a brewery, he knew that a home brew supply store would be the best possible first step towards reaching that goal.
The Savards opened Wilmington Homebrew Supply in 2012. After just under two years in business they outgrew their original location. In order to expand their retail offerings they needed more space. They began looking for a building that would allow them to expand their store as well as brew, serve and sell their own beer. The time had come to build a brewery.
It was just about this time that Mike Barlas was putting his business plan into action, but not before being introduced to John's sister Emily. As luck would have it, she was the one. Now, the four of them set forth to help lay the groundwork for a new community of brewers in Wilmington.
But as each couple set out to find the right building for their business, they found themselves dealing with a complex set of zoning ordinances that would hinder their efforts. Wilmington didn't have a business classification for breweries, particularly small craft breweries, and this resulted in zoning issues and delays in permitting.
In response to requests by the Savards and Barlas as well as several other potential brewery owners, the city held several public hearings before developing an interdepartmental Brewery Initiative Project Team in July 2014.
Phil Prete, a senior city planner, said the Brewery Initiative Project Team did extensive research across both the state and the country before making their final recommendations. They saw how quickly the craft beer industry is growing and looked to cities such as Asheville as a model for how the city could help the industry thrive here. Prete was impressed with the mission of many of these breweries to go into already existing buildings and revitalize them.
"We've seen that many craft breweries have really had an impact on stimulating revitalization," said Prete. "The connections that these breweries build with other community organizations often foster a great deal of community action."
Last September the City Council unanimously adopted an ordinance that now allows for breweries to be defined as a class of business within the Port City. The change allows small local breweries to operate in areas already zoned for restaurants. This is important because many craft breweries would prefer to be in areas zoned for restaurants and bars rather than in more industrial settings. They do not want to operate solely as manufacturing or distribution centers, but want to be able to serve their product on-site and spend time with their customers, building a community.
In addition to his passion for beer, Barlas is active in the efforts to revitalize the Brooklyn Arts District. He has completely refurbished the vacated building that now houses his brewery at the corner of 4th and Walnut Streets. The Savards also chose to renovate an existing building for the site of their brewery, Wilmington Brewing Company, located on S. Kerr Avenue.
The name Flytrap is also part of Barlas' plans to give back. It is in homage to the Venus Flytrap, the carnivorous plant indigenous to Southeastern North Carolina.
"The name Flytrap Brewing was developed to connect to the community and my goal is to promote awareness of the preservation of the flytrap habitats," said Barlas.
The budding craft beer community is also creating a new reason to visit the Port City. With 91 craft breweries, North Carolina ranks ninth in the nation for the number of craft breweries, according to the Brewers Association statistics for 2013. Thirty-one of those breweries have opened since 2011 alone. Beer tourism is on the rise across the country and just like wine lovers seeking out vineyards, craft beer lovers now have many destinations to choose from. Wilmington is now poised to become the next great beer destination in the state.
Interest among visitors in the Port City's locally crafted beers has increased in recent years, according to Connie Nelson, marketing director for the Wilmington and Beaches Convention and Visitors Bureau. Beginning next year, the Convention and Visitors Bureau will add a craft brewery page to their website in order to assist visitors who are interested in exploring area breweries.
Being at the forefront of a new industry will undoubtedly involve some growing pains, and this is something brewers here are willing to accept. While each of them hopes to have a positive impact on increasing tourism in Wilmington down the road, their focus now is getting locals on their side. At the end of the day craft brewing is all about the community, and there's no other way to craft a community than from the ground up.