Creating a Happy Home
05 Jan 2021
Big Sky Design's new expansion inspires imaginative design

By JUDY ROYAL » Photos by ANDREW SHERMAN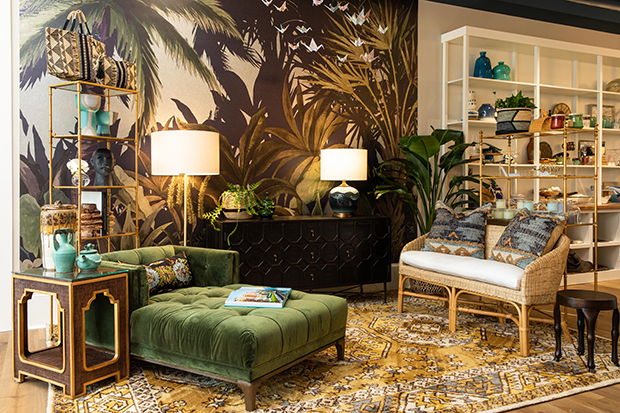 The COVID-19 pandemic has prompted various changes in consumer behavior that have greatly affected businesses, often in a negative way. But, not always. Wilmington interior design firm Big Sky Design is seeing an influx of clients who want to launch home renovation projects, and the staff of 14 is more equipped than ever to handle increased business, thanks to a recent expansion that includes a new Shop & Studio and much more space.

"Everybody has been spending more time in their homes, and it's given people the opportunity to recognize the importance of how their home feels and how even the small beautiful touches you can use to style your home are actually very meaningful to your experience there," said Jennifer Kraner, founder and owner of Big Sky Design, which formed in 1997. "I think the realization of how great your home's effect is on happiness and functionality is here to stay. It's a recognition that people will have for years to come."

Big Sky Design relocated in November to the newly constructed Bradley Creek Station at 5815 Oleander Drive in Wilmington. Not only did the move offer new office space for the firm, but it also allowed for the opening of a 4,600-square-foot Shop & Studio.

"We fell in love with this building's design and location," Kraner said. "We had big ideas to inspire, to put more product out so people could have that hands-on experience, visualize the layering of color and pattern and realize the effect of integrating their personality into their home's design. The only way to achieve this kind of inspiration was to expand, showing our community all the resources we can offer to them for their homes."

Ten vignettes, or nooks of space designed around themes sparked by coffee table books, are a focal point of the Shop & Studio. These will change quarterly, with plans to create vignettes based on art in the spring.

"While each vignette tells its own story, it immerses you into a sensual experience – music, pleasant aromas, unique textures and patterns – sparking a conversation about every element of that design," Kraner said.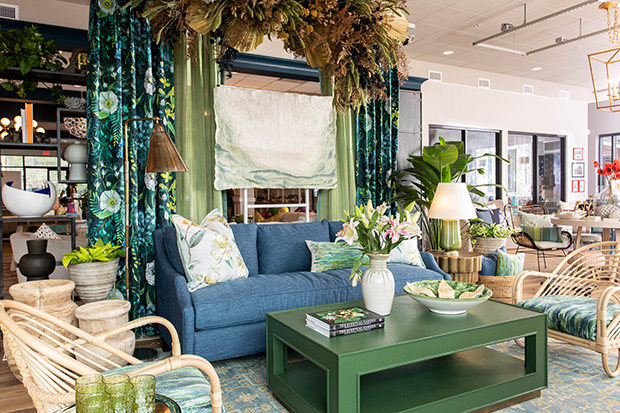 Big Sky Design created the Shop & Studio to encourage imaginative design of spaces that blend personality with functionality. Clients can journey through a wide variety of styles, including classic coastal home, posh Caribbean lounge and chic dining room with a retro flair. This ability to showcase how different colors, patterns and design directions come together strives to inspire clients to incorporate them in their own homes to follow their personal vision.

"Having more design styles represented on the floor really opens up the realm of possibility to our clientele," Creative Director Rileigh Wilkins said. "People can see and feel furnishings firsthand and see the intricacies of materials used in light fixtures, accessories and artwork. They can also hone in on what they would love to have in their own homes. Of course, all of that initiates conversation about design and helps us work more effectively with our clients and shoppers."

In addition to the vignettes, the Shop & Studio also features a gallery wall that showcases lighting designs and mirrors, and there are plenty of accessories and gift items for sale. Everything is available for walk-in purchase off the floor.

Big Sky Design's services run the gamut from commercial to residential, new construction to renovation and whole space to one room. Appointments are recommended for extensive design services, but immediate help is available for those who want to pop in with quick questions.

"Our firm has always felt strongly that we can help everybody with interior design at any budget," Kraner said. "We don't have a niche style or price point. We try to be accessible to all budgets and styles and encourage people to find what truly inspires them to help create their own personalized style.

"We also work on high-end custom homes working with clients, bringing their ideas to life and helping them through the construction process," she added. "With our shop services and in-house design team at Big Sky Design, we can take on all types of projects, high-end modern design, chic mid-century modern homes, designing a couple rooms or picking wallpaper for a foyer."

A small business expanding in the middle of a pandemic may seem risky, but Kraner said it was the right decision for Big Sky Design.

"We took a jump, a leap of faith, and so far it's been very well-received," she said. "I think people like coming in here because it's unique and invigorating. There are so many things to see and discover. Everybody who walks in is going to find something in our shop that resonates with them."

Big Sky Design, 5815 Oleander Drive, 910-793-3992, bigskydesignonline.com