Creating a Space for Veterans and Family
04 Sep 2023
As one of many efforts to honor veterans, Lower Cape Fear LifeCare unveils a Veterans Memorial Garden
By Sally Shepherd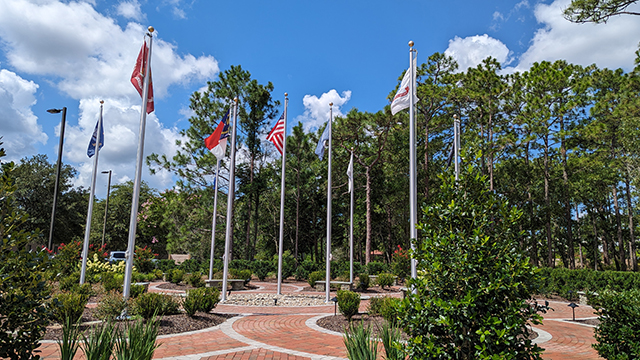 Sitting on a bench in Lower Cape Fear LifeCare's Veterans Memorial Garden on its Wilmington campus, you can hear the flapping of the flags and the soft clang of the hardware hitting the flag poles as a gentle breeze sweeps across the nonprofit's newest garden. Vegetation planted months ago has taken hold and is now blooming with blossoms of red, white and blue.
Like all the gardens within the John T. Dees, M.D. and Jenny L. Dees Heritage Garden, the Veterans Memorial Garden offers a place for solace, quiet reflection and remembrance. This space is also filled with a quiet reverence that honors the lives of those who served in our armed forces and will be remembered here.
The garden, designed by Flora Landscapes, has paths circling flag poles representing each branch of the armed services. The center poles fly the United States, North Carolina and New Hanover County flags. Soon the pavers and bricks that make up the paths will be etched in tribute with names of loved ones who served our country.
Absent from the garden is its centerpiece, a significantly large, majestic metal eagle with outstretched wings. Local artist and veteran Dumay Gorham is currently constructing the eagle. Gorham also created a centerpiece eagle for the Veterans Memorial Garden at LCFL's Brunswick County hospice care center. The eagle will be completed and installed before the dedication ceremony.
Groundbreaking for the New Hanover Veterans Memorial Garden was hosted in November 2022. The dedication service will take place in November of this year. Last fall, a sister garden was dedicated at the agency's SECU Hospice of Brunswick care center in Bolivia.
"Veterans have a special place in our hearts," says Katie Tate, the director of the foundation. "As a Level Four Partner in the We Honor Veterans program, we are dedicated to meeting veterans' specific needs at the end of life."
We Honor Veterans is a collaborative program of the National Hospice and Palliative Care Organization (NHPCO) and the Veterans Affairs Department (VA). Lower Cape Fear LifeCare anticipates hearing soon that it has achieved Level Five, the highest level in the program.
"Our social workers try to ensure that veterans receive all the VA benefits to which they are entitled, in life and death," says Tate. "Through our Vet-to-Vet program, we seek to provide veteran patients with the support and companionship of a hospice volunteer who is a fellow veteran. Often, veterans need to discuss things at the end of life about their time in service that only a fellow service member can understand."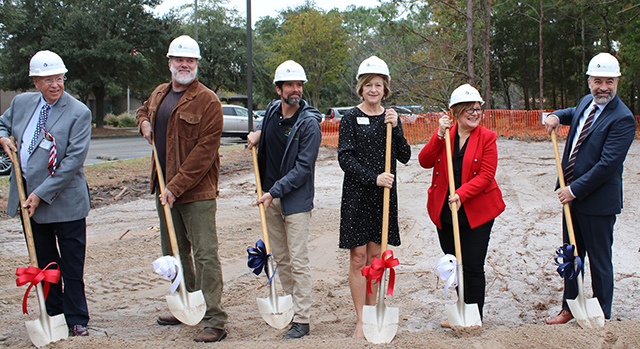 To honor veterans, the agency also places patriotic wreaths on veterans' doors at their hospice care centers; has designated veteran parking at their facilities; provides veteran patients with patriotic pillowcases made by local organizations; and organizes Veteran Pinning Ceremonies for veterans and their families. These efforts help provide recognition and appreciation veterans may not have experienced upon returning home, especially for veterans who served during the Vietnam War.
Vietnam veterans make up the largest number of the current US veteran population. In addition to regularly supporting local veteran efforts and organizations, Lower Cape Fear LifeCare hosted the first-ever Welcome Home Vietnam Veterans event, in partnership with the Battleship North Carolina, on National Vietnam War Veterans Day this year.
"The overall plan of the Wilmington campus garden has always included a Veterans Memorial Garden," says Tate. "While originally planned for a smaller section, we moved across the parking lot space which offered us more room to properly honor veterans."
The Veterans Memorial Garden offers many naming opportunities, including flag poles, benches, pavers, bricks, and even the eagle sculpture. The agency is currently taking reservations for pavers and bricks in the Veterans Memorial Garden. However, the deadline is approaching fast to ensure installation before the November dedication ceremony. The agency will install brick and tribute pavers in both gardens twice a year.
"Funds raised from tributes help provide care and support to those in our community needing end-of-life care but have no reimbursement source," says Tate. "Lower Cape Fear LifeCare never refuses care to anyone based on their ability to pay."
Each year, Lower Cape Fear LifeCare provides more than $1 million in services and programs to support people and families in our community. Tributes serve as a gift from one family to another when they need it most.
"We welcome people to visit the Veterans Memorial Garden," concludes Tate. "There is nothing else like it in New Hanover County that pays tribute to our military and those who served."
To learn more about Lower Cape Fear LifeCare, its services and programs, visit LifeCare.org. For tribute opportunities in the New Hanover Veterans Memorial Garden, contact Cindy Cheatham, senior fundraising executive, at Cynthia.Cheatham@LifeCare.org or 910-473-4142.