Empowerment Through Sport
04 Sep 2023
Empower program provides kids with special needs a welcoming and inclusive environment to learn and grow through soccer
By Jen Reed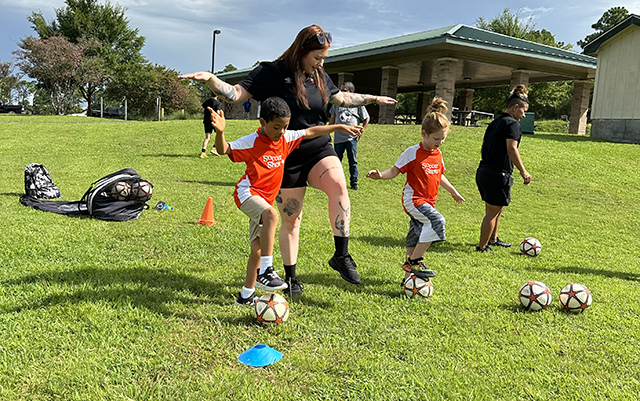 Brendan Sprague made his way down the soccer field, the ball squarely in front of him, moving as quickly as his tiny feet would take him. Closer to the goal he ran, in what seemed to his mother Aileen to be in slow motion. On this Saturday morning Brendan was closing in on his second goal of the game. And he nailed it!
"I was so happy! We were standing there, cheering for him like crazy," she recalls. "He was so proud of himself; it was an incredible moment. In the big picture, it is something very small, but to us—and Brendan—it was the biggest thrill and accomplishment."
Children spending their Saturday mornings playing soccer, running up and down the field, and scoring goals is hardly foreign to the Lower Cape Fear—or virtually any community in the country. But Brendan's experience is special, and you could say it was a moment created especially for him and other children like him. Brendan is one of many on the spectrum. According to his mom, he can be painfully shy and socially awkward as a result, so the notion of organized sports is not one she and her husband had considered for their son.
"His older brother plays soccer and baseball and takes karate and Brendan loves watching him and imitating him," she says. "We really wanted to be able to give Brendan the same opportunities as his brother, but we knew the challenges he would face."
In steps Nicolette Swofford (aka Nic). A recent transplant to Wilmington and the mother of two children living with autism, Nic could more than relate to Aileen's wish for her child. That would be the motivation to start the Empower program, as part of the Soccer Shots program here in the city. She took her personal experience and experience coaching soccer while serving with the U.S. Army in Okinawa, and literally got the ball rolling.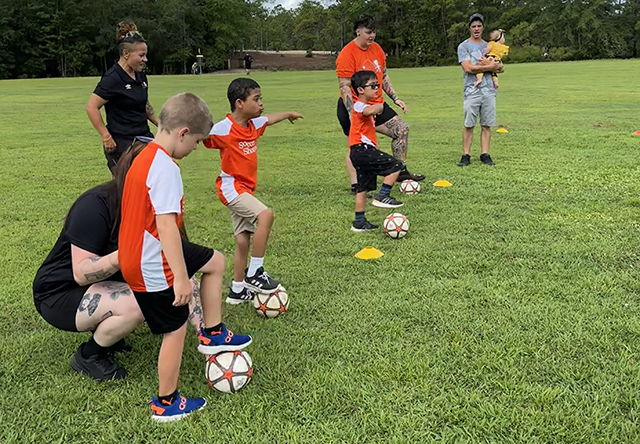 Empower provides children with special needs a safe place to learn and grow by encouraging social development, participation, and fun through the game of soccer. But this program offers more than simply learning the fundamentals of the game, there is a curriculum that is designed around multisensory strategies and activities to help the young players gain confidence, balance, movement, and basic soccer skills. Empower encourages the use of visuals and participant helpers and can be modified to accommodate children's needs.
"These kids really just needed a place to belong and being able to give them–and their parents–this opportunity is such a blessing," says Swofford. "I know that feeling of being stressed and wanting your kids to belong but knowing the reality. Empower gives them all a welcoming and inclusive environment."
Soccer Shots Cape Fear is an engaging children's soccer program with a focus on character development for ages two through eight. The franchise program, which was founded in Charlotte and Harrisburg, PA in 1997, was originally designed to positively impact children who live in underserved communities through quality soccer programs that support their physical and personal development. Soccer Shots Cape Fear has clearly moved beyond the original mission with Empower. The approved curriculum incorporated into all the programs offered through Soccer Shots aligns with state early childhood education standards and serves as a secret sauce for Soccer Shots instruction.
Soccer Shots has been part of the Wilmington community since 2019 and is looking to deepen its community roots through partnerships with local organizations to sponsor opportunities for Soccer Shots Cape Fear to serve the underserved community through soccer.
"Our mission is simple—we celebrate growth each week and have fun doing it," says Swofford.
Empower currently has five youngsters between the ages of four and 10 participating and they are hoping that it continues to grow as the word gets out. Soccer Shots has done little advertising and has relied heavily on word-of-mouth to garner support. According to Swofford, they routinely work with children in daycare centers, preschools, and other early childhood sites as the program is designed to provide young players with the fundamentals of the sport before moving toward playing in an organized league should they choose to do so.
For Aileen, the curriculum portion of the program has been incredibly meaningful to both her and her son. Milestones such as Brendan following directions and collaborating with his teammates have been amazing early accomplishments that she hopes will continue.
"You have no idea how incredible it is to see your child do something that has been such a challenge," she says. "He has proven he can do it and it's all thanks to this team."
The fall season for Soccer Shots and Empower are slated to begin September 16th. Each is a 10-week program that will meet once a week every Saturday. For more information, visit soccershots.com/capefear.