Add a new twist to your centerpiece arrangements and deliverable gift giving options with these healthy designs that you can eat
By JAMIE WALKER » Photos by ERIN WHITTLE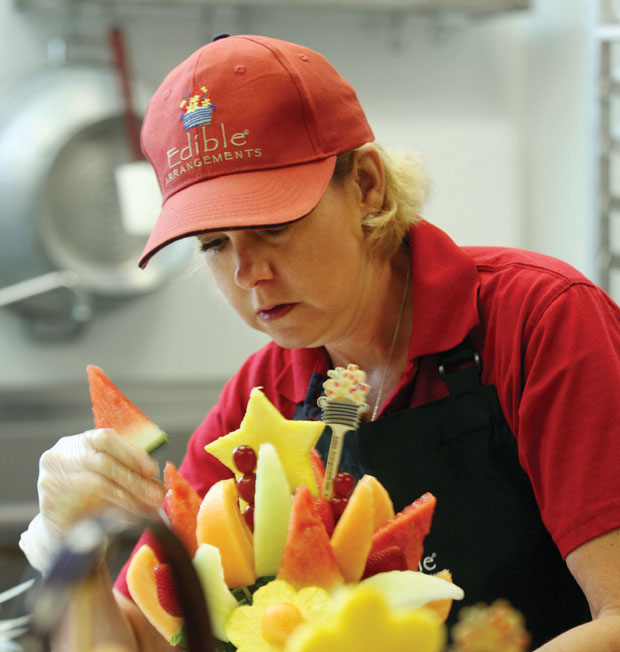 While sculptural beauty and sustenance create a solid and desirable partnership, the combination is hard to come by in the gift-giving market. Until 1999, when young Tariq Farid, along with his brother Kamran, developed the concept of artistically designed, fruit-filled centerpieces and offered them as flower arrangement alternatives in the first Edible Arrangements store in East Haven, Connecticut. Before this concept, flowers or the occasional potted plant were the only deliverable gifts offered.
Within 6 years, 500 Edible Arrangements' franchises were established across the country. Sculptural and edible centerpiece designs were a welcome combination in homes and on event tables from coast to coast.
It wasn't long before the rest of the world got wind of the sweet addition to occasions. As of this year, there are 1,100 franchises scattered across nine countries.
The company's success has been recognized in the media. For the past five years, they have donned the top 500 franchise list in Entrepreneur Magazine. And in 2011, Forbes Magazine placed the company ninth on the "Top 20 Franchises to Start" list.
Edible Arrangements came to Wilmington in 2005 via Ken Ruginis, a native New Yorker and entrepreneur.
Ruginis set up shop in Landfall Center, near Wrightsville Beach, and said that the idea of delivering multiple layers of pleasure-food to every occasion made the franchise very attractive to him. Ruginis, previously living in Rhode Island, said that he and his family spent their summers vacationing on the North Carolina coast, and were planning to spend their retirement years in the coastal southeast. Opening an Edible Arrangements franchise in 2005 gave him the head start needed to achieve his dream. And the adventure, he said, has been as fulfilling as it has been thrilling.
"We deliver happiness," he said. "It doesn't get much better than that."
The only thing that brings more smiles than a beautifully arranged, colorful centerpiece, he says, is one that you can eat. The bright stacks of skewered fruit ― pineapple, grapes, watermelon, honeydew, cantaloupe, kiwi ― and an assortment of dark and white chocolate-covered fruit delight the senses. Ruginis says he feels good about offering goods and services that brighten and refresh every occasion. From bereavement to birth, asking forgiveness to expressions of love, birthdays to sporting events, weddings to funerals, beautifully arranged fruit presented in a tasteful take-away container is always appropriate.
"We're in the healthy gift-giving business," Ruginis said.
Through their kids-at-heart initiative, Edible Arrangements offers healthy alternatives to kids' parties and events, with containers designed to include beloved characters and arrangements to fit young palettes.
There are designs to suit all special occasions. From green-colored white chocolate-covered strawberries for St. Patrick's Day, to pink-colored chocolate-covered everything for Breast Cancer Awareness month in October, Edible Arrangements designs to suit.
While they get paid for most of their gift-giving, Ruginis says that on both the corporate and local level, Edible Arrangements also gives freely to the community whenever possible. Ten percent of all store sales for the month of October are donated to Breast Cancer Awareness.
"We believe in giving back to the community," Ruginis said. "On the local level, we usually do this in the form of sponsorship." We sponsor the Thalian Assocation, the Seahawks, and the North Carolina Azalea Festival. "We also try to donate our goods and services whenever possible to area schools, local churches, and various fundraisers," Ruginis said.
When stepping into Ruginis's shop, it's instantly refreshing to see the fresh fruit, and the fast food options offered for the local sweet tooth.
A new Grab & Go line now makes it quick and convenient for you to stop by the store and give yourself a healthy treat ― chocolate-covered fruit of choice, fruit bowls, decadent parfaits and fruit sundaes, or a sweet fruit smoothie.

Ruginis, now living in Hampstead, says he has the best of both worlds. He and his wife spend weekends on the water, and he spends his weekdays sending out arrangements that will deliver a touch of healthy sweetness as well as happiness. 910-256-3130, ediblearrangements.com.