Essential Eats
08 Nov 2016
We dug into the Port City's mecca of eateries to find the best of the best, and I'd say it was a successful (and delicious) exploration all around. It wasn't easy to narrow down our front runners—but the below restaurants blew us away with everything from their consistent quality service to their imaginative eats. Tuck a napkin in your favorite local t-shirt 'cause we've got your top 25 places to chow down.
By FANNY SLATER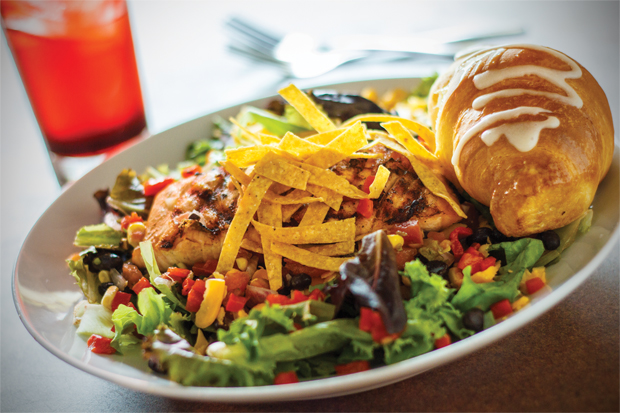 Blue Surf Café
910-523-5362
bluesurfcafe.com
Combine the laidback vibe of a beach bum and the imagination of a locally-inspired chef and you've got Blue Surf Cafe. Plating up breakfast, lunch, and dinner, this coastal eatery offers one of Wilmington's most versatile dining experiences. For a casual take on all things brunch, their quick counter-style service has got you covered. At dinner, gather the family around one of Blue Surf's beachy tables for a satisfying sit-down meal complimented by reasonably priced brews. Chef Jon Webb makes it a point to bring homegrown products into his kitchen and deliver them straight to your plate. Since you can always count on items like the citrusy Mojo Pork and sriracha-mayo-slathered Meatloaf Sandwich, daily specials from the board are a must-try.
Cape Fear Seafood Company
910-799-7077
capefearseafoodcompany.com
It's no surprise this seafood sanctuary tops local restaurant lists galore; and thanks to a hefty nod from a major regional publication—it's clear they're still making waves in the coastal culinary world. Known for Lowcountry-themed eats like decadent Shrimp & Grits, it's hard to not fall head over heels for this exceptional eatery. But while the dishes are magnificently presented and brimming with bold flavors, the unpretentious ambience brings in patrons of every kind. CFSC's kitchen is famous for being equally as fluent in French technique (you'll lick every last drop of the lemon beurre blanc that dresses the Fresh Catch Saltimbocca) as they are in speaking the southern fried language of the south.
Caprice Bistro
910-815-0810
capricebistro.com
When you're hungrily wandering around downtown and pondering, "WWJD" (What would Julia Child do), Caprice Bistro is your answer. From the sophisticated selection of French fare to the swanky upstairs lounge, this restaurant is undoubtedly where the famed chef would have feasted on escargots. Smack dab on the corner of Market and Water Street, Caprice is praised for their authentic European environment and delicious cuisine to match. On the seafood side, opt for an enormous portion of Mussels Marseillaise swimming in a white wine broth and scattered with strands of lemony fresh thyme. Served in a cone alongside thin, crispy "frites" with a mayo-based sauce for dunking. Hearty classics like Beef Bourguignon and Coq Au Vin are weekday specials, while the outstanding Waterzooi entrée (a creamy, exotic herbed seafood stew) is always up for grabs.
Catch Restaurant
910-799-3847
catchwilmington.com
Grown right here on Port City soil, hometown chef Keith Rhodes knows a thing or ten about Carolina fare. At his upscale, nautical-influenced eatery Catch, Rhodes (a James Beard nominee, Top Chef competitor, and downright wonderful human being) produces innovative seafood dishes with bold Asian pops. Boasting a contemporary setting and top-notch specialties like generously lumpy Crab Cakes, Catch is a consistent go-to for locals, tourists, and visiting celebs from all over. Standout starters are Spicy Firecracker Shrimp and Cajun-fried NC Oysters with funky Bleu Cheese Slaw. For a mind-blowing main, order anything in the form of a fish filet. Whether its cornmeal crusted, miso-glazed, or cast-iron seared—Rhodes is a master of fish and we're all hooked.
Ceviche's
910-256-3131
wbceviche.com
There's a reason folks flock to this colorful seafood hut and never want to leave. Between the righteously authentic Panamanian cuisine, tropical atmosphere, and rum-infused cocktails—why would you ever want to return to reality? It's nearly impossible to pick just one when it comes to light-as-air ceviche, so take the fish flight for a spin and try out several citrusy offerings like the zippy Langostino. You might want to keep that all to yourself, so order up the Chorizo Empanadas for the table to share. For seafood that's spent some time on the fire, fan favorites include Pistachio-Crusted Tuna and Grilled Snapper. The sandwich specialty of the house (and a legit can't-miss-dish) is the Pork Cubano on crusty focaccia bread with Dijon aioli, chunky slices of pork loin, fatty pork belly, and nutty Gruyere. Yes, please.
Copper Penny
910-762-1373
copperpennync.com
Come one, come all, and most importantly—come hungry. This energetic sports-scene (specifically targeting hardcore Eagles fans) has a diverse menu of scratchmade pub grub and has been consistently coined as the spot with the best bar food around. The beauty of Copper Penny, other than its solid lineup of craft microbrews and killer eats, is its ability to bring in crowds of every age. From families to young adults to college kids, CP is everybody-friendly and never fails to disappoint. The jumbo saucy buffalo wings are gnarly on their own, but bathe them in the homemade ranch and you'll be in buffalo heaven. Sandwiches (like the signature 109 Chestnut Chicken Sandwich) and handcut fries are a must, and for those who like it sweet—the brown sugar-dusted sweet potato fries are pure bliss.
Epic Food Co.
910-679-4216
epicfood.co
This mellow surfer-style café is designed for a high energy lifestyle. Even the ordering concept is unfussy at this chill breakfast, lunch, and dinner spot. For a mid-day meal to keep you going, start with your Power Bowl of choice and pick a protein and side. These robust blends of greens, seeds, and herbs are as nutrition-packed as they are tasty. Take the Hawaiian Salad bowl for a spin and let the pickled radishes and ginger veggies whisk you to an island paradise. For dinner, the Pan Seared Salmon is a grand slam every time. From the superior customer service to the radiant food, Epic is epic on every level. Serving up lean proteins, plenty of veggies, and organic ingredients—this quick, casual restaurant has remained one of Wilmington's staples for healthy eats.
Genki Sushi Japanese Restaurant
910-796-8687
genkisushiwilmington.com
Shyly tucked away in a strip mall parallel to Target, Genki's location is modest—to say the least. The food, however, soars well above average. With Chef Danny on the sushi line plating up some of the freshest sashimi you've ever tasted, this quaint café is typically rocking a line out the door. Kick things off with the ice-cold, unfiltered house sake and a side of the pan-fried vegetarian Gyoza bursting with greens and savory 'shrooms. For those sushi traditionalists, even the classic California roll—layered with elegant, mind-blowingly fresh flavors and dunked in homemade soy sauce—will knock your socks off. For a heartier bite, go for a specialty roll like the Lobster Crunch (wrapped in soy paper and overflowing with creamy lobster salad and crispy panko).
Halligan's Public House
910-791-1019 or 910-679-4172
halligansnc.com
Come to Halligan's for all the Irish feels where hearty food fills the belly and sudsy pints lift the spirit. This is your one-stop-shop for getting your Guinness on. Grab a load of friends and belly up to the bar to greet the cheerful staff who is rarely without a smile. Although the common order here comes with a side of whiskey, Halligan's is also known for their array of delectable Irish eats. For an extra crunchy take on a classic app, check out the Fighting Irish Nachos—stacks of salty, homemade kettle chips covered in cheesy chipotle sauce and all the fixin's. For a life-changing sandwich to have and to hold, the juicy Reuben piled high on rye will treat you right and never talk back.
Havana's
910-458-2822
havanasrestaurant.com
It doesn't take more than a spoonful of this island restaurant's prized Clam Chowder to reel you in. Say "surf's up" to the bar for a post-swell drink, or head to the dining room with a date for a romantic meal topped off with Hot Rum Bananas Foster For Two. Havana's is celebrated for sourcing as much as possible from the land and sea. For a refreshing summertime bite, go for the Seared Tuna Hawaii with peppery chilled slices of fish and crunchy seaweed salad. The sinful Lobster Seafood bake—served with sweet pea risotto and spinach—will leave you sated and sleepy. For brunch dishes sure to please each diverse palate of your Sunday crowd—you'll find everything from Blue Crab Benedicts to Breakfast Quesadillas to Biscuits & Gravy.
Indochine
910-251-9229
indochinewilmington.com
Generous portions and exotic dishes like Braised Vietnamese Catfish in a caramel chili soy sauce set the tone for this oriental dining experience. In addition to their award-winning cuisine, Indochine is renowned for their ornately decorated, outdoor gazebo-lined garden where guests feel as if they're dining inside of a rainforest. Newcomers often stick to familiar flavors like Pad Thai, but those who dare to be different can branch out towards one of Indochine's signature specialties. Standout items include Thundering Dragon in a Cloud—a fiery tamarind-based mixture with shrimp, bok choy, and crispy rice noodles—and Jungle Red Curry infused with an extra helping of dried red chilies.
K-38 Baja Grill
910-395-6040 or 910-686-8211
liveeatsurf.com
For adventurous Baja fare served up with a side of funk and fun, K-38 is truly the bee's knees. This colorful café is far more than your run-of-the-mill Mexican restaurant. One bite of their fresh, chunky pico (delivered to the table upon being sat) and you'll be asking for a pint to take home. Their avocado-heavy menu is California-themed and features classics like their spin on Fish Tacos with Dos Equis beer battered cod and yogurt ranch. For diners looking to lighten up, there are plenty of other non-fried handhelds to go around like the Jerk Spiced Yellowfin Tuna Tacos with citrus salsa fresca and pickled red onions. Popular sides range from lime and cojita-cheese dusted street corn to crispy tobacco onions.
Le Catalan French Cafe & Wine Bar
910-815-0200
lecatalan.com
A chilled glass of crisp white, a platter of artisan cheeses, and a crimson sunset in the backdrop. These are just a few of the draws that keep customers coming back to Le Catalan for one of the Riverwalk's most romantic dining experiences. This Parisian wine bar offers a simple yet wildly epicurean menu of tasty Provencal bites like dry cured sausage and creamy pâte. Not sure which grapes go with your order? Ask your helpful server for their expert pairing advice. Check the chalkboard for daily specials like cheesy seafood gratin and seasonal entrée specials like duck confit in puff pastry. On a sunlit evening, order up a charcuterie plate to split and dine riverside (pups welcome!) at one of the café's charming outdoor tables.
Oceanic
910-256-5551
oceanicrestaurant.com
When you're smearing gooey crab dip onto buttery baguette slices, it seems as if life can't get much better. Then again, add a little live background music to accompany the crashing waves and salty air—and you've just stepped up your game. It's not easy to not fall in love with a restaurant that offers patrons the ability to enjoy their meals smack dab on the historic Crystal Pier. Whether you're just stopping in for a scenic sunset cocktail or bringing the family for a celebratory meal—the Oceanic is a south end staple for all things seafood. Don't fill up on the addictive hushpuppies that come straight to the table, as you won't want to miss out on house favs like fried seafood platters and Grilled Cajun fresh catch topped with spicy crab.
Oceans
910-256-2231
wrightsville.holidayinnresorts.com
Resort-style dining at its finest is served up at Wrightsville Beach's appropriately named waterfront restaurant Oceans. This tropical oasis is located on the Main Level of the Holiday Inn Resort and boasts an elaborate all-day menu (plus nightly specials) and a spectacular outdoor terrace overlooking the salty sea. Throw an umbrella in your fruity drink and treat yourself to something fishy like the puff-pastry topped Seafood Pot Pie with scallops and lobster in a sherry-shellfish sauce. For a casual bite with a side of live music, grab a sandwich (like the BLTA) or skim the full selection of crispy pizzas made with Oceans' housemade marinara. For a meal that'll keep you swimsuit ready, the Atlantic Coast Cobb—with seasoned shrimp, tangy blue cheese, and salty bacon—is a people pleaser.
Pembroke's Restaurant
910-239-9153
pembrokescuisine.com
Chef James Doss hit a home run again with his second culinary creation Pembroke's (sister restaurant to downtown RX). As soon as the doors opened and word spread throughout Wilmington, this midtown hot spot quickly became one of the most popular destinations around. New American-inspired but with bold hints of the south, Pembroke's is a rare gem who shines for its classy yet unpretentious atmosphere, craft cocktails in mason jars, and farm-to-table food. Don't miss out on the Grilled Shishito Peppers with eggplant puree, briny goat feta, and creamy green goddess dressing. Off the wood fired grill, the Heritage Pork with bacon jam will leave you speechless.
PinPoint Restaurant
910-769-2972
pinpointrestaurant.com
From the Muscadine cocktails to the eclectic décor to the artfully composed plates, Pinpoint is on fire receiving one major accolade after the next. Chef Dean Neff's menu is a thoughtful marriage of his passion for local cuisine and his Georgia-based childhood. Starters like Butterbean Hummus with toasted benne focaccia and Mill's Family Farm Beef Tartare (trickled with tangy caper aioli and soy-pickled beech mushrooms) are permanent crowd pleasers. No entrée is a wrong turn here, but the Fried Joyce Farms Chicken Breast and smoky Cornmeal-Crusted NC Catfish with leek-laced grits are a reminder why this local establishment was written up in Southern Living Magazine. Always opt for dessert, as pastry chef (and Dean's wife) Lydia Clopton's ingenious sweets are worth every calorie.
Port City Chop House
910-256-4955
chophousesofnc.com
For a refined steakhouse environment with a local touch, Port City Chophouse is the place to be. This restaurant is victorious on every level from the informative servers to flawlessly prepared proteins, to a flexible menu. Diners dig this spot for celebratory occasions, but come just as often in search of a superior steak. Entrees are hearty and filling, but don't pass up classic steakhouse starters like luxuriously baked, bacon-studded Oysters Rockefeller. Although most reputable for their outrageous beef, PC Chophouse also gets high marks for having phenomenal salads and soups. "Chop" is part of the name, after all, so if you're not feeling filet—go for the garlic butter-glazed grilled Australian Lamb Chops.
Port Land Grille
910-256-6056
portlandgrille.com
Dubbed as one of Wilmington's finest restaurants, Portland Grill is no stranger to culinary accolades. Chef Shawn seeks out ingredients from nearby farmers and fishers to make sure that the kitchen is highlighting the best that our region has to offer. From free-range game to heirloom veggies, excellent ingredients are what give this eatery the edge. From "the port" side of the menu, you can get Carolina Grouper, Yellowfin Tuna, local Soft Shell Crabs and more prepared in a handful of different ways. Tarragon-sharp pimiento cheese butter, anyone? The crab cakes are also legendary, but check out the "from the land" menu for foods that don't swim.
Riverboat Landing Restaurant & Bar
910-763-7227
riverboatlanding.com
Ever walk down Water Street and stare up in envy at the couples dining on personal second-story riverside terraces? Yeah, me too. Riverboat Landing has been one of downtown's landmarks for over three decades. Want a side of history with your meal? This time-honored building dates back to 1857. In addition to the spectacular views of the battleship, you and your eating partner can enjoy an extensive variety of dishes. Coastal classics (and a tasty way to start your waterside meal) include backfin lump Crab Spread and melty Shrimp Toast. For a more casual experience, check out lunch and munch on a fried seafood platter or a light sandwich like the citrusy Lobster Roll. For dinner, don't pass up their signature Seared Diver Scallops with chili-lime vinaigrette and crushed pistachios.
Roko Italian Cuisine
910-679-4783
rokoitalian.com
This cozy bistro has a knack for making guests feel welcome, and it's pretty hard to not get the warm and fuzzies when you're treated like family. Roko's concept of fast-casual provides the perfect marriage of a neighborhood ambience with sublime Italian food. Keep an eye out for nightly specials, but every old school family recipe at Roko is a star. Their handmade pastas—like the Wild Mushroom Ravioli in sun-dried tomato bourbon—are worth all of the rave they receive. You'll find traditional Italian preparations from Marsala to Scampi-style to Francaise, but even the hearty salads here (especially topped with grilled or broiled seafood) are wonderfully memorable.
RuckerJohns
910-452-1212
ruckerjohns.com
You can tell an American-based kitchen—typically known for fried things and slinging wings—is doing something extraordinary when one of the items their celebrated for is salad. In addition to topnotch Angus Beef burgers (and addictive honey-glazed croissants), RuckerJohns is acclaimed for loading up diners' plates with glorious greens and scratchmade dressings. Despite an unassuming location, this family-run establishment (whose been serving up goodies for over twenty years) is always swarming with regulars. Familiar pub grub like Fried Mushrooms and Chicken Tenders are a hit for all ages, and those in search of a substantial supper will love the Blackjack Special—a juicy ribeye buzzing with Jack Daniels and spices.
Ruth's Chris Steak House
910-343-1818
ruthschris-wilmington.com
There's a reason Ruth's Chris is most folk's first choice for a momentous evening out on the town. Serving up some of the most immaculate service and the finest USDA Prime Beef around, this restaurant is legendary for doing dining right. Situated in Wilmington's downtown Riverside Hilton, this chic steakhouse is noted for being worth every penny. The wait staff is among the most consistent you can find, and that kind of excellent customer service makes a well-rounded meal that much more satisfying. All custom-aged steaks are seared to perfection and finished with butter and freshly chopped parsley. On the side: do yourself a solid and indulge in the ever-tempting Sweet Potato Casserole with the savory pecan crust.
Shuckin' Shack Oyster Bar
910-833-8622
theshuckinshack.com
One bite of the crispy hushpuppies from this tiki-like shack and you'll forget there's no ocean view. This oyster bar's downtown location is scented with Old Bay and serves up seafood buckets for days. With weekday specials on items like fresh, buttery clams and frosty pints—Shuckin Shack is a great choice all days ending in Y (and for inexpensive nights out with the kids). For a rowdy table of adult friends, order up several steam pots and a few fiery oyster-infused Bloody Mary shots. From the islandy fare to the locals in flip flops, this lively dive will waste you away to Margaritaville without all the parrots.
The George on the Riverwalk
910-763-2052
thegeorgerestaurant.com
Escort your family and four-legged friends to The George for a sunset meal to remember. With a wide-ranging and reasonably priced lunch and dinner menu, this dog-friendly spot's "dock and dine" fare is ideal for everyone (little ones included). Their coastal cuisine has a uniquely southern flavor that's all its own. Take advantage of the waterside view and dive into their Shrimp and Crab Nachos to start. Popular lunchtime items include the Crab Cake Sandwich smeared with herby cilantro mayo and the handheld Spicy Tuna Flatbread. For dinner, it's all about those famous Shrimp and Grits in white wine cream sauce. On a Sunday morning, the bustling patio is the place to be and the French Toast Foster (drizzled in rum syrup) is what to order.