Season's Greetings
08 Nov 2016
Designer tips and how-to advice on creating festive holiday tablescapes
By CHRISTINE HENNESSEY » Photos by KELLY STARBUCK PHOTOGRAPHY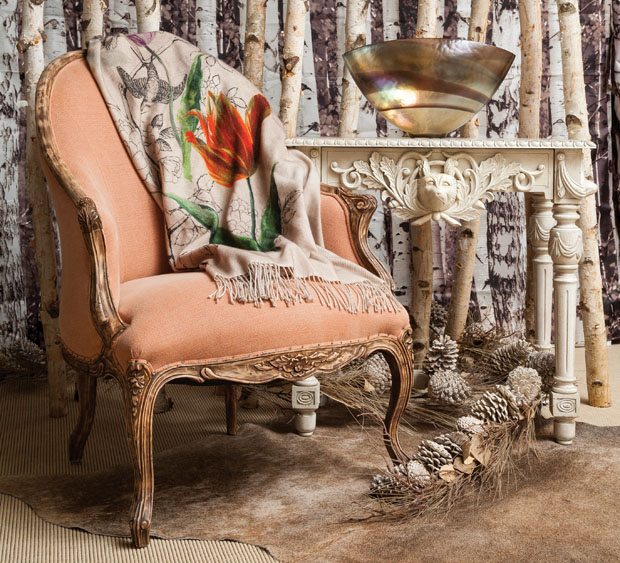 The holidays are a time for friends, family, and feasts. For this reason, the table is an ideal place to focus your decorating efforts. A festive surface, thoughtfully designed with iconic pieces and inspired textures, is a beautiful way to bring the holidays into your home. Known as a "tablescape," this style of decoration includes the artful arrangement of items on any surface, including a dining room table, coffee table, end table, counter, or mantle.

To help you get started we spoke to three Wilmington designers about how to style a seasonal tablescape for your next holiday bash. With their help, you can transform the humble act of setting the table into a work of art.
Lou Anne Liverman
Nest Fine Gifts and Interiors

Nest Fine Gifts and Interiors is a Wilmington boutique located in the heart of The Forum. In addition to an eclectic mix of furniture, accessories, and gifts, Nest also provides interior design and decorating services. The shop itself is a testament to their talents—cozy and beautiful, it feels less like a store and more like a well loved home.

Lou Anne Liverman, Allied Member, ASID, is one of Nest's designers. She's been with the boutique for three years, and has an interior design degree from Cape Fear Community College as well as an English degree from Meredith College.

Personally, Liverman is drawn to textures and visual layering. She also likes to mix aesthetics, combining different styles for a unique look. "When you have something that looks fairly casual and rustic, but then throw something gold and glittery in, it offers a pleasant punch of surprise," she says.

For her holiday tablescape, Liverman found inspiration in an unlikely place—the plates. "The collection is called 'Deer Friends,'" Liverman says, "and I was drawn to them because they're elegant yet understated." The plates inspired a woodland theme, which Liverman enhanced with natural elements and a variety of textures. "I added candles made from cut birch logs, as well as cedar and white paper flowers," she says. "I also included red burlap ribbon intertwined with cedar, a traditional choice that complements the design and adds a touch of formality."

Because Liverman likes to mix the casual with the glamorous, she opted for gold and silver beaded champagne flutes, gold-stemmed glasses, and wooden placemats intricately cut with a silver leaf finish. The final result is a tablescape with multi-generational appeal, perfect for a family celebration. "Children as well as adults would feel welcome at this table," she says. "It's fun, but it also has a certain elegance." 910-256-6378, www.nestfinegifts.com
Liverman's Holiday Decorating Tips:
Start with the centerpiece. A bold centerpiece gives the table a focus. Once this piece is in place, work your way out to the edge of the table, filling in with items that add to and complement the theme as you go.
Experiment with texture. Add variety and visual interest to your table with different types of materials, paying attention to peaks and valleys. This can be as simple as layering your plates on top of one another or including candles of varying heights.



Think outside the box. When it comes to a unique holiday tablescape, anything goes. Don't be afraid to have fun!
---
Gigi Sireyjol-Horsley

Paysage Home Design & Decor
Paysage, owned by Gigi Sireyjol-Horsley, is known for distinctive furniture, accessories, and lighting, all of which is artfully displayed in their Lumina Station showroom. The boutique also provides design consultations, which include one-hour home meetings with Paysage designers and helps their clients craft homes that reflects their unique lifestyles.

When it comes to holiday décor, the designers at Paysage don't limit their creativity to tablescapes. Instead, their festive displays and holiday accents slip into every space, from tables to mantles to beds. While this might seem overwhelming, designer Gigi Sireyjol-Horsley says creating a cohesive look is easier than it appears. "One of the best ways to handle holiday design is to pick a theme and then tie that theme into everything," she explains. A theme can be as broad as "vintage" or as focused as "monochromatic"—it just depends on the home.

To show how this can be accomplished, the Paysage designers focused their efforts on a bedroom scene. The theme was "gold," a festive choice that offers many opportunities for creativity and unexpected surprises. A mirrored tray edged in gold sits on the bed, topped with gold branches that cradle glass votives. In this space, color ties everything together, creating a polished look and keeping individual elements from getting lost.

Another element that crosses from space to space is a beautiful birch backdrop. "There's no downside to embracing rustic elements," Sireyjol-Horsley says. Bringing a bit of the outdoors inside is natural during the holidays, Christmas trees serving as the most obvious example. Birch follows in these footsteps, but offers an interesting twist. "Plus," Wright says, "it's unique and pretty—a perfect combination." 910-256-6050, www.paysage.com
Wright's Holiday Decorating Tips:

Commit to a color. Choosing a color is a great way to embrace a theme and keep your décor cohesive and classy. If you want to be extra hip, go with black and gold—it's very in this year.

Keep your centerpiece simple. The designers at Paysage are partial to a Mercury bowl, filled with round, classic ornaments. The silver bowl is festive, while the ornaments are a great way to invite a pop of color to the table.

Save space for fresh flowers. Wright recommends experimenting with something other than the usual suspects, especially when it comes to fillers. White garland has its place, but so do salmon birch backdrops and branches painted in metallic hues.
---
Debby Gomulka
Debby Gomulka Designs

Debby Gomulka founded Debby Gomulka Designs in 2000, after five years in the furniture and design industry. A graduate of the interior design program at Meredith College, her innate sense of style has graced rooms throughout North Carolina.

Gomulka's designs are client-inspired—she enjoys making their visions a reality, as it allows her to pull from a variety of styles and architectural periods. "Learning my clients' 'story'—who they are, their family, what they do, their exotic travels—is the most exciting part of the creative process," she says. That being said, her personal style is vintage modern, which she describes as "traditional, with an element of surprise." This includes classic details, vibrant color, luscious textures in velvets and silks, layered patterns, and a mix of comfortably casual chic for everyday living. "A well-designed space allows the eye to endlessly travel, picking up wonderfully proportioned details and new discoveries along the way," Gomulka explains.

Gomulka's holiday tablescape embraces her clients' taste for traditional interiors by using layers of sparkle to create a festive mood. At the same time, it nods to the on-trend vibe of casual elegance. The classic veranda seen through the dining room windows establishes a warm and comfortable setting with a sense of coastal panache, and fun boxwoods placed in rustic copper urns, along with magnolia leaves and natural greens, add an outdoor element juxtaposed with a playful reindeer.

The table itself is adorned with place settings twined with accents of pearls, while placemats with a punch of Palm Beach green, raspberry glassware, and linen napkins edged with red velvet trim embrace traditional colors with a twist. Finally, Gomulka layered in notes of silver and gold, vintage crystal, and stunning hammered silver platters with delicate leaves accented in gold. The result is a holiday tablescape that seems to ask, almost out loud, "Won't you join me for Christmas dinner?" 910-352-7339, www.debbygomulkadesigns.com
Gomulka's Holiday Decorating Tips:
Begin with your theme. Peruse holiday magazines and find photos of elements you like. Once you decide on your theme, make a wish list of items you'd like to include in your dream tablescape.

Form, color, and balance are a must. Pick a color or two you want to include, then balance your color scheme with texture. Think high/low, casual/dressy, matte/shiny.

Use natural accents. Beautiful items found outdoors are festive, seasonal, and will add a rustic element to your fabulously elegant holiday tablescape.