Everybody's Welcome
09 Nov 2014
Several Wilmington artists are cultivating creativity in students of all abilities
By CAROLINE GOBBLE
Photos by SUSAN FRANCY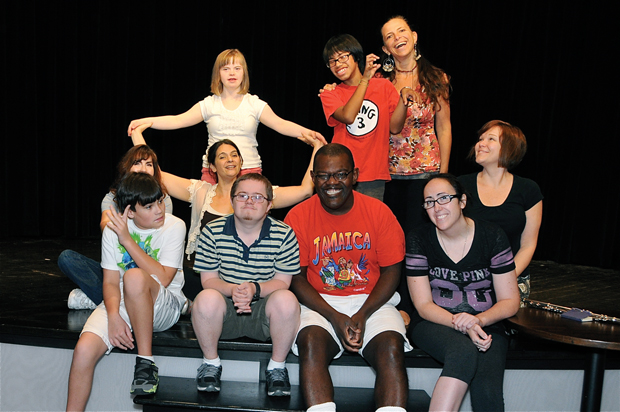 Irish writer and poet Oscar Wilde once said, "I regard the theater as the greatest of all art forms, the most immediate way in which a human being can share with another the sense of what it is to be a human being." Though theater and film are nothing new to the Wilmington arts scene, a handful of professionals are making strides in making the creativity, expressiveness, and beauty of theater a new reality for a group of local students. Theatre for All is a weekly drama class offered by Superstar Academy, the educational outreach component of Theatre Network of Wilmington (TheatreNOW), Inc., a registered 501(c)(3) non-profit.
Taught by Kim Henry and Gina Gambony, Theatre for All is Wilmington's first ongoing creative arts group for people with a range of abilities. Superstar Academy Board Vice-President and Cape Fear Community College professor Dylan Patterson has long held a desire to offer theater education to young people with a range of abilities.
To help make this desire a reality, Patterson collaborated with Laura Rosser-Bullard, a special needs teacher at Laney High School; Kim Henry, an artist who has been running community and children´s drama projects around the world for more than 15 years; and Gina Gambony, a director, teacher, puppeteer, performer, and writer experienced in working with folks with mixed abilities.
Gambony and Henry began teaching drama to special needs students at Laney High earlier this year. The group, now in its second semester, includes some nonverbal students, wheelchair-bound students, and students with Down syndrome. Gambony says that after each class, "You can tell they are positively affected by what's going on. Even if they are not dancing, not playing an instrument, not talking, or not singing, they are the still a part of the energy flow."
The first semester of working with Laney students culminated in an end-of-year showcase. Zach Hanner, Executive Director of Superstar Academy, described it as "so inspiring and exciting. You could see the joy on the faces of both the kids and the teachers alike. Everyone loves to be noticed and appreciated, and performing on stage to an audience and hearing that applause is very fulfilling. Our goal is to create more opportunities for these young people to perform and receive that gratification."
Utilizing the theatrical space of TheaterNOW in the heart of downtown Wilmington and equipped with wheelchair ramps and access, Theatre for All meets on Saturday mornings at 10:30 a.m. The class includes creative movement, voice work, improvisation, pantomiming, circus skills, and puppetry. According to Hanner, "Theater instruction comes in many forms and, often, those forms are adapted for the students in the class. Being able to go with the flow of your students is important and Kim and Gina know how to get their charges involved and integrated in to the games their playing and exercises they're doing."
Realizing that the classroom setting of Laney High was not allowing for some of the disabled students to fully tap into their creativity, Henry and Gambony sought to find a stage for students. Alisa Harris, producer of TheatreNOW Productions, LLC, fully supported Superstar Academy's creation of Theatre for All classes. The stage, the lights, the costumes, and the theatrical environment has allowed the students to "finally be given a space where they can be as open and as far out as they want," says Henry. "It is so nice to say to them, 'Hey, here is your stage. Here is your theater.' It's beautiful, inspiring, and really has an energy. Every week after class, I come away and my mind is full of images of these wonderful magical moments."
Gambony and Henry's efforts are "life-changing," said Ellis Furst, the mother of a 14-year-old Hoggard student with Down syndrome. "I appreciate their professional ability to draw the inner life of these children out to the surface. As parents, we are sitting back and saying, 'Wow, did you see what my child just did?'" she says, observing changes within her daughter, Evangeline, after just three class meetings.
Evangeline has participated in drama classes at school, but Theatre for All and performing on stage has "brought her out of her shell," says Furst. "Just in three weeks, she went from being self-conscious and having intermittent expressions of drama to being more consistent in following directions, listening to prompts, and acting out of a new sense of discovery of the things she is able to do." Furst commends Henry and Gambony on their professional ability to relate to and draw out of each of the students. "I've never seen the kind of personal caring and compassion or the amount of time they are spending."
Theatre for All is growing on a weekly basis, and students are working towards a showcase for their friends and before Christmas. Henry describes her vision for the showcase as small and intimate, yet still an opportunity for them to perform on stage. "It will be their first experience and we wouldn't want to overwhelm them. But over time, we want [Theatre for All] to be a part of the theater events and scene in Wilmington. In time."
Funded by donations, the class offers scholarships to students in need, though it currently does not offer transportation for participants. Live Oak Bank is the primary sponsor and recently gave a donation of $5,000.
"We are bringing those people together," says Henry, with unwavering passion in her voice. "Everyone is bonded on some level by their love of drama. Here is a theater company for those with disabilities and this is what they want to do. They want to sing and dance and act. The parents are like, 'finally.'" And that's a wrap.
To make a donation or for more information, visit superstaracademy.org or email tnowSuperstarAcademy@gmail.com.