Finding Her Voice
02 Nov 2022
Enriching Wilmington's live music scene has become this singer/songwriter's passion

By Kim Henry » Photos by Abigail Whitehurst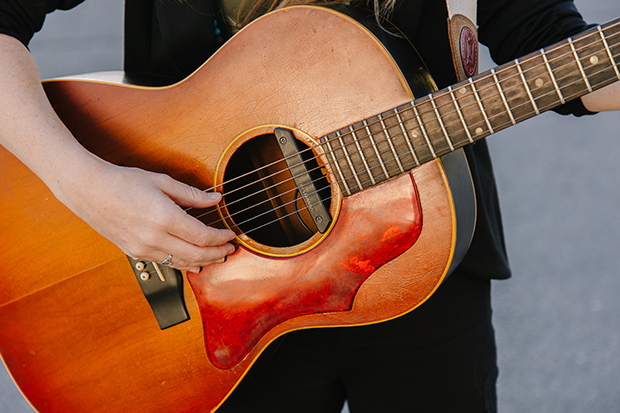 Wilmington is well known for its buzzing artistic community, with a thriving theatre scene, film making a come back, and visual artist studios continuing to pop up all over town. It also is fast becoming a live music haven, and the dedication of one local musician and singer/songwriter, is helping to take it to a whole new level.

Born in Charleston, West Virginia, Emily Burdette has been singing since she was a little girl and writing lyrics since she was 14 years old. "I used to carry a recorder around with me and mimic Curly Sue," laughs Burdette, blue eyes shining bright as she talks about her passion for music. Encouraged by her family, Burdette turned her hand to piano before settling on guitar as the means to bring the melodies in her mind out into the world.

Like many aspiring artists, Burdette had to overcome her own obstacles to truly believe in herself and her ability to become a full-time working musician. Having a degree in Media Studies from Belmont University in Nashville, she began working on other people's music videos and for MTV. Yet the lure of both the beach and Screen Gems brought her to Wilmington in 2012. So how did she transition to making her own music full time? Was there a pivotal moment when she suddenly realized that she needed to commit to her creative path?

"Well, honestly, I started doing yoga and this helped me break though the anxiety I was holding on to about putting myself out there. It helped me connect to myself and the performer that was waiting inside," shares Burdette "Through yoga, I also met a supportive community of people who believed in me." Crediting friends and family for supporting her growth as a musician and to finding the confidence to invest in her own songs, Burdette has not looked back.

As a solo female musician and singer/songwriter in an industry that continues to be slightly out of balance in terms of gender equity, Burdette has worked hard to establish herself in the music scene and make her own mark. Blending the sounds of both pop and folk, she released a 5-song EP of all original work called 'Time to Speak', and an 11-track follow-up record with award-winning producer Karen Kane. Her next release was a full-length album called 'Make Believe', and she's currently recording her next album with music producer and musician Sam Hatch of The Hatch Brothers. Burdette has also begun to collaborate with other local musicians such as Noelle Whittington, and formed a duo with her partner,
Jordan Hughes.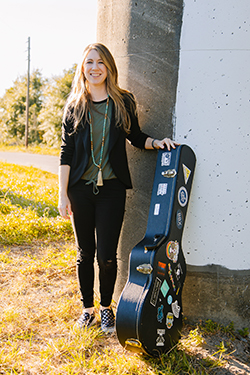 Alongside recording, writing, and playing events, Burdette has put her energy into the singer/songwriter showcase called 'Voice and the Pen' as a way of enriching the live music scene. This project was inspired by her days at the Bluebird Cafe back in Nashville, the well-known listening room and live-music venue, a space for independent musicians to showcase their original work and be heard. Partnering with another local musician, CB Johnson and sound engineer TK Thomas, Voice and the Pen hosts weekly events that highlight different local talent with an atmosphere of respecting the musicians and music, rather than just hanging out in a bar with live music as the background.

"We wanted to create something specifically for the artist to show what they write and to allow musicians to connect with one another. It's amazing how many independent musicians there are here in Wilmington, and they deserve to be heard," smiles Burdette. Voice and the Pen is held at Waterline Brewing Co. a few blocks from downtown by the Cape Fear River, every Wednesday night at 7pm, except for the first Wednesday of each month when it is held at Live at Ted's on Castle Street. Burdette and the Voice and Pen crew are collaborating with Trent Harrison of Hourglass Studios to produce an album highlighting some of the musicians that have been a part of
this showcase.

This trajectory may not be as secure as a more traditional career but as Burdette says, "I know I am doing what I'm meant to be doing and that's extremely fulfilling." Burdette's folky style is steeped in a moving vulnerability, with relationships being a central theme to her work. Her music is available on all streaming platforms and her beautiful voice has an innate power that will touch you to the core. Her inclusive, encouraging energy is as compelling as her songs, and the Wilmington music scene is a more vibrant place thanks to her dedicated input.
emilyburdette.com; voiceandthepen.com