A Tennis Organization Spreads the Love
02 Nov 2022
From lessons in Spanish to players with special needs, the motto of this thriving advocacy could be "no player left behind"

By Vera Wilson » Photos by G. Frank Hart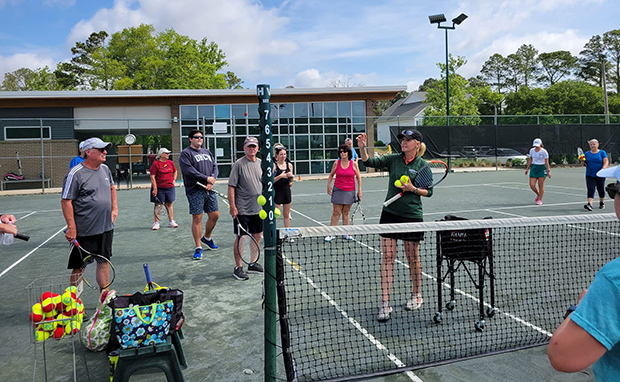 On any given day, if you visit a tennis park in Wilmington, the courts will likely be packed. Adults will be smashing overheads, teens will be rushing the net, and children will be hitting brightly colored balls.

And more than likely, the Greater Wilmington Tennis Association (GWTA) has something to do with it.

"GWTA is the umbrella of tennis in the area. It is the support for just about all tennis involvement in our community," explains Anna Martin, the United States Tennis Association's league coordinator for Southeast Tennis since 1992.

Some may be surprised to learn that the GWTA operates as a nonprofit. As shared on their website, their mission is to promote and develop the growth of tennis as a means of healthful recreation and physical fitness.

Current membership of the GWTA is almost 3,200 members, which includes players from adjacent towns like Leland. Members typically join a team and compete against players of similar age and level of expertise.

A motto of the GWTA could be "no player left behind." Their programs welcome young and old, beginners and lifelong players, and those with special needs. Lessons, matches, and events are held year-round.

Tennis is a life-long sport, so it's never too early or late to start. GWTA's Try Tennis program offers low-cost lessons and a free racquet to beginners or anyone who needs a refresher. To gain maximum exposure, lessons are available in Spanish and throughout the five-county region.

GWTA's Community Coordinator Candy Pegram describes the impact of getting involved in Try Tennis: "We take complete beginners and turn them into league players through a progression of sequential clinics… These folks are now involved in a healthy sport, they are making new friendships, and all of this has a positive impact on their daily life."

The skills and values that tennis can teach you go far beyond a wicked serve. Practicing good sportsmanship, gaining self-confidence, exercising discipline, and learning to work as a team are all great takeaways from the game. For these reasons, the GWTA places special emphasis on junior and youth programs.

A free after-school program for middle-schoolers lets beginners learn the game in a non-competitive environment. Junior Team Tennis kicks it up a notch with competitive, yet always fun, play for kids ages eight to 18. Numerous clinics and tournaments are held at local parks and clubs. For players who are college-bound, the GWTA currently offers two scholarship opportunities.

With the belief that tennis can be adapted so that everyone can participate, the GWTA's offers two programs for people with special needs. The Abilities Tennis program is open to any person with intellectual challenges and includes drills, lessons, and match play, all conducted by specially trained coaches.

The Wheelchair Tennis program encourages anyone with a physical disability to give tennis a try. GWTA partners with nonprofits Access of Wilmington and Wheel Serve NC, who provide volunteers and participant referrals. Thanks to UNCW Recreation Therapy, special wheelchairs are provided, without which would make playing tennis out of reach financially for many players.

Participant Josie Godwin sings the praises of the program. Invited to watch a match, she moved quickly from spectator to player and hasn't looked back.

"It's so much fun," Godwin exclaims. "The camaraderie is absolutely delightful. The support from the volunteers is amazing. You use your wheelchair like you never thought you would, and you're not held down by your disability."

Her advice to others with physical disabilities? "Don't pass up tennis because you don't know what you can do. It's so rewarding, physically and mentally," Godwin shares with enthusiasm.

GWTA's service to the community extends beyond just growing tennis. The organization sponsors or supports many tournament fundraisers that directly benefit deserving nonprofits. Each autumn brings perfect tennis-playing weather and the annual Great Pumpkin Smash Tournament with all proceeds going to keep the Abilities Tennis program funded.

Springtime ushers in the Smash Cancer Tournament, a fundraiser for the Head and Neck Cancer Alliance (HNCA). For GWTA board president Christine Tatum, the fundraiser has special significance.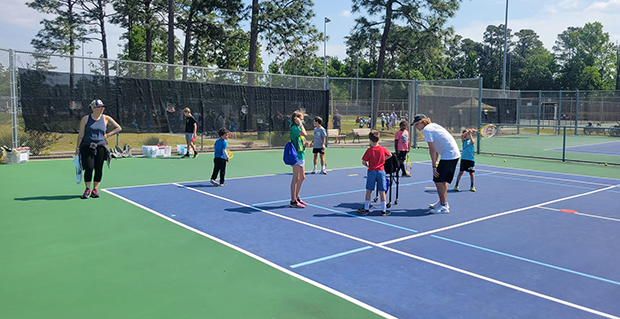 "Smash Cancer is very near and dear to my heart as both my parents died from H&N cancer 40 years apart," Tatum shares. "The tournament raises awareness of H&N cancer by providing free screenings and educational information. Too often, head and neck cancers are detected at late stages, which makes treatment and survivorship much more difficult."

Proceeds from the tournament provide important funding for H&N cancer patients.

"The tournament has been transformative for the HNCA in terms of providing an ongoing source of support for HNCA's most in-demand program, the Gas Card Program...which helps with the cost of accessing treatment," Tatum explains.

Tatum is proud of the GWTA's ability to meet the needs and challenges of our community.

"Recently, we've expanded our tournaments to give back to the community. Especially the Raise a Racquet against Domestic Violence event held last spring in response to the shooting which occurred at one of our community's private tennis facilities. It was very rewarding to see our tennis community come together and support the family involved as well as the Domestic Violence Shelter and raise awareness about resources available," Tatum says.

The event was so successful — they raised nearly $17,000 — that it will be held annually from now on.

The GWTA contributes significantly to our local economy, too.

"For at least 12 years, we have hosted two weekends of the Combo Doubles State Championship," Martin says. In total, 2,600 players from all over the state descend on Wilmington over the two weekends, and the local economic impact is estimated to be about $4.2 million. Wilmington will host the tournament again this November.

"It's fun to watch players from all over the state come here to compete. During those weekends, almost every court in Wilmington is being used...all day," describes Pegram. "That's why it's important we continue to maintain our courts and facilities so we can continue to attract these types of tournaments." And this organization's meaningful community outreach.

To learn more about the GWTA or to volunteer, donate or sponsor a tournament, please visit their website at wilmingtontennis.com.