Step Into an Autumn Arrangement
02 Nov 2022
Enjoy the harvest before the holidays with an arranging method that's easy as pie

By Elizabeth Sugg » Photo by Melissa Souto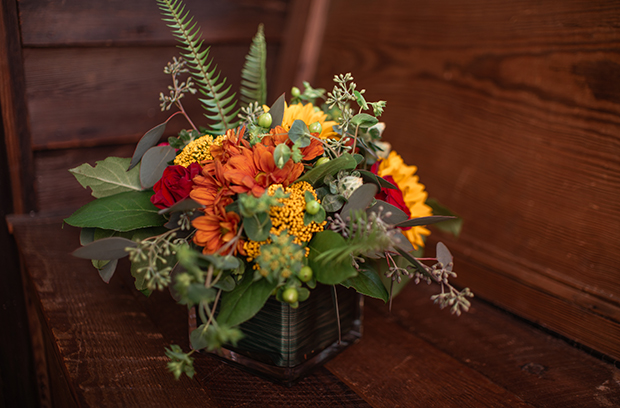 There's an optimism in fall's vibrant colors. Bright oranges, yellows and golds set off a range of reds, burgundies and purples in a profusion of happy hues. In the mix often are berries such as St. John's wort and greenery such as seeded eucalyptus, both of which are readily at hand at a well-sourced grocery store. The friendly face of a sunflower often is the star of a fresh fall bouquet, the flower symbolic of true love and friendship. Before your house gets overtaken by holiday décor, and with pretty blooms readily available, and often the cost for three bunches between $15 to $20, enjoy this step-by-step method shared by Carol Dowd, the owner of Botanicals Fabulous Flowers and Events in Southern Pines, N.C., to enjoy some harvest beauty through Thanksgiving. A Certified Professional Florist and an accredited member of the prestigious American Institute of Floral Design (AFID), Carol's interest in floral design was inspired by her father whose family has owned and operated landscape design and nursery businesses spanning four generations. Part of her talent is a knack for developing a rhythm of arranging so she can lose herself in the beauty and enjoyment of flowers. Below Carol shares her four-corner method of arranging, and may the step-by-step instructions yield happiness to you
and yours.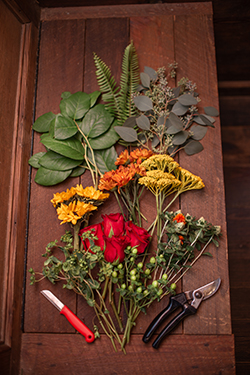 Fall Arrangement Recipe:

A 6 x 6 square container or a round that's a similar diameter

Greenery: salal (an evergreen plant with waxy, glossy foliage), seeded eucalyptus (for texture and subtle sage color), fern fronds, or clippings from your backyard

4 stalks of yarrow (a native North American plant or another yellow flower)

4 red roses

3 golden chrysanthemums

3 green hypericum berries, also known as St. John's wort

2 safflower stalks, preferably orange

3 sunflowers


Step 1: Prepare the flowers and greenery going by making sure all stems are clean and trimmed.

Step 2: Place salal or another showy leafed greenery in each of the four corners of the 6 x 6 container. Next, place the 4 yarrow blooms into each of the four corners. Note: Cut the greenery and yarrow to fit so, once placed, the stems reach the opposing side.

Step 3: Next add the four roses. Now add chrysanthemums from three directions, placing more towards the center.

Step 4: Add hypericum berries, again filling in the arrangement towards the center.

Step 5: Add the safflower stalks or another thistle-like flower or one that adds a bit of orange.

Step 6: Strategically add the three sunflower blooms, checking the arrangement from all sides.

Step 7: Add seeded eucalyptus and fern fronds so the eucalyptus drapes off to each side and fern adds height and interest from the top.