Deliciously authentic Italian cuisine with a view

By BRIDGET CALLAHAN » Photos by KELLY STARBUCK PHOTOGRAPHY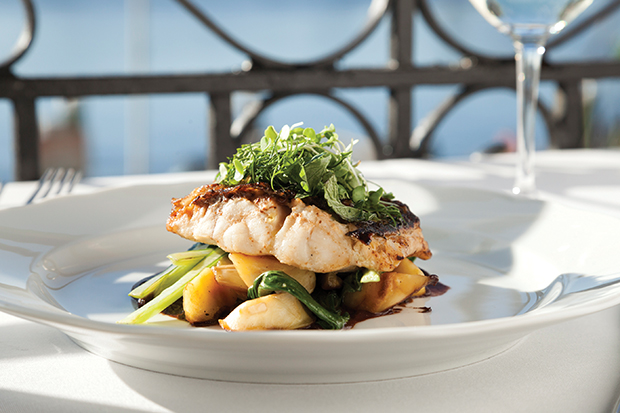 A classic of the Washington D.C. culinary scene has moved to town and taken up residence in the old Marsello space where Market St. meets the riverfront. That address has always been one of the best date spots in town thanks to the sweeping balcony views and gorgeous sunsets of the Cape Fear. Now it's also one of the best places in town to get classic, authentic Italian cuisine, whether you're dining in or taking it home.

Floriana Restaurant has been a staple in D.C. since 1979, known as an upscale, but intimate bistro with the best Italian cuisine in the city. Floriana, an immigrant from Piacenza who brought her family's recipes with her, ran the restaurant until 2010 when her son Dino took over. In 2012, a young lawyer just out of school started working there as a server to make ends meet while his new practice got off the ground. Later, that lawyer became the head server, then general manager, and finally in 2016 Jamie Branda bought the restaurant from Dino.

"Dino warned me a few months into working, he said, "Be careful at this place, it's the best job you'll ever have, and you won't want to go back to being a lawyer." I laughed it off at the time," Branda says.

A few years ago, Branda and Chef Daniel Hlusak decided they were ready to look for a second location. They knew they wanted it to be in the South, and they scouted up and coming places like Birmingham and Chattanooga. But it was Hlusak who finally suggested Wilmington. One of Branda's close friends works at UNCW. When he mentioned he might be coming to scout here, a few days later he got a 10 page case study outlining incoming money, investments, growth, foot traffic, and the dining scene. Branda says it took them an hour of being downtown to decide it was the right place. After moving into the building December of 2019 and doing some major renovations, they were all set to open...the last week of March.

Opening a new restaurant is never easy, and obviously, 2020 more so than ever. Floriana Wilmington opened in April to carryout, and finally opened to dining later in the summer. Those iconic balconies got a lot of good use, and they set up a few tables on Market as well. Through it all, Branda has been optimistic and still convinced Wilmington was the right choice.

"One of the things we like about Wilmington is that there are a lot of local farms nearby. So we get really beautiful produce, and it allows us to change our menu seasonally," Branda says. "And you can have more fun with proteins here. People aren't afraid of a duck, people aren't afraid of venison. It's more of an outdoorsy place. If we put wild boar on there, people are like "Hey, I love wild boar." So we like that about Wilmington a lot."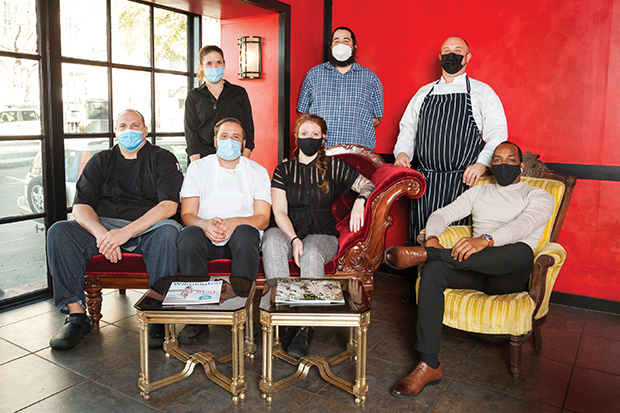 The new menu, available on their website, is tailored a bit more to Wilmington audiences, featuring both Northern and Southern Italian classics. But, true to Floriana's original vision, there are some dishes that will never change and have survived on the menu for 42 years for good reason.

"What we're famous for is our lasagna. We've had famous politicians, Supreme Court justices, all come in just for the lasagna. We make all the pasta; it's a homemade bechamel we make in house. We make our own mozzarella that goes on top. It's big, it's cheesy, and it's delicious. And that recipe will never change. That recipe was Floriana's grandmother's recipe, at least, goodness knows how old it actually is," Branda says.

"Another one that's very unique to Floriana is tortelloni mignon. Everyone has had tortellini, and "ini" is a diminutive, so when you see "oni" it means full size. Our tortelloni is our homemade pasta pocket filled with shredded filet mignon and aromatics, and a real simple straightforward tomato cream sauce over the top. It's a very classic Piencenza dish. They love stuffed pasta, and they love cream and tomato sauces. Up North you're closer to the French border, so you see more dairy in Northern Italian cooking than you do in Southern Italian."

Whether you're dining in or carrying out, be sure not to miss the crispy, golden arancini, fried risotto balls stuffed with mozzarella and a constantly shifting combination of flavors. Also recommended is the authentic Cesar salad, with anchovies worked into the dressing and what they call ACG croutons, with anchovies capers and garlic seasoning the croutons themselves.

"Our most Northern seafood dish is a diver sea scallop and shrimp risotto. Northern Italy loves risotto. It's a very simple with white truffle oil, garlic, and onion. Before I started working at Floriana, I had that dish every single time I went there. It's my favorite," Branda says.

Overall, Branda says he's impressed by the welcome they've received from Wilmington, and of course he's anxious for more normal times to return. But in the meantime, Floriana is slowly building their following, and trying to take care of their new community. In fact, inspired by reading about food scarcity during the pandemic, the restaurant is offering free lunch from 11-2:30pm to any child, no questions asked. It speaks volumes about what kind of neighbors and family the Floriana staff and management aspire to be.

The full Floriana menu is available for carryout and the dining room is open, with bag and tag wine available. Come enjoy a half price bottle of wine on Wednesdays and Sundays with a curated charcuterie board, or bring a cheesy slice of comfort lasagna home. Italian food is at its heart about finding joy, warmth, and family, and we could all use a little more of that this year.