Full Circle Success
10 Jul 2017
Paying it forward with Phoenix Hometown Hires
By TERESA A. McLAMB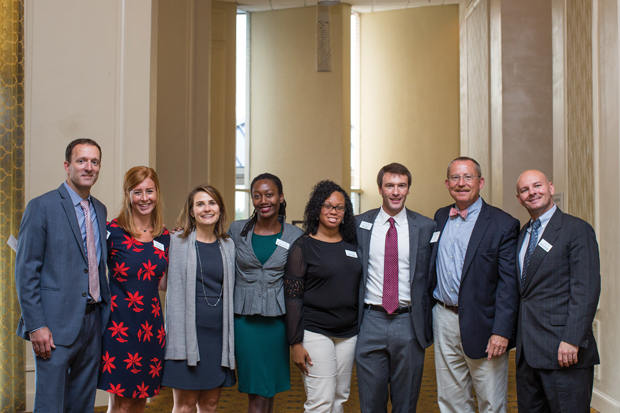 A couple of hours after Phoenix Hometown Hires (PHH) received the Coastal Entrepreneur Award in the professional services category May 24th of this year, approximately 420 people gathered at its fundraising luncheon and donated $132,000 to the nonprofit agency. PHH teaches skills necessary to procure and keep a job to a wide population of unemployed persons wishing to gain employment. "Generally, the demographic is 60% African-American, 40% Caucasian and a very few Hispanics," said PHH executive director Will Rikard. "More than 60% have some sort of criminal history; 20% live in temporary housing, or a shelter, or are homeless; 20% have a history of substance abuse. Half have a high school degree or less, and 10% have a college degree or more," he added.
While Rikard had the honor of accepting the award for the organization he manages, he quickly credits success to a strategic plan put in place before he was hired, as well as the hard work of many staff members and volunteers.
Rikard was hired in 2013 as program director for Phoenix Employment Ministries (PEM) by its co-founder and director Don Skinner. His hiring, and that of others, was part of a plan forged in 2012 when Skinner and the board of directors sought to grow the organization and expand its services. Several adjustments quickly made a difference. By moving classes out of their offices to a larger off-site space and by enlisting volunteers to assist the staff in teaching, they could increase class sizes and frequency. Those moves helped to add community awareness and enthusiasm for the agency's efforts.
In 2015, Skinner retired, and PEM (which opened in 2003) merged with Hometown Hires, an initiative of the district attorney, Live Oak Bank, and Cape Fear United Way. Rikard was tapped to lead the new organization, which operates under PEM's 501(c) 3, in July 2015.
Prior to working with PEM and after receiving his MBA from American University in Washington, DC, Rikard worked in the financial recruiting industry in DC and then on to Sweden. Upon returning to the US, he moved to Wrightsville Beach. "My family spent many summers there, so I decided to spend some time there to reintegrate back to the States, and to figure out my next career move." He wound up in Craven County working on President Obama's 2012 campaign. "That led to where I am now. We were very focused on areas of high poverty. There was a lack of opportunity in New Bern and the county; a lack of opportunity for too many people." After the campaign, he moved to Wilmington where he met Skinner, and was hired as PEM's job program director.
In the 32-hour, one-week job-readiness program, participants learn about job searches, interviews, resumes, and how to address sticky issues like previous brushes with the law. "They're required to be there 100%, just like a job. If they're late, or can't be there, we ask them to start over." Participants are taught skills like goal setting and preparing an elevator pitch. They're also taught how to keep their jobs once they've procured one, "what they need to do to be successful," he said.
Most participants find PHH through word-of-mouth, but they also come from referring partners and agencies like the Department of Social Services, Employment Security Commission, churches, LINC Inc., and Cape Fear Literacy Council. "Anybody who sees people who have challenges," Rikard added, "like Coastal Horizons which deals with mental health and substance abuse."
"We are constantly reaching out to people to remind them about our services to create an easier pathway" for potential hires, he said. "On a weekly basis, we go to agencies, probation officers, jails, to remind them when our next program is."
About 100 local employers have stepped up to support graduates of the readiness program. He advises these companies to hire according to skills needed rather than being good-hearted and possibly hiring a mis-match. "If you have a need, we'll see if we have somebody who will match that skill set. Hopefully the person matches the skill set and interviews well. We have existing relationships with companies and try to build on that."
Throughout it all, the organization uses a purchased database management program as part of their strategic development plan, to track and analyze their students and methodology.
The database collects "everything we do, so we have a measureable outcome; to see how effective we are," he said. Data collected includes demographics, housing, mental health issues, substance abuse, all work history, incarceration or arrests, communications between PHH and the client/participant, all paperwork including employment records. "It's all to effectively track the client's progress and to hold PHH accountable," Rikard said. "Once an individual is employed, the collected data includes employment start date, end date, raises, promotions, and other information. We also track them as they enter the second program."
That second program, Life Skills, is a three phase, nine-month program focused on long-term stability. Participants must be employed. The curriculum focuses on personal development, financial literacy and volunteerism. "The last phase is about giving back, so it's going full circle to volunteering in the community." At least ten hours of volunteer service is recommended, but it's not a requirement. The idea is to "make the participants accountable to themselves to reach the goals," Rikard said.
"Volunteerism is the newest piece of the program, and it's coming along well," he said. Participants have been spending time at local senior centers. A reading program for children in the Creekwood community is in the works.
The volunteer hours are compiled along with the other data to determine whether the methods PHH employs are working. "We measure stability and put the stability into categories like employment, housing, health, support systems, transportation, and education. We assess where they start and quantify it. As they meet criteria, their score improves, so we're looking at it to see how well we're doing. If someone loses a job or goes back to old habits, then we're not succeeding," Rikard said.
Five graduates spoke at the recent fundraiser. Their testimony helped increase community awareness. Looking forward, that awareness should help to reach a goal set in 2015; by 2019, Phoenix is expected to place 250 people each year into a job. "We're on trajectory for that now," Rikard said.
"We're also looking at growing the life skills program. What can we offer beyond the job, long-term, to help them make more money?"
Last year, they created a youth program focused on the children of the life skills participants. Hope is that the family-centric approach will help children to avoid the pitfalls of their parents.
Exploration has begun into a social enterprise, which will employ people, create jobs and training opportunities, and also establish a revenue stream for Phoenix Hometown Hires. Rikard is optimistic. "The Wilmington community is very committed to causes like ours. People care. They want to see the community improve."