Living the Good Life
10 Jul 2017
Two communities in Wilmington offering an active lifestyle after retirement
By Catherine Kimrey Breeden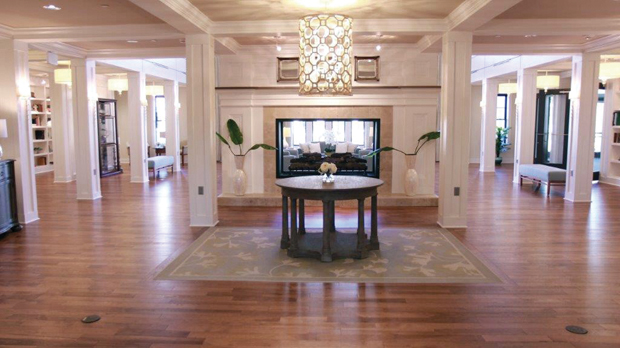 "We retired to heaven," Bea Stewart says when asked about life at Brightmore of Wilmington. Mrs. Stewart, a former educator, and her husband Phil Stewart, a past Special Agent with the Federal Bureau of Investigation, relocated to Wilmington from New Jersey thirty years ago. Initially settling into a 3,000 square foot home on the 18th green of The Cape Country Club (now Masonboro Country Club), they decided to move to Brightmore, a full service, independent living retirement community. They both agreed that it was time to downsize.
Both are actively engaged in Wilmington's cultural, educational and social life, as well as, past Presidents of the Adult Scholars Program sponsored by the University of North Carolina at Wilmington's Osher Lifelong Learning Institute (OLLI). One of the many things that the Stewarts love about life at Brightmore is the variety of programs and activities that it offers. These include recent outings, like a day trip to the Duplin Winery and attending the Thalian Performing Arts presentation of "Cat on a Hot Tin Roof."
Peggy Utterback, next-door neighbor to the Stewarts, retired to Wilmington from the Charlottesville, Virginia area in 2014, along with her husband, who has since died. "I feel safe here," she says, "and enjoy participating in physical activities such as yoga, balance, and core training, which are available through the excellent Aquatic and Wellness Program. I also love sitting on my spacious porch and walking around the pond to enjoy nature."
Brightmore is nestled into a quiet wooded setting in Wilmington's midtown area, close to Independence Mall and the New Hanover Regional Medical Center. Upon entering the spacious lobby with its massive crystal chandelier and curving staircase sweeping up to the second floor, a visitor immediately gets a sense of gracious and traditional Southern living. Marianna B. Stacy, Brightmore's Community Outreach Coordinator, explains that for one reasonable, monthly fee, residents of this 140-unit rental apartment complex get a daily choice of lunch or dinner in the Carolina Cape Dining Room, all utilities (except phone), weekly housekeeping, scheduled transportation, and other services and amenities that free them up from the responsibilities of home ownership.
Since Brightmore is a retirement community with a continuum of care, residents are able to remain and transition into adjacent residential situations if they are no longer able to live independently. The Kempton at Brightmore provides an assisted living environment to those seniors who require a special level of care, such as help with medication administration or meal preparation; tasks that they can no longer manage on their own. The Commons at Brightmore provides personal care 24 hours a day, while Paraklay Way enables individuals with memory loss to feel at home in a secure and comfortable environment.
Across town from Brightmore at Wilmington is Carolina Bay at Autumn Hall, another senior- residential, continuing care, rental community. Both fall under the umbrella of Liberty Healthcare Companies, started in North Carolina more than 125 years ago by brothers John and Ben McNeill, and now managed by the fourth generation of the McNeill family.
Two miles from where the Atlantic Ocean's salty waves lap the sandy shore of Wrightsville Beach, and one mile from Mayfaire Town Center, Carolina Bay is an integral part of the multi-use Autumn Hall community. Carolina Bay shares space with a variety of single and multi-family homes, along with apartments, hiking trails, and medical facilities, including the Bradley Creek Health Center. Located on the 24 acre campus of Carolina Bay, Bradley Creek Medical Center provides residents seamless access to inpatient and outpatient rehabilitation, assisted living, memory care, and licensed skilled nursing care, should the need arise, explains Bill Piper, Sales & Marketing Director for Carolina Bay.
The peace of mind that such an arrangement provides is one of the primary reasons that Aggie Chamberlain chose Autumn Hall as her retirement home after her husband died and she no longer needed a large home in Wilmington. She was among the first residents to move in when the community opened in 2015, and she finds that it suits her lifestyle perfectly. It is convenient to the many volunteer activities that she pursues, including serving on the Board of Wilmington's Railroad Museum and working with OLLI and New Hanover County's Guardian Ad Litem Program.
Mary Russ, who moved to Carolina Bay after a 30-year career as an in-home economics extension agent in Brunswick County, is another enthusiastic resident. Prior to searching for a retirement home, she made a list of places to preview. "But, Carolina Bay was the first place I visited" she says, "and I looked no further. I told my daughter, 'this is it.'"
Mrs. Russ loves the water aerobics program, playing in the weekly community poker game, and painting in the art studio. She appreciates that the meal plan lets her choose from three dining venues in a sleek and modern glass-enclosed corridor that enhances the overall resort-like ambiance of Carolina Bay.
Both Mrs. Russ and Mrs. Chamberlain emphasize the friendly atmosphere that exists among the residents and staff. "We feel that we are part of a big family at Carolina Bay," Mrs. Chamberlain says, echoing the same sentiment expressed by residents of Brightmore of Wilmington. "We have a rule here at Brightmore that everyone has to smile," Mrs. Stewart says, "and everyone complies."
Resources
Brightmore of Wilmington, 910-350-1980, brightmoreofwilmington.com
Carolina Bay at Autumn Hall, 910-769-7500, carolinabayatautumnhall.com