An unanticipated hobby leads to a new city and new business for Heather Williams
By BRIDGET CALLAHAN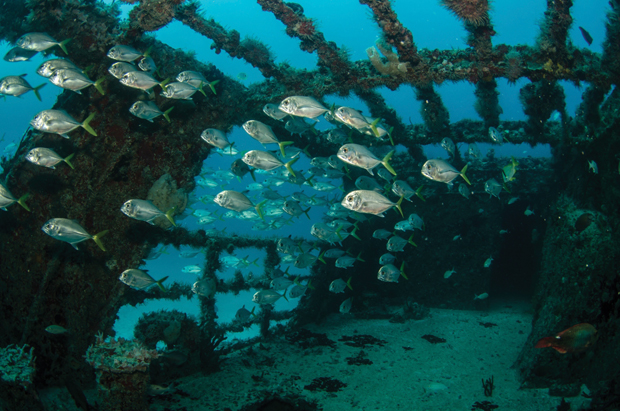 Heather Williams never thought of scuba diving as something she wanted to explore. But then she started dating her future husband Rob Williams.
"He said I have a couple hobbies. Snowboarding, golf, and scuba are what I like to do, and I'd really like to involve you in one. And you're not invited to golf. Here are your books, you start class in two weeks," she says.
Williams quickly took to it, and the two started diving together in Ohio, on the coast of Lake Erie. Most of their dives were in quarries; Lake Erie is cold and very deep. Its shipwrecks are hard to access. Rob, now a scuba professional, wanted warmer weather.
"We went through an Ohio winter, and it was brutal and cold," Williams says. "We were dating at the time, and he said I'm leaving, with or without you. If you'd like to decide where we go, you're more than welcome. But, I want to be somewhere on the coast."
So she folded up a map, dropped a finger, and landed on a town she had never heard of called Wilmington, in North Carolina.
"I said how's Wilmington? And he said, Wilmington is in Delaware, try again," she says.
Cut to six years later, and the couple now own and operate the Patriot Dive Center, a PADI five-star instructor development center. PADI stands for the Professional Association of Diving Instructors. Patriot can take someone from a nervous beginner, all the way to a certified instructor. The couple tries to create a social club feel among the students, teachers, and dive community.
"Being from the Midwest, dive shops just do things differently in the North," Williams says. "Wilmington caters to the tourist industry a lot, because we are the graveyard of the Atlantic. People come here to dive Wilmington for the shipwrecks we have here. But we were lacking the atmosphere of having a local dive shop where you can attend social club events, things like that. The other shops do cater to tourists, that's what they're there for. But we don't cater to tourists, and that's what makes us different. We really are the locals' dive shop."
For the person just dipping their toe in the scuba waters, Patriot first offers a Discover Scuba class. This is just pool based, and the shop provides all the equipment needed, so that potential divers can see if they really like it before investing in gear. If a person is already confidant in taking on scuba diving as a hobby, they can skip right to the Open Water Beginners Class, which involves up to 15 hours of an online e-course, supplemented by in-person lectures, pool sessions, and finally quarry dives. That will certify a recreational diver up to sixty feet. The next course, Advanced Open Water, certifies up to one hundred feet, and finally a Specialty course can certify to one hundred and thirty feet, the recreational limit.
"A lot of people do that here in North Carolina, because they want to do the Megalodon Teeth fossil ledges, and some of those are in pretty deep water," Williams says.
Around Wilmington one of the most popular spots is The Hyde, where divers go to hang out with sand sharks. Williams is a big fan of a more difficult spot though, the City of Houston.
"It sits at about 95-100 feet, and usually visibility is about 30-60 feet. It's a large steam engine wreck, so you can see the anchor, the rudders. It's pretty cool. It's probably one of the only places I've seen angel fish, inside the hull."
Patriot runs monthly national and international dive trips as well, so divers can discover new spots with a divemaster. Patriot is also the only shop in town to offer layaway. After putting a deposit down, customers can make five monthly payments on their equipment, and also use the gear while they're paying it off.
Patriot also does a lot of work with the Wounded Warrior and Project Soar programs. Rob is a veteran himself, and they both believe strongly in the healing power of diving.
"It's one of the very few places where you can literally escape the world by going underwater, you don't have to talk to anyone," Williams says. "You interact with your buddy, but realistically, you're there with nature, and with marine life. A lot of our customers refer to their diving time as their bubble therapy. It's good to have an escape from reality."