Citified Crops
10 Jul 2017
Proving that small spaces can effectively harvest affordable, local produce
By Judy Royal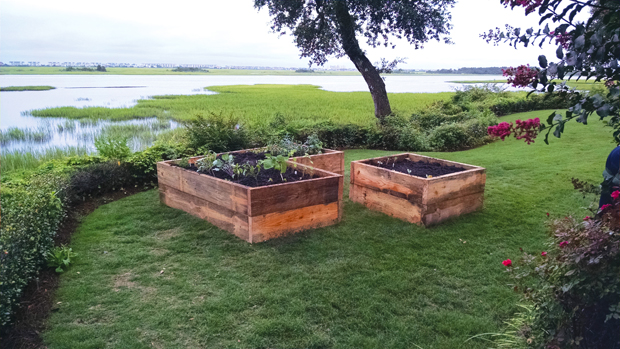 Agriculture isn't just for rural America anymore. Urban farming has been a growing trend in cities all over the country for many years, but recently it's gaining more attention. The Food and Agriculture Organization of the United Nations reports that 800 million people worldwide grow vegetables or fruits or raise animals in cities, producing 15 to 20 percent of the world's food. Last year, the USDA published an urban agriculture tool kit, a guide to programs that can be useful to urban farmers and help address the unique challenges and opportunities they face.
Some examples of urban agriculture are small community gardens, urban farms that span several city blocks and intensive indoor hydroponic or aquaculture facilities. Wilmington, with its rapidly dwindling amount of undeveloped land, has seen its own rise in these types of operations. While you won't find many large-scale commercial agriculture operations here in the Port City, there are many urban farmers who are going beyond small backyard gardens that yield just enough for their families. They are discovering ways to alleviate the dependence on rural counties for local food production in an area that is experiencing explosive population growth and seeing development pushing outward beyond the borders of New Hanover County.
"I think urban production in cities is actually going to be important for consumers to access local foods, but also to serve as an economically viable part of the future of our local community," said Sarah Daniels, executive director of Feast Down East, a nonprofit organization whose mission is to create a healthy, accessible local food system that supports economic growth in Southeastern North Carolina. "As populations increase, it's important to find more ways to do food production in local areas. That really reduces the environmental impact of transporting foods long distances and makes it accessible, and the more accessible production can be, the more people will tap into local food."
Beyond the practical benefits of urban agriculture, it is also important to bring farms to the city from an educational standpoint, Daniels added: "If farms are out there where we don't see them, we're not engaging with where food comes from and whether or not it reflects the values that we want out of our community."
Here are three urban farms in Wilmington that are proving you don't need acres of open land to grow food for your community.
ILM Urban Farm
Alison and Matthew Rogers turned a personal garden and a few chickens into ILM Urban Farm, an operation in the Forest Hills neighborhood that uses urban sharecropping to take advantage of as much surrounding soil as possible. After maximizing what they could do on their own property, the Rogers family began asking neighbors if they could use their land to expand. In exchange, the neighbors get a portion of what is produced.
"I drove around the neighborhood and realized how many open plots there were and how much I could do there," Alison said. "What we wanted our outreach to be was to the community, but in a way that was bigger than what we were doing. Whatever we can produce, we sell within the neighborhood, but we've also donated 100 pounds of produce to families in need."
There were as many as six urban sharecropping sites making up ILM Urban Farm at one point, but currently there are three within a two-block radius. Among the goods yielded are various seasonal vegetables and fruits, hops, herbs, eggs and honey.
"We're trying to teach people that you don't have to have acreage to farm," Alison said. "You can do it right where you are. Don't let that be a hurdle you have to jump. You can do it, and you can do it effectively. Urban farming is a great way to produce a moderate to large amount of produce and other food using minimal resources."
LINC Urban Farm
LINC, a Wilmington nonprofit organization that strives to educate and motivate youth to make positive life choices and empower men and women returning from incarceration to be productive members of the community, has a 45-bed transitional living campus at 222 Division Drive. That's where the LINC Urban Farm is housed, an operation that all residents must work at during the first two weeks of their stay.
"We believe that all principles of life operate on a farm," said Frankie Roberts, LINC founder and executive director. "It's a natural fit because some people in society are not going to accept you and you're going to get a whole lot of doors shut in your face, but if you keep planting and you keep the weeds out you're going to be successful."
The three-quarter-acre farm, which started in 2014, has produce, chickens and bees, and plans for the winter include experimenting with a hydroponic system. LINC uses the harvest in its two kitchens, donates some of it to needy families and sells the rest to local restaurants and individuals who drop by the farm.
"It has helped us take the edge off of what is sometimes considered a negative mission, because a lot of times people used to look at us as an organization that helps criminals, but once we got into the farming people started looking at us more as farmers," Roberts said. "It has been a rewarding experience."
Wilgrow
Graham Cole started Wilgrow, an 80-foot-by-80-foot urban farm at Fourth and Castle streets, in 2015 as a community-based organization that increases access to naturally grown, sustainable produce while offering education and job creation.
"The goal is to train young people how to grow food in the inner city so that they can sustain their lives and the community in nourished products," he said. "We want to train youths in producing sustainable agriculture within an urban environment and help give them something to have a career."
So far Wilgrow has been donating its yields of various vegetables and herbs to people in the community, but Cole is planning to begin growing and selling 100 heads of lettuce per week in the near future with a goal of putting any profits back into the program for expansion to other available land around town. "This not only helps provide food, education and jobs for the community but also beautifies long-vacant areas, " he said.
"There are acres and acres of empty lots in the city of Wilmington," Cole said. "You just need a lot here and a lot there. You can grow food in a lot more places than people realize you can. You can grow food anywhere."