The Magic of the Wire
10 Jul 2017
Life is sweet for local artist Michael Van Hout
By KIM HENRY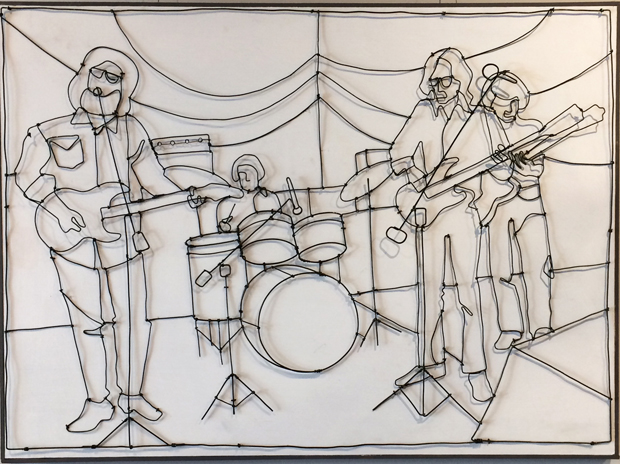 A handful of Wilmington's most celebrated hot spots are lucky enough to be adorned with the unique creations of local artist Michael Van Hout. From his contribution to the Arlie Gardens Bottle Chapel, to a huge aquatically themed instillation at the Fort Fisher Aquarium, Van Hout continues to be as prolific as ever. His materials range from wood to wire, his genres from printmaking to mobiles, and one thing is for sure, his pieces are infused with a whimsical quality that is both enchanting and compelling.
Born into a military family in Fort Knox, Kentucky back in 1953, Van Hout moved around throughout his childhood; which to note, was of no small feat, considering he was number six of eleven children. The tight knit clan lived in Colorado and Germany, but primarily around NC. This is where Van Hout calls home. The artistic gene runs in the family, with Van Hout's mother being a painter and a number of his siblings also being in the art world, including his younger sister Brooks, who specializes in stained glass. Van Hout credits Brooks for bringing him to Wilmington back in 1987. The pair recently held their first joint exhibit, "Sibs" at Art In Bloom, a vibrant, newly remodeled gallery on Princess Street.
Sometimes the most life-changing moments come in the most unexpected of forms, and this is what happened for Van Hout. Having chosen not to follow in his father's military footsteps, Van Hout went to NC State, set out to study Forestry. Ultimately, this didn't hold his attention. He changed his course and was assigned to work with the grounds crew at the college. He began collecting the wire that was wrapped around the pine straw bails he was helping move and making little figures from it. Then something just clicked. "People around me were commenting on how much they liked what I was making. Something felt right from the very beginning and the next thing I knew, I was signed up for a BSA in Sculpture," recalls the innovative artist, surrounded by an exhibit of his latest, magical wire creations.
3D Seahorses that bob up and down when you turn the small handle, a manta ray with moving wings and even a complete wire depiction of the iconic Grateful Dead are all on display. Many of Van Hout's pieces seem to have an air of nostalgia around them. They harness an innocence that may be gradually slipping away in this day of highly advanced technology and virtual reality.
"People often go into some kind of different mode when they figure out how to make the sculptures move," explains Van Hout with a warm smile. Motion came into his work when a friend returned from Zimbabwe with a small child's toy called a Galimoto, which traditionally has moving parts - turn the handle and see what happens. Perhaps there's just something inexplicably beautiful about such a simple piece of engineering being so profoundly enchanting.
Although Van Hout's work embraces fascination for both animals and anatomy, his process is very spontaneous and organic – no math or complex planning is involved, even with his larger pieces. His animals must be in correct proportion in order to not end up with an elephant whose trunk is longer than its body or a giraffe with a strangely short neck; however, he seems to have a gifted, keen and innate sense of volume and proportion. "I'm working from the wire," says Van Hout, who clearly values the immediacy of his process.
Van Hout's successful, artistic journey has had many fortunate twists and turns to which finally led him through the doors of Wilmington's very own Dreams Center – an after-school arts facility for children in need. Here, Van Hout has shared his talents with hundreds of kids over the last seven years, making art from recycled materials, wood, wire and printmaking.
"Art has made my life magical," says Van Hout, whose gratitude is uplifting. This is a man who gets to do what he loves, and his work is still in high demand. His latest commission was for Southfront Apartments, where he just completed a huge wire sculpture depicting workers from the historic Block Shirt Factory, which was in place prior to the apartments' current renovation. Working from his studio at ACME, Van Hout is an inspiring member of Wilmington's prolific artistic community, and he provides us with a great reminder that when we do what we love, it no longer feels like work.