Remember when your mom would tell you, "It's summer, get off the couch, go outside and do something?" It's time to start listening to her.
By JASON FRYE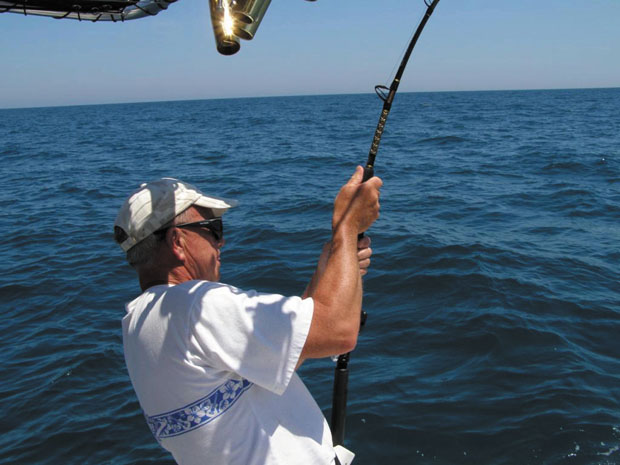 Lucky for you, adventure abounds across Wilmington and the Cape Fear region. Whether you get your thrills in, on or under the water, with your feet firmly planted on the ground, or with the wind whistling through your ears, you'll find something that'll bring you off the couch and into the great outdoors for a summer filled with adventure.
SEA
There's no denying it, Wilmington's a water town. From the surrounding beaches to the Cape Fear River to the swamps, marshes and creeks that make up our landscape, if water's your thing, we've got plenty of it. Splashing in the water at your beach of choice doesn't even scratch the surface of what aquatic adventures await.
Surf
Go to any beach in the area and you'll see plenty of two things: sand and surfers. Surfers of all skill levels find the waves around Wilmington great to ride. Big enough to give experienced surfers a good session, but small enough to learn on. If you have yet to try your hand at surfing, there's no better time than now.
WB Surf Camp (910-256-7873, wbsurfcamp.com) provides surfing lessons in Wrightsville and Kure Beaches, Surf City, and Figure Eight Island. Whether it's one of their weeklong surf camps, a weekend camp or just a one-day lesson, their instructors will take you from the shore to surfing in no time. Camps are available for kids as young as 6 to teens to families and groups.
From April through September, Tony Silvagni Surf School (910-232-1592, surfschoolnc.com) holds weeklong camps in the mornings, afternoons and some evenings on Carolina, Kure and Wrightsville Beaches. Camps have a low student to instructor ratio, and are taught by experienced surfers like Tony, the school's founder and namesake, who is a pro surfer. Private lessons are available throughout the year that will get beginners surfing for the first time, and help experienced surfers hone their techniques.
Standup Paddleboarding
Standup Paddleboarding, or SUP, has exploded in Wilmington in recent years. Head out to the Intracoastal Waterway any morning and count the SUPers out on their daily paddle. You'll even find a few oceanside, surfing their paddleboards when the waves are up or skirting the coast when the water's flat.
Standup Paddleboards resemble overgrown long boards. Wider than their surfing cousins, paddleboards are somewhere between 28 and 33 inches wide, and range from nine to 12 feet in length. To ride them, you propel yourself with a long, single-bladed paddle.
They're simple to ride – stand up, paddle, enjoy – but deceptively so. To start, climb on your paddleboard and get up on your knees. You'll feel wobbly in this position, even in flat water, but that's ok. Just take a moment to feel the board and the water and get a sense of your balance. Next, grip your paddle, hands shoulder-width apart, and plant them in front of you. This will help with stability when you make your next move. Now, in one explosive motion, leap to your feet placing them where your hands were just a moment before. Voila, you're standing.
Once you're up (and it may take a couple of tries to get there), you paddle. Calm waters like those you'll find in marsh creeks (where from the top of your paddleboard you'll have a great view over and across the grass) offer easy paddling, and often, so does the Intracoastal. But if you want a challenge, paddle out onto the Intracoastal on a busy day when boat traffic will keep you busy with wakes to contend with. For more of a challenge, take your board oceanside, where the waves will keep you on your toes and you can try your hand at surfing your paddleboard.
Whether you're new to the sport and need some instruction, or you're ready to rent a board and head out on your own, a number of outfitters in the area offers lessons, rentals and guided tours. On Wrightsville Beach, Wrightsville SUP (910-232-9283, wrightsvillesup.com) offers lessons and tours, including sunrise paddles and even SUP yoga. On Wrightsville, Carolina Beach and Fort Fisher, Tony Silvagni Surf School leads private and group lessons and tours, and rents paddleboards and other beach equipment by the day and week.
If you're paying a visit to Brunswick County, head over to Bald Head Island and paddle the marshes with a guide from Coastal Urge (800-383-4443, coastalurge.com), or rent a board and explore on your own. The many miles of winding creeks here offer a fun paddle at high or low tide. If you're lucky, you'll see a heron in the marsh or roosting nearby, or even an osprey or eagle hunting for dinner.
Kayak
In Wilmington, it's almost as common to see a car's roof rack laden with kayaks as it is to see one stacked with surfboards. That's because the water here – from the clear Intracoastal Waterway to the blackwater Town Creek – begs to be explored by kayak. Outfitters in the region offer everything from kayak fishing to overnight kayaking trips to paddles focused on the ecology in our area.
For kayak fishing, one outfitter stands out – Hook, Line and Paddle (910-792-6945, hooklineandpaddle.com). Fishing from a kayak is a challenge, but the guides here have been doing it for a while, and they have the right kayaks for the job. Outfitted with everything from rod holders to live wells to pedal-powered-paddles, their fishing kayaks are top-notch. Hook, Line and Paddle also provides guide services for traditional paddling tours, and kayak rentals for on-your-own exploration.
Don Hardy of Mahanaim Adventures (910-547-8252, mahanaimadventures.com) leads kayak tours through the blackwater creeks and swamps of New Hanover, Brunswick and surrounding counties. With paddles ranging from half-day outings to overnighters, his extensive knowledge of the flora, fauna and history of the area makes each trip unique. From Town Creek, where the water's Creature from the Black Lagoon dark, to the remote Three Sisters Swamp, where cypress knees are the norm, Mahanaim Adventures' trips offer a glimpse of the area few see. Tours with Mahanaim Adventures are perfect for families, newbie kayakers and experienced paddlers alike, and, if you're looking for added adventure, try one of their overnight trips. For both day trips and overnighters, Mahanaim Adventures supplies everything you need, including a meal to remember, cooked over an open fire and in a Dutch oven.
On Bald Head Island, two outfitters offer different kayak tours of the winding marsh creeks. The Bald Head Island Conservancy (910-457-0089, bhic.org), an on-island group dedicated to preserving the unique environments here, leads family-oriented kayak tours focusing on learning more about the environment. Their naturalists, educators and guides know their birds, plants and island history, and strive to make each trip educational and memorable.
The second kayak outfitter on Bald Head Island is Riverside Adventure Company (910-457-4944, riversideadventure.webly.com). Riverside offers standard trips and rentals, but also family kayak and canoe races on summer evenings, and an unusual exploration of some of the marsh islands found nearby. Explore Bluff and Kim's Islands, two unique land masses, one with a decades-old fish camp still standing, on foot and by kayak with their guides. When you're done, stop by their harbourside headquarters for some refreshment – a Luna Pop for the kids and even a cold brew for adults.
Freedive
How long can you hold your breath? At Evolve Freediving (910-358-4300, evolvefreediving.com), they'll teach you to hold your breath for two or three minutes and dive to a depth of more than 60 feet. The sport of freediving gives you the chance to explore the undersea world while spearfishing, shooting photography, or just diving for the fun of it, all without relying on scuba gear or other external breathing aides. Sound scary? It's not, thanks to instructors Ren and Ashley Chapman – he's been freediving since 2007 and she's a three-time world record holder (she dove 225' on a 3:15 breath hold). Under their watchful eyes, you can learn how to hold your breath and safely dive deeper than you'd ever dreamed, after taking part in one of their classes.
Fish
If kayak fishing isn't your bag, go for it the old fashioned way. From surf fishing to dipping your line in the water off one of the area's piers, to hiring a guide and heading inshore or offshore, anglers love the Wilmington area for both the variety of fish to catch, and the chance to spend the day on the water.
The Gulf Stream isn't too far from shore in Wilmington, and Seaward Actions Offshore Charters (910-367-5469, seawardaction.com) can get you there. In the Gulf Stream, you'll find tuna, marlin and more, but you'll find an equal number of great fish closer to shore. On half- and full-day excursions, head out up to 50 miles and catch everything from the occasional tuna to grouper, shark, snapper, Spanish and king mackerel, and too many more to name. The Captains, and their Mates, at Seaward Actions all have years of boating and fishing experience in the waters off Wilmington's coast, and they can put you on the fish.
Inshore, the fishing's equally exciting. Red drum, flounder, speckled trout, black drum, Sheepshead and pompano are just some of the fish you can catch on an excursion with Seahawk Inshore Fishing Charters (910-619-9580, seahawkinshorefishingcharters.com). Seahawk provides a blanket North Carolina fishing license, so if you're visiting or just don't have your license up to date, you can still head out and catch a keeper.
LAND
Wilmington may be a coastal town, but there are still plenty of wild places to explore. An uninhabited barrier island, a homestead dating back more than 100 years, a riverside state park, and miles and miles of mountain biking trails allow you to explore every aspect of our coastal environment, and all within a short drive, paddle or boat ride from downtown.
Hike
In Brunswick County, the Ev-Henwood Nature Preserve (6150 Rock Creek Rd NE, Leland, uncw.edu/physicalplant/arboretum/ev-henwood/index.htm#features) gives you the chance to walk in the woods and along the headwaters of Town Creek on easy hiking trails. Situated on a family farm where agricultural activity dates back more than two centuries, Ev-Henwood (pronounced like "heaven" minus the "h" plus "wood") has a winding network of trails that crisscross the 174-acre tract. In the uplands, you'll find hardwood trees like oak and hickory mixed with loblolly pines and an impressive group of camellias left there by the farm's last residents. Along Town Creek, centuries-old bald cypress trees, black gum and swamp chestnut trees are found in abundance. You'll also find the beautiful Stewartia here. It blooms around Mother's Day and its large white and maroon flowers are quite beautiful.
Explore
Just across from the south end of Wrightsville Beach, you'll find Masonboro Island, an eight-mile long island that's an uninhabited bird sanctuary. Visiting here is fine, but you can only reach it by paddling over in your kayak or on your surfboard or paddleboard, or by boat. Fortunately, Wrightsville Beach Scenic Tours (910-200-4002, wrightsvillebeachscenictours.com) offers a shuttle service to and from Masonboro. On the island, you'll find a long stretch of pristine beach, fantastic shelling, and abundant opportunities for bird watching.
Camp
There aren't many places to camp in the area, but Carolina Beach State Park (910-458-8206, ncparks.gov/Visit/parks/cabe/main.php) provides the camping-inclined with space to pitch a tent. Trails along the Cape Fear River lead to Sugarloaf Dune, a large sand dune so named by colonists in the 1700s, while other trails wind through the pine flats. Here you'll find Venus flytraps and often see osprey hunting along the river's edge.
Ride
Most of the biking in the area is more suited to beach cruisers or road bikes, but Blue Clay Bike Park (located on Juvenile Center Drive just west of the Blue Clay Road and North College Road intersection, trail map available at blog.capefearsorba.com/?page_id=20489) offers mountain bikers a challenging six-mile trail. Helmets are required and the park is open dawn to dusk.
Just south of Wilmington, the 911-acre Brunswick Nature Park (2601 River Rd SE, Winnabow, down Rt. 133 toward Southport, ncbrunswick.com/activity/brunswick-nature-park-mainland) abounds with mountain biking opportunities. From one of the finished trails to off-road exploration to riding the old logging roads that cross the park, it's easy to find trails that suit everyone, including beginner riders. Brunswick Nature Park also features several miles of hiking trails and a great kayak put in on Town Creek.
AIR
The Outer Banks may lay claim to the site of the first flight, but you can stick close to home and enjoy the thrills of floating or flying through the air with the help of a parachute or the Wright Brothers' famed flying machine.
Parasail
For a birds-eye-view of Wrightsville Beach, try Wrightsville Parasailing Company (910-232-1235, wrightsvilleparasail.com). Each 15-minute flight puts you more than a hundred feet in the air over the ocean just offshore. Take off and land from the deck of the boat as it cruises the shoreline safely outside the breakers. If you're looking for aerial thrills but don't want to get too wild, this is perfect.
Skydive
The truly adventurous will want to pay a visit to Oak Island where Skydive Coastal Carolinas (910-457-1039, skydivecoastalcarolinas.com) will take you over two miles high so you can jump out and drift back to terra firma. Tandem jumps with a veteran skydiver are available for everyone, and lessons are available if you're interested in becoming a solo skydiver. Those seeking solo designation will go through a series of four tandem jumps, each designed to expand your knowledge of safe and responsible skydiving.
Air Tour
Also in Oak Island, you'll find Suncoast Aviation Biplane Rides (910-279-9476, facebook.com/pages/Suncoast-Aviation-Biplane-Rides/112025085493248). In the biplane, you'll soar over the marshes and beaches of Oak Island, Caswell Beach, Southport and Bald Head Island, all with the wind whipping through your hair as you ride in this open-cockpit plane.
Zipline
Inland, near Fayetteville, ZipQuest (910-488-8787, zipquest.com) provides the thrill of flying through the hardwood forests surrounding this Cape Fear River city. Many of their ziplines are high and long, but most of all, fun. At one time, you'll zip over a two-story waterfall. When you end your tour, pony up for the new Swingshot, a swing that carries you nearly three stories high before dropping you and swinging you out over the creek and ravine.
Bodyflight
If the thought of skydiving is a little too much but you still want to experience flight, head to Paraclete XP Indoor Skydiving (910-848-2600, paracletexp.com) near Fayetteville. Here, an indoor wind tunnel with enormous fans let you simulate skydiving and fly on a controlled air current. After a brief ground school, you'll head into the vertical wind tunnel with your instructor for a few flights. If you show a little aptitude, they'll take you on a flight up and down the 50-foot silo-like wind tunnel that lets you really feel free-falling, even if only for a brief time.
SIGHTS
Prefer your adventure on the mild side? Don't sweat it, Wilmington's got you covered. Downtown you'll find the beautiful Cape Fear Riverwalk and stunning homes in the historic district. Look a little deeper and you'll find there's enough here to occupy you for a day or two.
River Tour
Wilmington Water Tours (910-338-3134, wilmingtonwatertours.net) offers cruises up and down the Cape Fear River on a custom-built, eco-friendly catamaran. Bring your binoculars and camera (with zoom lens), because you'll often see osprey hunting and on the nest, eagles and other birds, and some beautiful parts of the river that's Wilmington's lifeblood.
Snakes
At the Cape Fear Serpentarium (910-762-1669, capefearserpentarium.com) you'll find the largest indoor collection of poisonous snakes in the East. But don't let that dissuade you from visiting this fascinating collection of reptiles, everything is behind double locked glass. See exotic snakes like green and black mambas, giant pythons, bushmasters, alligators and other reptiles. The serpentarium is a hit with kids, but it's equally thrilling for adults, especially if you go near feeding time.
Ghostly Encounters
For supernatural chills, try Ghost Walk of Old Wilmington (910-794-1866, hollywoodnc.com/ghost_walk.html). On this walking tour of downtown Wilmington, learn some of the town's long history and find haunts and hangouts for the town's long-deceased but restless denizens.