Fourth of July by the River
01 Aug 2013
The perfect feast starts with seasonal favorites and adding in some creative coastal flavor. Just make sure there's enough for seconds
Photographer: G. FRANK HART Prop Stylist and Event Coordinator: GINGER BROMLEY
Recipe Developer & Food Stylists: AMY SILER and SHAWN UNDERWOOD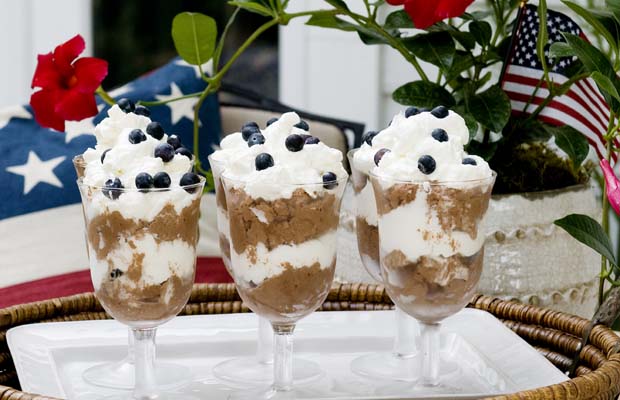 PARTY MENU RECIPES
Champagne Bellini Bar
2 Bottle Champagne or domestic sparkling wine
1 Quart fresh blueberries
1 Quart fresh strawberries
3-4 fresh ripe peaches
Using a food processor, puree each fruit separately and store in glass containers. Scoop 1-2 teaspoons fresh fruit into champagne flute and add champagne. Cheers! Makes 8 servings.

Roasted Blue Potato and Garlic Salad with Scallions and Peppadew Peppers
2 lbs blue potatoes halved or quartered
3 tablespoons white wine vinegar
Kosher salt
1 teaspoon Dijon mustard
Freshly ground black pepper
1/4 teaspoon sugar
1/4 cup Taste the Olive extra-virgin olive oil
2 scallions, sliced
Peppadew peppers sliced for garnish
1. Put the halved or quartered potatoes in a medium bowl and toss with olive oil, salt and fresh ground pepper. Spread evenly onto a baking dish and bake for 30-40 min. at 425° testing with a fork after 30 min.
2. In a separate bowl whisk 2 tablespoons vinegar with the Dijon mustard, 1/2 teaspoon salt, 1/4 teaspoon black pepper and the sugar in a small bowl. Pour in the olive oil and whisk until combined.
3. In a bowl toss the warm potatoes with the prepared dressing evenly coating all. Scatter the sliced peppadew peppers over and Sprinkle with the scallion and salt and pepper to taste. Makes 6 servings.
Summer Fresh Tomato Salad
5-6 large heirloom tomatoes, slice into ¼-1/2 inch rounds
4 oz. feta cheese
Large sprig rosemary
15 large olives, Taste the Olive Cerignola mix, pitted and halved
Taste the Olive Under the Tuscan Herb EVOO
Fig Balsamic Vinegar
Dash Kosher Salt
Fresh ground black pepper
1. Add one tablespoon of EVOO to a hot pan. Remove rosemary leaves from sprig and toss in pan. Fry for about one minute, stirring every 15 seconds. Remove from pan, repeat process with the halved olives.
2. Place sliced tomatoes on large platter in a single layer. Sprinkle feta over top, along with olives. Crumble fried rosemary over tomatoes and sprinkle with salt and pepper. Drizzle EVOO over tomatoes, and then lightly drizzle fig balsamic over top. Makes 8 servings.
Amy's Firecracker Shrimp
2 lbs fresh North Carolina Shrimp, peeled and deveined
5 tablespoons Mayonnaise
3 tablespoons sweet red chili sauce
1-2 teaspoon Siracha (to taste)
Large handful cilantro, chopped
3 tablespoons chopped peanuts (roasted, unsalted)
Corn Starch
Oil for frying
1. Heat oil in pan. Toss shrimp with corn starch to coat. Lightly fry shrimp in oil until pink, turning once. Remove from heat.
2. In a large mixing bowl, combine Mayonnaise, chili sauce and siracha and mix until combined. Toss shrimp in sauce, and add cilantro, mixing to evenly distribute. Put shrimp on a plate and sprinkle peanuts over top. Serve. Makes 8 servings.
Espresso Dark Chocolate Mousse Trifles
1 (12 oz.) bag Hershey's Special Dark Chocolate Chips
2 Quarts heavy whipping cream
3 oz. brewed espresso
2 tablespoons sugar
Blueberries for garnish
1. In a double boiler, or a bowl over a lightly simmering saucepan, melt chocolate in espresso until creamy and smooth. Remove from heat and let cool for 10-15 minutes. Meanwhile, pour one quart whipping cream into mixing bowl and, by hand or with an electric mixer, whip until thick.
2. Using a flat rubber spatula, put two scoops of the whipped cream into the chocolate mixture, and fold in until completely incorporated. Repeat this process until all the cream is blend in and mixture is thick and voluminous. Chill.
3. Add second quart of cream to mixture and whip until thick, adding sugar as you mix. Chill.
4. In parfait glasses, spoon two large spoonfuls of mousse into bottom of glass, followed by two large spoonfuls of whipped cream. Repeat this process until the cup is full. Finishing with the cream. Sprinkle blueberries over top and serve. Makes 6 servings.
Grilled Flank Steak with Chimichuri
2 lbs Certified Angus Beef Flank Steak
Marinade:
2 garlic cloves, rough chopped
1 scallion, chopped
1 tablespoon chopped ginger
¼ cup soy sauce
½ cup olive oil
Chimichurri Sauce:
1 cup (packed) fresh Italian parsley
1/2 cup olive oil
1/3 cup red wine vinegar
1/4 cup (packed) fresh cilantro
2 garlic cloves, peeled
3/4 teaspoon dried crushed red pepper
1/2 teaspoon ground cumin
1/2 teaspoon salt
1. Mix together ingredients for marinade in large plastic baggie or baking dish. Place flank steak in the marinade, ensuring all meat is coated. Let sit in the refrigerator four to six hours.
2. Heat grill pan on stove top, or prepare outdoor grill. Remove flank steak from marinade, and cook about four minutes per side for medium rare. Remove from heat and cover with foil, let rest for ten minutes. Slice thinly, across the grain. Put slice meat on plate and spoon chimichurri sauce over top. Put remaining sauce on the table for guests to add if so desired. Makes 6 servings.
The Crew
Ginger, Laurel Grove Design, 465-0495.
Chefs Amy Siler and Shawn Underwood, Heart and Vine. Offers in-home culinary and wine experiences, 232-3141.
Table settings provided by Pottery Barn, 256-6066.
Flower arrangements by Fiore Fine Flowers, 791-6770.
Plants from The Transplanted Garden, 763-7448.
Wine from Ocean South Importers and Juice Wine Purveyors.
Shrimp from Blackburn Brothers Seafood, 458-9001.
Certified Angus Beef flank steaks from Pine Valley Market, 350-3663.
Fresh tomatoes from The Veggie Wagon, 805-3014.
Oil, vinegar and olives from Taste the Olive, 256-6457.
SET THE PERFECT TABLE
1. Create a festive space for a backyard celebration with neutral linens. A natural-hued tablecloth acts as a canvas for your holiday gathering, showcasing your crispy firecracker shrimp and roasted blue potato salad as colorful centerpieces.
2. Petite bouquets arranged in glass vases enliven the table without overwhelming it. Display a few near the beverage area to complete the look.
3. No matter the size of your gathering, guests should have plenty of space to enjoy it. Glasses should be clinking, but not elbows. Allow for 2-feet from each plate center to the adjacent plate center.