Guide to the Gardens
27 Apr 2018
Charm your way to Spring cruising through acclaimed gardens
By JUDY ROYAL
Photos Cape Fear Garden Club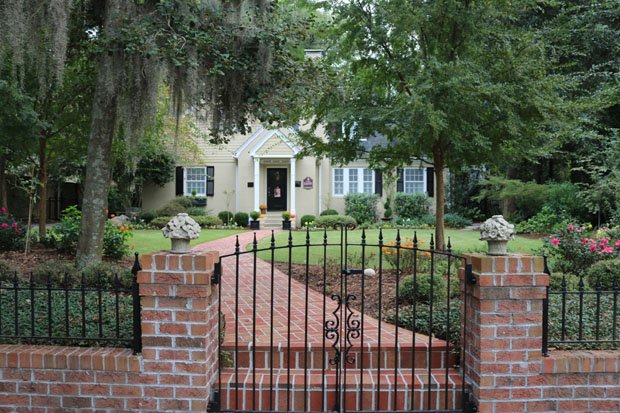 Organizers of the 65th annual Cape Fear Garden Club Azalea Garden Tour think this year's lineup will spark creativity among those who visit the 11 blooming properties.
"I would say this is a tour that will allow visitors to take away a lot of inspiration that they can probably incorporate in their life," said Sydney Penny, chairperson of this year's tour and a seven-year member of the club. "I think it's going to be wonderful to see their personal touches and how their gardens reflect who they are. It's a charming bunch of gardens, and it's a very doable tour because they are very centrally located this year."
The tour kicks off with a ribbon-cutting ceremony at 10 a.m. April 13th at Greenfield Lake Amphitheater, with musical entertainment, the queen and her court, homemade cookies and lemonade as well as the annual parade of Azalea Belles.
"The Azalea Belles are so beautiful," Penny said. "They are kind of a human personification of spring. I just love to see people's faces light up when they see these beautiful young women who are our ambassadors."
Nine of this year's gardens are private with two public spaces, and they will be open 10am – 6pm, April 13 – 15 (Airlie Gardens is closed to the public during the first day of the tour). Tickets are $25 and are available online at capefeargardenclub.org/azalea-garden-tour, in person at several local vendors listed on the page or any of the gardens on the tour. Admission is good for all three days, and children under 12 get in free with a paying adult.
Dozens of local artists will be at work in the gardens throughout the weekend, during the third annual Plein Air Paint Out. Their finished products will be available to purchase at the Wet Paint Sale on April 15 at Cape Fear Museum. A portion of the proceeds will benefit the club's grant program for beautification, conservation and education in New Hanover County.
First held in 1953 and now an official associated Azalea Festival event, the tour is organized and run by the club's nearly 400 volunteer members. The club is a nonprofit organization that has provided over $1 million to the community.
The following are the 2018 featured gardens:
Garden One
Blair Both and Inza Walston
305 S. Fifth Ave.
Simplicity and family heirlooms enlighten the design of this welcoming garden. The owners love the intangible aspects of gardening but especially enjoy having friends on their deck.
Garden Two
New Hanover County, Cape Fear Museum Park
814 Market St.
Wandering through this garden makes learning about the natural and cultural history of the Lower Cape Fear region easy and fun. By introducing native plant species, the park has created new habitat and food sources for birds, butterflies and other wildlife.
Garden Three
Susan Johnson
1510 Chestnut St.
This 1920 bungalow and garden are filled with color and unique features that create a delightful outdoor living space with a backyard designed to be dog-friendly.
Garden Four
Jill and Bo Webb
1516 Chestnut St.
The camellias and azaleas original to this 1950s garden are still growing strong and have been enhanced with new plantings, a play fort and water features to create a kid- and adult-friendly place to play and enjoy the outdoors.
Garden Five
Bergen-Carpender House, The Dames Inn
1519 Princess St.
This 1924 Prairie-style home is a listed, historic home. The garden is much the same as when the "Dame" lived here.
Garden Six
Roberta and Earl Smith
111 Forest Hills Drive
This Tudor Revival-style house was built in 1939. The Smiths have renovated the house and garden into a shady retreat for family and habitat for birds and insects.
Garden Seven
Thomas L. Crittenden Jr.
1144 Princeton Drive
Azaleas, crepe myrtles, annuals and perennials, roses and organic vegetables fill this garden with beauty and history. A turpentine boiling pit from the late 1800s occupies a corner of the backyard.
Garden Eight
Kelly and Dax Hawkins
1402 Country Club Road
This 1928 secret garden, found through the arched door, is filled with a musical fountain, outdoor living spaces and a reflecting pool.
Garden Nine
The Wrigglesworth Family
1411 Live Oak Parkway
This is a classic southern garden in one of Wilmington's oldest neighborhoods. From the formal front yard to the outdoor living in the backyard, this home and garden is a family retreat.
Garden Ten
Mike and Debbie Caulder
6206 Mallard St.
With over 150 roses and a thousand bulbs, this garden is full of beauty and fragrance. The owners have designed it as an Alzheimer's Awareness Garden.
Garden Eleven
Airlie Gardens, 300 Airlie Road
This historic, public garden has been a local landmark for over a century. The Minnie Evans Bottle Chapel, the Airlie Oak, the swans and even Reilly the garden dog are attractions, in addition to the 67 acres of azaleas, tulips, roses, plants and shrubs.