Wilmington at Night
03 Mar 2018
We've all been there. It's too early to call it a night and slip back into your cat pajamas, but everyone's out of ideas to extend the evening. So now what? What to do in Wilmington when the sunshine-filled festivities have ceased but the group is still up for a good time? Here's our top picks to noodling around the city at night.
By FANNY SLATER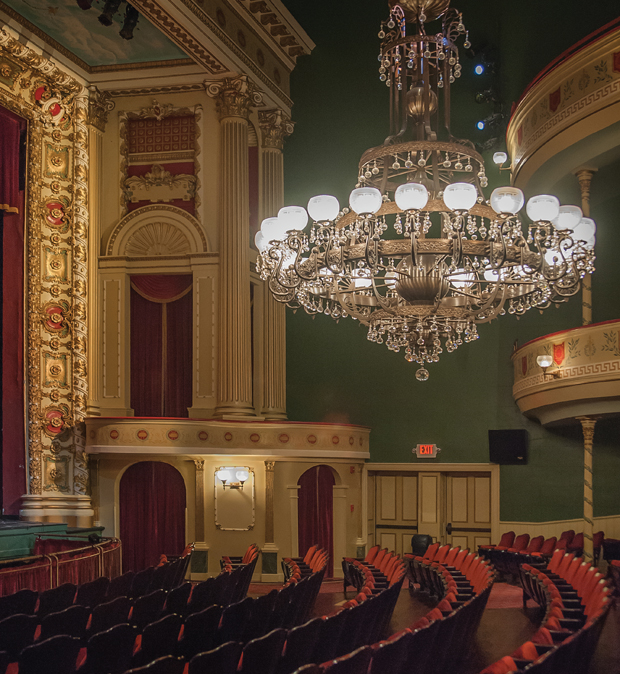 Bar Local
Top-notch late-night food is few and far between in downtown Wilmington. But hang a turn down Market Street towards the river, head for Bar Local, and you'll be pleasantly surprised. Utilizing a hot plate and something I wouldn't hesitate to call a toaster oven, Dennis Mancinelli is magically manifesting food I'm certain you're overpaying for somewhere else in town (and not enjoying nearly as much). Not only does Bar Local sling drinks and dole out righteously random cuisine—seriously, where else can you get Vegan Korean BBQ Lettuce Wraps at midnight—they organize locally-themed events galore. Need a little Somm with your OM? Check out the Vino & Vinyasa (sunset yoga on the Riverwalk) Mondays and Wednesdays, painting with Wilmington artist Nick Mijak on Tuesdays, and live music nearly every other night of the week. Top it all off with one of Dennis's gourmet pizzas with housemade mozzarella. facebook.com/BellasCoffee
Brooklyn Arts Center and The Annex
It doesn't get more elegant than North 4th Street's majestic Brooklyn Arts Center. This bustling social and cultural center—once St. Andrews Church—was gracefully restored along with the recently refurbished adjacent, two-story school building now dubbed The Annex. Boasting 60-foot cathedral ceilings, an authentically vintage vibe, stained glass windows, and the largest private courtyard in the city, it's no surprise that the BAC is downtown's grandest space for romantic weddings, state-of-the-art concerts, intimate art shows, galas, and swanky antique flea markets armed with the best food trucks in the city.
Situated directly behind the church sits The Annex—only a few years old and already one of the East Coast's most intimate rental venues. The first floor is home to a charming, historic cocktail lounge ideal for smaller gatherings while the former classrooms were transformed into stunning bridal suites equipped with generously sized rooms and a kitchen. On the second floor: the classic stage space is home to receptions, ceremonies, and concerts accommodating nearly one hundred guests. Between the exceptional staff led by Executive Director Rich Leder and the exquisite setting, the Brooklyn Arts Center and The Annex are no brainers for making a magical evening come to life. brooklynartsnc.com
Carolina Beach Boardwalk
Looking for a little late-night fun with a side of sandy toes? Voted as being one of the top ten boardwalks in the country by the prestigious Food & Wine magazine, Carolina Beach's lively beachside walkway is celebrated all-year-round. In addition to family-friendly shops and restaurants serving up classics like hot dogs and fudge, the boardwalk pulsates with nightlife entertainment. For a show that will light up the night, bring the kids along for the weekly fireworks. If it's music you're in the mood for, the live summer concert series and karaoke bars never disappoint. As for the off-season, don't miss out on Christmas by the Sea and the Island of Lights Festival. Make a night out of it and soak up your bad decisions the next morning with a famously fluffy donut from Britt's. carolinabeach.org
Dead Crow Comedy Room
Operating as the only full-time comedy club in Eastern North Carolina, Dead Crow is the go-to nighttime hangout for folks looking for a laugh, an inexpensive cocktail, and hand-rolled pizza bites. Open Tuesday through Saturday, this downtown Front Street giggle factory offers far more than killer bar food (vegetarian-friendly, I might add) and the habitual stand-up show. In addition to frequently showcasing local and regional comedians as well as nationally acclaimed acts, Dead Crow features weekly events like Tuesday's Comedy Bingo with two-dollar tacos, nachos, and drafts. Pop in on Wednesdays to watch award winning improv troupes think on their feet, and Thursdays for open mic comedy where complete unknowns just might steal the show. deadcrowcomedy.com
Flytrap Brewing
All hail North 4th Street's original brewery. This quaint family-friendly brew hub is helmed by the charming Mike and Emily Barlas (plus their littlest hop nugget Blake) and is regularly blooming with weekend food trucks, a rad lineup of live music, and give-back fundraisers. Other than producing some of the best beer in town—don't miss five-dollar flights on Tuesdays—Flytrap frequently opens its doors to host unique events like the ILM Makers + Growers Market and Crafts + Drafts. A catchy name is nothing without a solid product behind it, and head brewer Mike is a master of hops. House favorites include the adventurous Hoppy Tripel (Flytrap's clean, high-gravity spin on a Belgian Tripel) and the Rehder's Red Amber Ale. You'll also want to sample anything with the words "saison" or "sour". flytrapbrewing.com
Ghost Walk of Old Wilmington
With over 30,000 tours since 1999 and named one of the "Top 5 Ghost Walks in America" by USA Today, this ghostly crawl of our boo-tiful city is a nighttime activity where even the locals partake in the fun. Follow along with a spooky, story-filled guide as you journey on foot into the history of old Wilmington. For a full ninety minutes, you'll be tickled to the bone with tales of the town's most actively haunted homes and burial grounds. This escapade is not for the meek—as some of the haunting anecdotes share actual encounters that took place during these very tours. To guarantee your spot, purchase advance tickets online or at the Black Cat Shoppe near Market and Water Street. hauntedwilmington.com
Goat & Compass
To put it bluntly, I'm biased when it comes to the Goat. It was my first Wilmington home bar, as well as the setting where I met my husband. If you've never stepped foot inside, trust me—pull open the heavy wooden door and it will undoubtedly become your Cheers. This homey, English-style dive is not only home to Wilmington's most popular open-mic night (every Tuesday, BTW) but between the killer beer selection, the paved backyard patio equipped with TV's, cornhole, and picnic tables, and the fact that it's smack dab in the middle of the up-and-coming Brooklyn Arts District—it's hard to beat. Other weekend fun-tivities include performances by Wilmington's best local musicians and community-supporting fundraisers. Also, the vodka and whiskey wells are Tito's and Jack. 'Nuff said. goatandcompass.com
Greenfield Lake Amphitheater
In the morning light, this stunning open-air park is known for its athletic trails; but once the sun dips—Greenfield Lake Amphitheatre transforms into an entertainment venue that dazzles Wilmington with top-notch musicians and theatrical artists from all over the world. As a result of a hefty renovation, the space's stage cover, concession area, and restrooms were recently modernized with updates that make concert-goers' experiences better than ever. Make no mistake though—GLA is branded for its intimate setting. Catch a show with 1,000 of your closest friends and wiggle your way to the front to high-five the band. Every seat is a solid choice, and while you can't bring in outside food or booze—there's plenty of sustenance on-site (Chick-fil-A sammy, anyone?) to keep you satisfied during the performance. greenfieldlakeamphitheater.com
KGB
Two words: banana milk. You're intrigued, aren't you? Yes—I actually witnessed the staff at this underground hidden gem milking bananas for their cold brew cocktail. Though Bananas in Pajamas may be one of his top hits, you can't go wrong with any drink made under the hands of Derrick Cook. This former New York chef is the king of cocktails and has taught his bartenders the magic of mixing the most epically balanced spirits you'll ever taste. Keep an eye out for tasty, locally-infused seasonal specialties (this is a chef's bar, after all). The beer selection, though not overly extensive, is equally as impressive. Once the weekend crowd hits, this dimly lit space turns into a true Wilmington bar with bumping music, shots pouring, and pool balls flying. facebook.com/KGBWilmington
Tavern Law 1832
This trendy 2nd Street bar is rarely without a posse of Port City locals and always with bags of popcorn. No seriously, check out the vintage kernel-cracking machine by the door. Tavern is as enjoyable as a late-night spot as it is for somewhere to snag a brew while doing some serious downtown day-drinking. The draft selections are a proud representation of the local craft scene, and the prices are reasonable. On any given night, regulars are spilling out of the door and rolling dice games at the lounge tables—and Tuesday Trivia and Wednesday's Sip & Spell (an adult spelling bee) bring in a particularly energetic troop. Between the gigantic versions of Jenga and Connect Four in the back booth—Tavern Law is a guaranteed good time. tavernlaw1832.com
Thalian Hall
Whether you're in the mood for a world-class play, a charming musical, or an engaging Cinemetique film—this 1858-constructed landmark is Wilmington's premier location for all of the above. Thalian Hall is one of the oldest theatres in the country and in a single year alone attracts nearly 100,000 audience members. Events in the complex include a remarkable range from live ballet to educational performances to folk music to foreign films and awards ceremonies. Considered one of the United States' most extensively utilized facilities, Thalian is a longstanding representation of Wilmington's cultural legacy.
Need a midweek gameplan that beats Netflixing like a couch potato? Hit the theatre to scope out an indie flick or a classic movie. While your eyes may be drawn to the stage during the show, don't miss the architecture and fascinating tales of the building's past before you settle in. Even the lobby offers astonishing educational pieces to enliven the evening and add a hint of history. This original drop curtain displayed—well over 150 years old—is possibly the oldest painted stage curtain in America. Thalian's staff is enthusiastic and friendly, and the seats are supremely comfortable. For a real treat, book your wedding in the spacious ballroom and boogie the night away. thalianhall.org
The Cigar Exchange
Let's face it. Wilmington is notorious for its booze-centric downtown district, but not everybody's into popping bottles. So what other adult-friendly activities are there to partake in? Enter: The Cigar Exchange. Light up the night at this exclusive cigar palace situated just off Front Street. This dignified, well-stocked shop prides themselves on giving their customers superior service and respect. The cozy, inviting atmosphere doesn't hurt either. After making your selection, make yourself at home in the lounge or in one of the old-school rockers outside perfect for people-watching. You don't have to be a cigar expert to step foot through their Market Street doors. The employees are super courteous and knowledgeable when it comes to all-things tobacco. thecigarexchange.com
The Riverwalk
Revered for its scenic mile-long stretch lined with shops and restaurants, Wilmington's Riverwalk is an attraction all on its own. In the mornings, the charming waterfront boardwalk is peppered with folks on a mission for fitness. At night, the decorative hanging street posts flicker on and the crimson backdrop is the crowning social spot for a selfie and a scoop of local ice cream. After catching a breathtaking sunset over the USS North Carolina Battleship, tourists and locals alike stroll the pedestrian pathway through the heart of downtown. Hop off the wooden walkway onto a booze cruise or wander into a boutique for handmade souvenirs. The footpath provides easy access to open-air cafes popular for their bustling summertime patios where folks grab a bite before heading to the middle of the Riverwalk for Downtown Sundown—Wilmington's signature free Friday night summertime concert series. wilmingtonnc.gov
Whiskey Trail at the Creek
With buffalo wings so good they might make you fly, this neighborhood favorite is regularly a packed house. Although its changed hands several times, Whiskey Trail has always been the baby of beer-enthusiasts—so you know the thoughtful brew lineup was created with care. Those whose live around the corner in this Masonboro Loop community consider Whiskey Trail their saving grace for Sunday sports and nearby nightlife entertainment. Regulars and newcomers are consistently treated to a welcome-home attitude, attentive, courteous service, and an extensive menu of culinary creations (try the Creek Sauce). Bring game-night to the bar with Whiskey Trail's Buzztime Trivia consoles and weekly Texas Hold'em Tournaments. Avoid the rowdy bar crowd by sitting in the quieter, more private upstairs seating area. whiskeytrailsportspub.com
Wilmington Sharks Baseball
Take me out to the ball game, take me out to Buck Hardee Field. Located just down Carolina Beach Road, this elite minor league baseball venue—more commonly known as "The Shark Tank"—is part of the multi-purpose sports area Legion Stadium. You can't beat this idyllic outdoor setting when it comes to planning a sublime summer evening on a budget. Playing in the Coastal Plain League, our Wilmington Sharks offer affordable family fun with Sharky the Mascot, pregame contests and giveaways, and postgame fireworks. The relaxed stadium (not to mention, spectacularly cheap beer and hot dogs) features a generous amount of home games per season, and assures a great time win-or-lose. wilmingtonsharks.com
Wilson Center
Wilmington's own mini-Broadway, this beautiful facility is devoted to being one of the most significant community resources in town. In addition to major concerts and magnificent theatrical productions, the Broadway for a Better World initiative provides free tickets to the Wilson Center's Cape Fear Stage PNC Broadway & Stars Series. From Peter Pan to Jay Leno, the events at the Wilson Center are some of the biggest and best around. The grand performance hall's inside capacity holds more than 1,500 people and each guest is greeted with the spirit of hospitality. The Center also harbors a 108-person capacity black box theater and an outdoor conservatory for 600-person capacity performances.
Thanks to the state-of-the-art sound system, superior quality lighting systems, and acoustics and orchestra equipment—there's not a bad seat in the three-tier house. The performance theatre hosts Broadway touring productions, concerts, symphonic performances, recitals, symposiums, and much more. Parking is a snap with easy $5 (cash only) spots in the adjacent Hanover Parking Deck, and concessions are available inside. Make a night out of it by walking the river and grabbing some grub beforehand at any of downtown's eateries (all within walking distance of the venue). cfcc.edu/capefearstage
Wine & Design
Set your inner artist free at Wilmington's Wine & Design. Whether you're there for the painting lesson—or just to socialize with a Sauvignon Blanc—W&D is an unparalleled destination for all kinds of public events. Skip the bars for that upcoming bachelorette party, and grab your best girls and favorite bottles. Searching for a unique team building event that whole office can get down with after-hours? They've got you covered—no prior painting experience (or corkscrew) required. Local Wilmington artists will be by your side to guide you from blank canvas to masterpiece. They'll also ensure that you leave with a hang-able piece of art (and possibly a slight buzz). In addition to the two-hour painting parties, private adult and kids gettogethers are also available. W&D's "Design on Wheels" will even come to your home or favorite location and provide all materials necessary for a more personalized experience. wineanddesign.com