Hunger Fighters
08 Nov 2016
A local apparel company was born purely to help feed hungry children
By KIM HENRY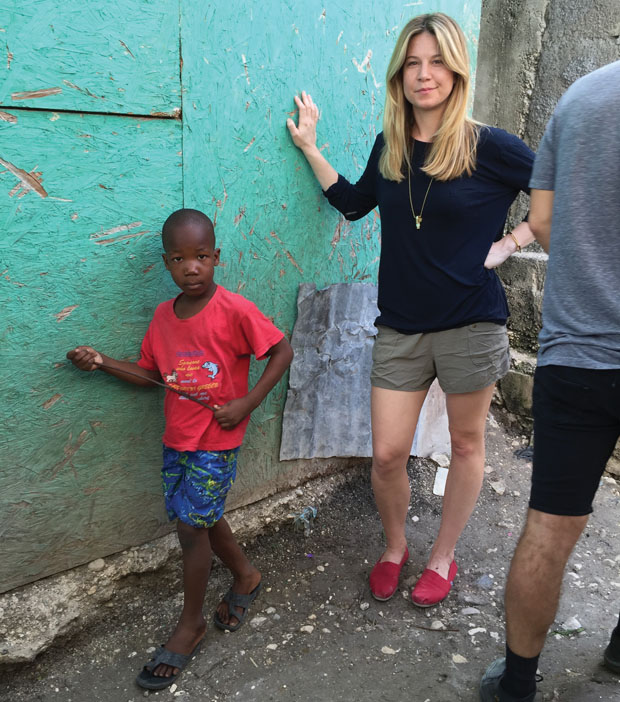 In 2009 a brother and sister felt compelled to do something positive in the face of worldwide hunger. Standing on the cusp of their adult lives, NC locals Carmin and Christian Black were at a point where they needed to figure out how they were going to earn their own living and shape their own lives. Responding to a need they couldn't ignore, they chose to pour their creative thinking and boundless energy into starting their own apparel company, and committed to using their profits to help feed hungry children―and so with an initial investment of just $200, Half United was born.
A mere seven years later, this awe inspiring company has helped to feed around half a million children, is partners with established non-profits in four different countries and empowers hundreds of adults to become financially independent in Haiti, Nepal, Cambodia, and Fiji.
"We are hunger fighters," Black explains with a boundless enthusiasm that infuses her every word. "Hunger is not a one size fits all issue, it's complicated and multi layered which is why Half United responds to it in a multitude of ways and why we are constantly diversifying our channels of support."
Half United not only puts food on the plates of hungry children, it also helps to initiate and sustain community gardens, provides employment training and jobs for hundreds of women, facilitates nutritional health programs and distributes handicrafts made by different groups of people from around the world.
So how does Half United manage this impressive and ever expanding portfolio of achievements? They work year round to sell a wide range of uniquely designed apparel and jewelry, some of which is made by co-ops or charities in different countries, such as Papillon Enterprise in Haiti who employs hundreds of local artists, or an orphanage in Cambodia where the children weave colorful bracelets that are sold globally through the Half United distribution channels.
Other items sold through their website and at trade shows across the country are designed by Black herself. One of their best sellers is the now iconic recycled bullet casing that is made into jewelry. "One day a friend gave us a crate full of empty brass bullet casings so that we could melt them down and turn them into some kind of jewelry. The only problem was that we had no idea how to actually do that!," laughs Black. "I remember, I was looking at them, wondering what we could use them for when it struck me how cool it would be to turn this symbol of fighting wars into a symbol of fighting hunger. And so I just started making bracelets and necklaces out of the cases in their original form."
One in every five children in America lives with food insecurity at home, not knowing where or when their next meal will be. Repurposing these bullet cases to fight hunger means that every time one of these items are purchased, seven meals are provided for a child in need. "I cannot even begin to tell you all the ways that every single Half United purchase benefits people," smiles Black with open sincerity. "Communicating to our customers the extent of their positive impact and the many ways they are helping us to help others, at home and overseas, is one of the main area's that we want to develop in the coming future. Sometimes there's just not enough hours in the day."
The dynamic Black siblings often travel to countries where Half United has already established connections in order to touch base with their partners, ensure that the food provided is nutritious and to stay in touch with the day to day reality of the families they are helping. As Black clearly understands, hunger is about poverty and poverty exists for a wide range of reasons that Half United strives to address on an individual basis.
Responding to issues right here on their door step, Half United is currently working with a local middle school in order to create a meal box scheme whereby children-in-need will be provided with a hot meal for dinner, in addition to lunch. "For many of these children, their school lunch may be the last proper meal of the day," explains Black, who is reaching out to local farmers and sourcing donors and partners for this invaluable new initiative.
Having become keenly aware of what it takes to run a successful business, Half United is living proof that a socially responsible company is not just an unrealistic pipe dream, but can be a thriving business that also has a positive impact on the world. Half United funds all of its multiple projects purely from its own profit. "It's amazing how inspired people are when they realize exactly what we are doing. We are so grateful to everyone who purchases from us."