Compassionate Home Care
08 Nov 2016
A higher standard of caregiving to help increase quality of life

By JOHANNA COLBURN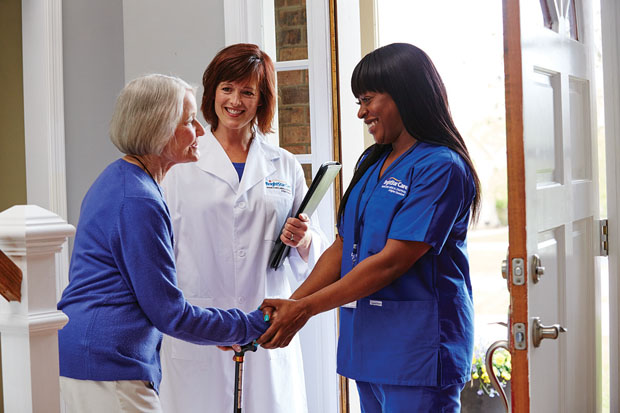 Built on the desire to create a valuable company filled with purpose, John Wagner and his daughter Dawn, opened BrightStar Care of Brunswick/New Hanover in 2011. Providing high-quality home care, caregivers, and medical staffing solutions to families and businesses, BrightStar Care proudly serves Wilmington, Leland, and the surrounding areas. The Wagner's mission is to equip families and their loved ones with the highest level of accessible home care, dignity, and personal attention they need and deserve.
"A few years ago my father and I decided that we wanted to do something great together that we were both passionate about," explains Dawn. At the time, John had retired from a successful career with Merck Pharmaceuticals, and Dawn was working on the West Coast in hotel operations. With Dawn's background in hospitality, together both father and daughter understood the importance of being accessible, providing superior customer service, and going above and beyond to take care of customers. "BrightStar Care's commitment to provide a higher standard of care really appealed to us," states Dawn. "It was important to my Dad and I to find a highly ethical company and BrightStar Care was the right fit for us. We are excited to offer compassionate care, peace of mind and exceptional service―any time, any place in the community."
BrightStar Care's core values are rooted in family and the understanding of the difficulties of finding high quality care to help people live independently in their homes. In addition, they understand how tough it is to manage care when families are busy or geographically removed. They partner with families to help loved ones thrive in their home environment by providing compassionate and skilled care with a personal touch; creating an atmosphere of open communication between caregivers and families; and establishing trust and peace of mind so that families can focus on each other.
BrightStar Care provides several services including home care, elder care, caregivers, childcare, nanny services, special needs care and medical staffing solutions. Caregivers provide companion care such as light housekeeping, meal preparation, and transportation as well as personal care which includes hands on care such as toileting, bathing and grooming. Skilled nursing services offered include medication management and in home blood draws. They can provide medical and non-medical services for anyone from infants to seniors.
What sets BrightStar Care apart from competitors is the superior care they provide to improve the quality of life for their patients. A full time Director of Nursing regularly performs comprehensive health and wellness evaluations while working with clients to develop a person centered plan of care. They require a minimum of at least one year of caregiving or nursing experience and all staff are CPR certified. A Customer Care Manager matches a professional caregiver with clients based on their needs and preferences. Next, they check in with clients at regular intervals to ensure their services are meeting individual needs and expectations. They provide full continuum of care, companionship and personal care to skilled nursing for people of all ages. As they are a small office, their staff truly takes the time to know their clients, families and caregivers. When clients stop in their office, they are greeted by Dawn's friendly beagle Kona.
No matter what level of care is needed―from child care so busy parents can have a night out to more complex senior care in the home or a facility―BrightStar Care can provide peace of mind that loved ones are guaranteed in the best care possible. All of their caregivers go through a rigorous screening process that includes: extensive interviews, national background checks, drug testing, CPR certification and continuous education to ensure only the best are caring for a client's family members.
BrightStar Care hires people that truly care. It's more than a job for them―it's a way of life. In 2016, they received both "Best of Home Care Provider of Choice" and "Employer of Choice from Home Care Pulse." These awards are granted only to the top ranking home care providers, based on client and caregiver satisfaction scores gathered by Home Care Pulse. Best of Home Care providers have contracted with Home Care Pulse to gather feedback from their clients and caregivers via live phone interviews each month. As Home Care Pulse is an independent third-party company, it is able to collect honest and unbiased feedback. These award-winning providers have received the highest satisfaction scores in areas such as professionalism, compassion of caregivers, training, and client/caregiver compatibility. They also received a Top Customer Satisfaction Award for 2016 in the BrightStar Care community. "This award was given to only four franchises in the company so we're very proud of that," explains Dawn.
What makes BrightStar Care's team exceptional are ongoing caregiver requirements, monitoring and education. Nurses and caregivers are fully screened, insured and bonded, licensed and/or certified. Employees go through an extensive background check that includes a Motor Vehicle Report, pre-employment drug screening, and thorough reference checking and employment verification. Their Director of Nursing ensures staff are competent and capable of taking care of your loved one. They provide ongoing training and education.
At some point, you may want to care for those who've cared for you in the past. Everyone needs help getting through life's hurdles at some point. Home health care is a great option for aging adults who require special assistance with daily tasks, medical care or while recovering from illness, injury or procedure. This allows seniors to live independently for as long as possible, depending on their medical condition. By preparing ahead of time, you and your loved one will be better able to handle sudden changes and care needs. Finding the best home care provider for loved ones requires preparation, effective research and some interviewing. BrightStar Care's wealth of resources help clients make informed decisions!
It's time to seek home care when one is finding activities of daily living difficult. There are many benefits for a person to be able to remain in their own home. A caregiver can provide support services such as light housekeeping, meal prep, errands and transportation. BrightStar Care staff are happy to sit down with clients in what they call a "Living Room Visit" which is simply a way to get to know them a little more. Their nurse also performs a complimentary health and wellness exam during that time and can answer any questions or concerns clients may have. Staff understand that finding high quality in-home care is important so they never bind you to any contracts. "It is important for us to be flexible to all client needs," says Dawn.
Staff can help clients begin the conversation with seniors who are resistant to help. BrightStar Care has helpful Home Care Planning Guides that help determine if home care can help, have the conversation, and interview agencies. It's important to plan for this to prevent any unfortunate incidents happening such as a fall. It is crucial to do homework before selecting a home care agency. Their Home Care Planning Guide assist clients in asking the right questions when interviewing agencies.
BrightStar Care has earned Joint Commission accreditation for their practices as a result of their relentless commitment to a higher standard of care. This means they have undergone a detailed on-site review by a Joint Commission quality expert who asserts that the location is following BrightStar Care policies and procedures, state licensure and Joint Commission requirements. Joint Commission is the nation's oldest and largest standards-setting and accrediting body in health care.
Clients can expect to be treated like family at BrightStar Care. "I love the small town feel of Wilmington," explains Dawn. "Everyone in the community is open and willing to help others. I love living close to the beach and being able to be outside all year round! I'm from Pennsylvania so not having to shovel snow is a big plus!"
Serving the community is a priority for the team at BrightStar Care. They participate in and sponsor a variety of events including "Casino for a Cause" benefiting Alzheimer's NC, the "Walk to End Alzheimer's," and "Moving Day" which benefits the National Parkinson's Foundation.
Friendly staff is ready to help twenty-four hours, seven days a week. Clients never get a voicemail or answering service, reaching either the owner, Director of Nursing, or Customer Care Manager. The team at BrightStar Care work tirelessly to ensure all clients are cared for and are happy. No matter what time of day it is, professionals are standing by to assist clients and their families with any needs and concerns. 910-599-9555, brightstarcare.com/brunswick-new-hanover