Telling the Complete Story
08 Nov 2016
A membership program to help document a comprehensive picture of Fort Fisher and its strategic position in the Civil War
By TERESA A. MCLAMB » Photos by KELLY STARBUCK PHOTOGRAPHY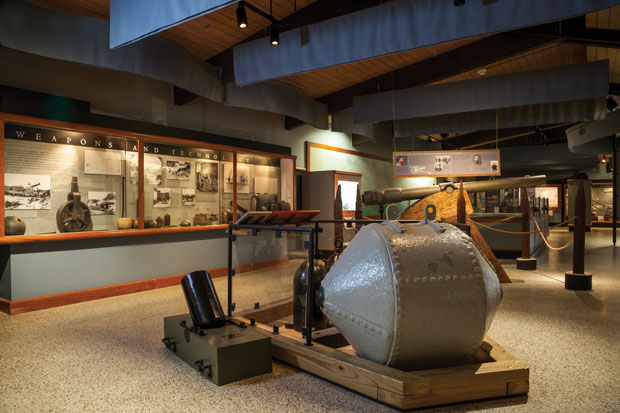 It was love at first sight.
When a teenaged Paul Laird first visited Fort Fisher in 1968, he felt a special kinship. Today, as full time director of Friends of Fort Fisher, he's leading an effort to expand the historic site's outreach and impact on history and the area's economy, the centerpiece of which will be a new 30,000 square foot visitors' center.
Born to an American military family in France, Laird spent his high school years in Cumberland County after his father joined the transportation division at Fort Bragg. He studied at UNCW and loved the area so much he decided it would be his home. After a brief stint at substitute teaching, he spent almost two decades as a senior program manager for the Greater Wilmington Chamber of Commerce before joining the Boys and Girls Home.
When the Friends director position opened in 2009, he jumped at the chance.
"My interest in Fort Fisher was sparked when my family first came to North Carolina. I developed a passion for the site and what had transpired there and its significance. I looked for every opportunity to be involved at a volunteer level," he said. While at UNCW he was selected to the first underwater archeology field school in 1975, under the direction of Dr. John Scalf. After a crash course in SCUBA diving, Laird worked alongside scholars who "gave me a good grounding in archeology and how to conserve these precious artifacts once brought to the surface."
As one of twenty-four state historic sites in NC, Fort Fisher receives state funding for parts of its operation, but not nearly all of it. Like many other sites, it is fortunate to have a non-profit support organization, founded in the 1960s, to help with its upkeep and its programming. Friends was formed as the Fort Fisher Restoration Committee during the Civil War Centennial effort. Its goal, Laird said, was to rebuild part of the fortifications that had been partially destroyed during WWII, when an aircraft training field was cut through the site.
The initial group led the effort to build the first visitor's center which is now more than fifty years old. Laird said projections at that time were for 25,000 to 35,000 visitors per year. Visitation for 2015-2016 fiscal year were 872,413. It is the most visited state historic site in North Carolina. "We are the flagship state historic site in NC in our opinion," Laird said. Adding the state aquarium and the recreation center to the mix, the southern end of Pleasure Island is undoubtedly a major tourist attraction and economic boost to the state and the county.
Laird was a long time member of the volunteer board when the group decided they needed to change their organizational structure to more visibly advocate for the site, and to build a strong local and state support base. There were needs that had been apparent since the 1960s, as well as a continuing challenge of restricted state funding. "In 2009 the board approached me about coming on as a full time executive director. Of course, I jumped at it because for the past 40 years I've been looking for any opportunity to support the work of Fort Fisher."
Improvements in technology and research methods have resulted in a large body of new information over the past twenty years, allowing historians and authors to document a more robust picture of the fort and its strategic position in the Civil War, he said. "We have information that has not been told in the 5,000 square foot center. We need to be telling a more comprehensive story," he said. That story relates to international trade and blockade running." The goal of the new membership based organization was and is to provide a platform for telling the complete story.
In order to tell that story, a strategic plan has been in development along with a comprehensive plan for raising public and legislative support. "Before Friends existed we were doing that at a federal level to ensure the stone was in place in the 1990s in order to secure our site. We were losing 15 to 20 feet a year to coastal erosion and federal authorization for the stone was about to expire." That effort, while Laird was at the Chamber, gave him the opportunity to work with federal agencies and legislators to extend the authorization and to entice the NC legislature into a partnership to provide state funding for studies of the best method to stop the erosion which was attacking the historic site. The stone placement was completed just in time to lesson damage from Hurricanes Fran and Bonnie in 1996.
The successful multi-prong approach to problem solving helped to prepare him for his current position. "That was my deep diving into working at the federal, state and local levels to generate government and public support to bring a project to fruition," he said.
In addition to being an important state site, Fort Fisher is a national historic landmark which is the highest designation a site can receive, he said.
That designation adds to the importance and urgency of expansion and improvements which can only be done with full support of state and federal agencies and the general public. A much larger building is needed that will house educational space, meeting space, tour group space. "There's rarely a week that goes by that we don't have groups of Marines or Army officers where they're still using the tactical lessons learned during the Civil War for teaching at the academies and bases. We have an ongoing relationship with our military leaders and service people."
Interest in Fort Fisher is not just from southerners whose ancestors fought at the site. A database of descendants of those who fought at the fort or supplied services to the fort stands at 660 people from all over the country. Everyone who had an ancestor involved is requested to complete an information form on the Friends website.
The site is a favorite for birders and others interested in the marine ecology. "We want to do a better job with the resources we have on site, trying to look at different aspects; not just military but ecological. It is a beautiful site with maritime forests, marsh, ocean, natural outcropping of coquina on the northern property line. It is a major location for bird watchers. There's a lot more to the site than simply the man made history. We're trying to do more in telling a more complete story of the site," Laird said.
To join Friends or volunteer at the site, visit friendsoffortfisher.com.