Hungry for the Holidays
02 Nov 2022
Where to find Wilmington's most festive food experiences

By Fanny Slater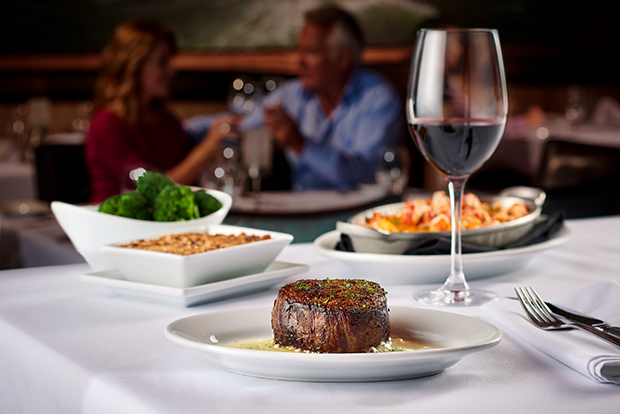 With noteworthy places to nosh opening their doors left and right, the end of 2022 touts more choices than ever within Wilmington's dining scene. This glorious refresh came with a high-end wave of talent who's kept an eye on ever-changing food and beverage trends and found creative ways to deliver them to our tables. All of this translates to seasonal dinners out that promise to be better than ever.

And since showing your intentions through exceptional cuisine goes a lot further than slapping a bow on a last minute sweater, why not just celebrate the holidays by chowing down? Skip the Yelp app on your phone, and skim our carefully curated list instead that champions the culinary gems going above and beyond to make eating just one part of the special experience. We certainly brag on some of the spots worth splurging on, but plenty of the recommendations below have all the polished aspects of a fine dining restaurant while still being affordable, welcoming, and as unfussy as it gets.

We'll close out our list with a couple can't-miss breakfast cafés that make excellent options for kicking off daytime outings with family.

Go ahead. Grab the closest pumpkin-esque snack or latte, and read on.


Cape Fear Seafood Company
capefearseafoodcompany.com

This Carolina-based Lowcountry establishment isn't just a solid bet for shrimp and grits. They dole out a versatile menu trumpeting all kinds of local ingredients tangled with love. CFSC specializes in all-things that swim, but hand-cut steaks and seared chicken with creamy herb alfredo sauce are always on deck to please the non-seafood eaters in your party. Between the upscale yet laidback environment, consistently fabulous food, and excellent service — every course is a homerun. Indulging in one of their freshly made desserts like the decadent blueberry cobbler isn't even a question.

Origins Food and Drink
910-769-0041, originsfoodanddrink.com

Helmed by veteran local chef Ash Aziz, Origins is one of our shiniest new culinary hot spots and a grand gesture when it comes to eating out in Wilmington. The buzz-worthy Autumn Hall eatery promises to provide passionate yet light provisions that wow. The butcher block portion of the menu highlights beef from small Midwest farms, while the seafood selection is elegance done right. Carb-wise, the handmade agnolotti with smoky brown butter, pistachio, and fluffy ricotta is exquisitely plated. An on-site sommelier at your service for wine pairings makes for an elevated evening you'll be talking about for weeks.

Tarantelli's
910-763-3806, tarantellis.com

If setting whiskey aflame inside an enormous wheel of aged Parmesan and then twirling spaghetti in it doesn't sound memorable, you might need to lower your standards. Aside from Tarantelli's unforgettable Spaghetti al Formaggio Parmigiana, the authentic, family-owned Italian restaurant has plenty more tricks up their sleeve. Offering alternative pastas that aren't made from wheat flour has been a growing trend, and Tarantelli's steps up to the plate by whipping up a number of their pasta dishes with gluten-free noodles. If you're not wheat-sensitive, however, don't miss the intricate homemade raviolis. Stellar dessert and drink specials keep things interesting.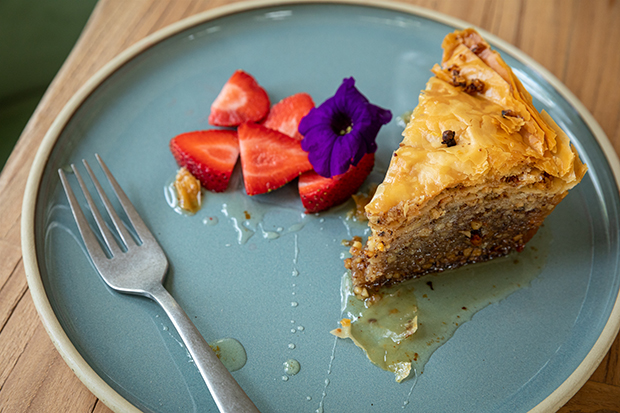 Cafe Chinois
910-769-3193, cafe-chinois.com

Wilmington's dining profile is heavy on American food, so locals rejoice when cuisine from another culture steals the spotlight. You already know and love Indochine, so this holiday if you haven't already been, embrace the year-old stylish Asian-Fusian venture from owner Solange Thompson: Café Chinois. Already recognized as the modish, more serene "little sister" of Indochine, Chinois is deliciously dedicated to French-inspired Asian fare and exotic cocktails. The colorful setting ornamented with vintage Japanese dolls and family heirlooms feels celebratory as is, yet throw in fragrant green curry clam linguine and you'll see why simply saying it's good doesn't do it justice.

Smoke on the Water
910-833-5069, smokeonthewaternc.com

The handful of restaurants lining downtown's riverwalk used to be the only options for chowing down right on the Cape Fear River. But thanks to the novel Riverlights community, there are other ways to get your waterfront food fix. We suggest Smoke on the Water to cure your craving for a coastal menu that boasts a minor in barbecue. Well, if you call a 14-hour smoked brisket sandwich minor. Elevated crab shack classics like a day-boat caught fish handheld — whose preparation changes on the reg — are just part of the lure. The sprawling deck with outdoor seating overlooking the river accommodates large families yet is equally as idyllic a setting for date night.

Mariposa Tapas Bar
910-769-0763, mariposatapas.com

Shareable tapas have been stylish for quite some time, but not many restaurants in Wilmington make this entire genre their focal point. Mariposa, however — brought to us by True Blue Butcher and Table owner Bobby Zimmerman — has made it their mission to take diners on a tour of Spain's most delightful split plates. The airy, outdoor space is a nod to the country's strong culture of dining al fresco, and the enchanting little house just on the edge of the South Front District is all part of the charm. Showstoppers include the hand-carved, aged Ibérico ham and melt-in-your-mouth pork cheeks with tangy piquillo pepper, fennel, and garlic.

Ruth's Chris Steakhouse
910-343-1818, ruthschris.com

When it comes to an extraordinary steakhouse, it's all in the details. Lucky for us, our local Ruth's Chris goes above and beyond every time. The buzzing energy of the white tablecloth atmosphere translates to a good time, yet it's the food and service that truly give the franchise its five-star status. So, what's so special about the specialty cuts? They're custom-aged, midwestern USDA Prime beef — the highest 2% in quality on the market — broiled at 1800° to lock in the corn-fed flavor. Treat yourself (and 10 of your closest friends) to the extravagant tomahawk ribeye — 40 ounces of meat de-boned and sliced tableside.

Three10
910-399-5428, three10wilmington.com

Known for skillfully plated modern southern seafood, Three10 opened their doors just over a year ago and has been a well-received addition in the Brooklyn Arts District. The cozy bungalow outfitted with a wrap-around porch gives diners that "Sunday supper at your grandma's" feel; and that's exactly what husband-and-wife team Matthew Walker and Jennifer Conklin were going for. Whether you swing by for small plates (in which case: order the Carolina gold hushpuppies) or a full meal like the highly-praised smoked mushroom gumbo— you'll see why this North 4th Street treasure is booking up fast.

Dram Yard
910-782-2400, dramyard.com

Dram Yard offers the trifecta of an unforgettable culinary adventure: exquisite cocktails, an expertly designed wine and beer selection, and locally sourced, globally-inspired ingredients executed with precision. Expect to find elite foodies here getting their grub on with divine samplings like charred Brussel sprouts with garlic fondue and Thai chili dip or whole snapper with sour tamarind sauce and fried shallots. Portions are large-plate style with an emphasis on hearty shareables. Dram Yard is where you'll want to ditch the menu and trust the chef to create a yummy collection of offerings for
the table.

The Little Dipper
910-251-0433, littledipperfondue.com

Just as fun for the little ones as it is for the adults, Little Dipper is a downtown must if you're searching for an interactive meal. Don't shy away if you're a fondue novice, the friendly servers are more than willing to guide you down the path of this journey. Little Dipper is a nostalgic gem for many, and it's a no-brainer for coming with a crowd. Start with the buttery Havarti dill and white wine cheese sauce then follow with one of the dunkable desserts. Props to the bar for rolling out a full "fauxtail" menu — featuring locally made shrubs and alternative non-alcoholic spirits — a much-appreciated gesture towards the rising sober-
curious community.

Seabird
910-769-5996, seabirdnc.com

There's no dispute that former chef and owner of Pinpoint, Dean Neff, is responsible for helping to raise the bar of Wilmington's food scene. And though his oyster bar-themed Seabird began as a humble breakfast hub, it's the dinner service we're doting on today. Clever dishes (like smoked catfish and oyster pie with celery cream, for example) are meant to be savored slowly and the lingering, un-rushed aspect of the experience is part of the magic. Settle into one of the tables that overlooks busy Front Street, yet don't let people watching distract you from the lively open kitchen.

Flying Machine at Wrightsville Beach Taproom + Kitchen
910-239-9474, flyingmachinewb.com

Even if you're not a native, you're likely well-versed with Wilmington's most massive brewery on Randall Parkway. Say hello to Flying Machine's other half: a tasty taproom with an ocean-to-table mentality whose kitchen spreads its wings in the coastal cuisine category. If you're looking for a place that pursues (and sets) trends, this is it. Echoing the creative consistency of their clean, offbeat brews, the team now strives to successfully reinterpret familiar comfort foods in their own language. Mission accomplished. Peep the entire section of loaded fries dressed in four different flavor profiles and don't miss the seasonal pasta with shrimp, sage, and
pumpkin alfredo.

Kipos Hellenic Cuisine
910-492-2893, kiposwilmington.com

It's no secret there's a shortage of notable Greek eateries in our area, so the opening of Kipos in Lumina Station has been thrilling to say the least. The seafood-centric establishment is an extension of Giorgios Bakatsias' restaurant group, and serves as an elegant homage to the food and culture of his homeland. Dwell on the covered garden patio that's akin to a bright, airy Mediterranean courtyard with traditional dishes like lemony Avgolemono soup and rich, meaty moussaka. Inside, the ornately decorated dining room stuns with eclectic light fixtures, airy netted window shades, and thoughtfully-chosen pottery.

Famous Toastery
910-256-7030, famoustoastery.com

Make no mistake: Famous Toastery may give off a casual vibe, but their Flight of the Mini Mimosas (a bubbly tasting of tropical juices and champagne) sure screams "happy holidays!" Thanks to the sizeable dining area and a kitchen that's habitually on their game, this NC-based franchise has no problem entertaining large parties. Can't beat an all day breakfast, and there's no reason that can't include mac-and-cheese with gooey Cheddar and Parmesan sauce. The smothered biscuits and gravy are another house favorite, but you'll find just as many tables sporting the lighter citrusy avocado toast with creamy goat cheese.

Viscous Biscuit
910-444-2990, viciousbiscuit.com

Viscous Biscuit is one of the Forum's newest foodie obsessions. Counter-service keeps things running smoothly, but even if the line is long — it's all worth the wait. From the instant you walk in until the unapologetic moment you're licking crumbs off your plate —southern hospitality is front and center at this modern, cheeky breakfast haven where the biscuits are monstrous and the riff on hushpuppies includes sweet potato and white chocolate custard. The Fat Boy is an unmissable medley of crispy fried chicken, pimento cheese, and spicy honey. Viscous Biscuit will leave you wondering why every restaurant doesn't offer a self-serve jam and butter bar.