Captivate this Holiday Season
02 Nov 2022
Create a sense of magic and festive escape as your family and friends gather

By Elizabeth Sugg

There is no place like home. Dorothy's oft repeated words in The Wizard of Oz come to me as I embrace the holiday season and think about making our house particularly special this year when our children arrive from Texas and Arizona, excited to be "home". Six Wilmington retailers each with their own individual niche in home furnishings, décor and gift lines make creating a festive look a joyous and fun experience by shopping local. Get ready to captivate this season – your guests will be buoyed by a sense of delight and wonder as you welcome them into your home.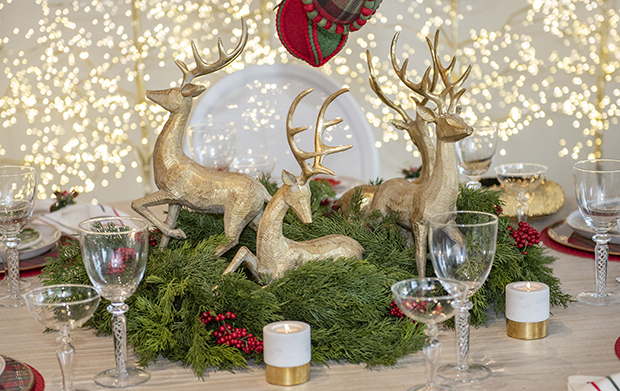 From Dickens to DIY
A multi-vendor shop is a place of inspiration a kin to Santa's Workshop
Photos by G. Frank Hart
So many of our holiday traditions and imagery stem from Victorian England when author Charles Dickens took the cultural world by storm. A multi-vendor shop with a marvelous blend of gifts, antiques, and wide-ranging finds, Port City Peddler is a destination for the adventurous shopper. A dedicated Christmas room features the Dickens Village Series by Department 56 (from $30 for figurines, and from $100 for its quaint buildings) and a yule tree filled with colorful glass ornaments that have an old-world flair, perfect for gift-giving. Home to a host of craft and jewelry vendors, a handful of the store's shops feature antiques such as the sideboard and hanging wall clock seen next to the Christmas tree, while others tickle your fancy with restored vintage finds, often clever repurposed items from a born-again bench to a perked-up planter. Port City Peddler also offers unique custom-made furniture, including dining and accent tables that are hand-assembled with wood salvaged from factories, warehouses, mills, barns, wine barrels, and more. A distributor of Dixie Belle Paint, this eclectic store also offers classes and DIY workshops that may open new channels of creativity which may become the best gift that you carry forward into the new year.
Port City Peddler 6213 Market Street, Wilmington, NC 910-444-8881 portcitypeddler.com
Dining with Santa Claus
Santa is down the chimney and adorning Nest's holiday table
Photos by G. Frank Hart
Shimmering trees and a trio of golden deer surrounded by a wreath of greenery welcome Santa Claus upon his descent into Nest Fine Gifts & Interiors. A unique home furnishings boutique that offers interior design services, Nest inspires creativity and helps turn imaginations into reality. Owned by Monika Williams and managed by Marie Polak, the creative interior design team at Nest, including Rachel Hoenig and Suzanne Reid, helped create the store's 2022 holiday tablescape. This year's inspiration for Nest's holiday tablescape comes from Santa himself. Vibrant red and greens with a backdrop of enchanting fairy trees ($110-$250) create a cheerful atmosphere for any dinner guest. Santa's reindeer friends (S/2 $138) are the stars of the show in a bed of evergreen garland and berries. Ornaments ($22-$23) are not just for the tree anymore but can be used creatively to decorate any part of the home. Floating ornaments that are hung with care from a chandelier add an extra dimension. Santa plates ($20 ea.) layered with tartan chargers (S/4 $186) are the perfect mix of elegance and whimsy. And just like Santa, the magic is in the details, beaded wreath napkin rings (S/4 $70) add a touch of sparkle to embroidered holiday napkins (S/4 $140). Gather friends and family together for the final touch and be sure to save a seat for Santa.
Nest Fine Gift & Interiors 1125 Military Cutoff Road, Wilmington, NC 910-256-6378 nestfinegifts.com
Coastal Farmhouse Festivity
Adorned with the soft hues of the coast, the subtle look creates a glowing warmth
Photos by Jessica Mignola
The soft shades of seagrass and pine with hints of gold create a comfortable elegance at the holiday table set by Sugarwood Interiors. Owned by Janece Stone, the upscale furniture and accessories store imbues a relaxed coastal farmhouse atmosphere that has become a Sugarwood signature. With the help of Megan Strimbu, who works retail at Sugarwood and offers her own interior design services to customers, this store is a source of inspiration if you are considering ways to lighten your home's palette or put a new spin on the furnishings in your main living areas such as the family dining table. From furniture and rugs to mirrors and lighting, the lines offered have been curated with an interior design eye which deepens the shopping experience. This tablescape features a white-washed farm table flanked by both wooden and rattan chairs, while along the sunny window a stylish sofa featuring sandy-colored-and-white striped cushions and soft blues in the accompanying pillows adds a cozy flair. A modern farmhouse chandelier sets off the inviting dining area. Seagrass placemats ($25) are the base of the place settings with subtle yet eye-catching creamy white dishes — plates, bowls and salad plates featuring a scalloped edge (from $24 to $48). Votives and tapered candles mix in with the pine garland and dried botanicals bringing the outdoors to this welcoming table where family and furry friends will gather.
Sugarwood Interiors 167 Porters Neck Road, Wilmington, NC 910-319-7779 sugarwoodnc.com
Take the Holiday Joy Outside
Soft lighting and textured décor create a glowing ambiance
Photos by Kaitlyn Ley
Wilmington's temperate climate means it's possible to enjoy cozy wintry moments even in outdoor spaces, most especially one as inviting as the featured patio with its stunning stone hearth set off with a long garland of pine. Bring in the warmth and the charm of a fanciful coastal woodland with holiday touches sourced from niche. Decor & Gifts, the retail arm of Custom Home Staging and Designs that features accessories, home décor and gifts. A delightful setting daytime or night, as the evening comes just imagine the soft glow of the assorted glass ornamental Christmas trees (from $14.95 to $60.95) filled with LED bulbs that along with a crisscross of string lights, will kindle a memorable evening in this joyous setting. The festivity of the outdoor scene is not set off in shades of red and green but the soft blue of the sky, the golds of the sunset and the natural textures of wicker and stone. From the Bramble furniture line that Niche carries, the painted blue wood and rattan Martinique round side table is the perfect resting spot for an oyster shell and starfish nativity ($48.95), a reminder that the shore is just a few miles away. A deep cushioned wicker chair is adorned with a soft throw and oyster pillow, beckoning a guest to come sit by the fire. Time to enjoy a mug of hot cocoa, a sweet pleasure during the holidays.
niche. Decor & Gifts 3501 Oleander Drive, Suite 11, Wilmington, NC 910-769-8839 nichebycustomhome.com
Merrymaking amidst Fa-la-la-bulous Furnishings & Décor
From the practical to the whimsical, exploring home goods has never been as fun
Photos by Kelly Starbuck
For a selection of gnomes wearing sequined red Santa hats to an array of decorative trees in a variety of textures and colors, a wooden nativity scene to stockings to hang with care – and red poms – this Christmas Eve, there are thousands of square feet of vintage furnishings and home décor at both Uptown Markets to explore. The tablescape is atop a wooden farm table set off with both bench and chair seating, just a sampling of the furniture available throughout this fun shopping mecca that tilts towards a coastal cottage look. Owned by Andrea Cumming, there is an air of adventure as you meander through the fun mix of both vintage and new one-of-a-kind items at this retail co-op where the large space has been divided into several vendor spaces. From artisan jewelry to custom-made furniture, clothing to headboards made from shutters and doors, garden gifts to tabletop, expect your shopping journey to encounter the whimsical as well, for example, a Medusa head adorned with a crown of pine and holiday ornaments. After all this season is meant to be jolly, and there is jubilance – and gifts – to be found at this store that has something for everyone.
Uptown Market 8086 Market Street, Wilmington, NC • 910-686-0930 and 4620 Oleander Drive, Wilmington, NC • 910-228-5401 facebook.com/uptownmarketilm
Silver and Gold Splendor Sets Off This Joyous Table
Elegance with ease, the comfort and joy achieved by a mix of colors and textures
Photos by G. Frank Hart
Silver and gold create a glimmering foil for the season's shades of red and green at the artful table set by Gigi Sireyjol-Horsley, the lead interior designer and owner of Paysage Home at Lumina Station. The holidays always feature a crescendo meal, a memory to be savored long after family and friends must bid adieu. Born in Casablanca, Morocco, and back to France at the age of 13, Sireyjol-Horsley enjoys bringing together a mix of cultures and textures – glass, linen, rattan, metal – and the farm table with its white-washed base has laid the foundation for festivity, an evening to raise a glass to toast the season. Setting the family table is a step-by-step process, and it helps to have showstopping accessories to pull out and build on year to year. A mix of eucalyptus, berries and branches are arranged in a handsome silver centerpiece, its bowl held up by a trio of bucking deer. Golden glass chargers house white dishes – dinner and salad plates plus bowls – embellished with red-and-green pine branches, items to be enjoyed over time. Gold-tipped water glasses add a shimmer to each place setting, the acrylic-and-gold flatware completing the look. Holiday crackers and a golden glass ornament placed in each bowl add more jubilance to this table that is a feast for the eyes.
Paysage Home 1908 Eastwood Road, Wilmington, NC 910-256-6050 paysage.com