The Building Blocks
02 Nov 2022
An in-house designer adapts evolving home trends for a new home builder with style

By Lori Wilson » Photos by Tom Kruszon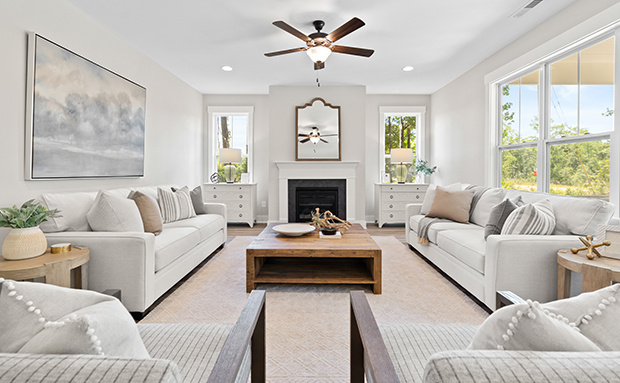 Today, new homes come with many options for finishes, floors, and square footage. Home buyers look to companies such as Stevens Fine Homes for double-threat expertise: balancing budget with beauty for their dream home plans.

Design studio coordinator Amanda Tutino has been with Stevens Fine Homes for more than five years. In her role, she plays advisor to families as they make their interior and exterior selections.

"When a buyer comes in for a presale, I always ask them, why did you pick this floor plan?" she says. "I really emphasize that your home should really work well for you, as much as you want it to look beautiful."

Most recently, Tutino has worked on several spec homes – short for "speculative" homes, which act as a sample home that the company designs and sells move-in ready, rather than being personalized by the home buyer. During lumber and labor shortages and uncertainties due to the pandemic, spec home offerings increased. But, for Stevens and Tutino, the silver lining came in allowing their designer to stretch her creative muscle, to truly showcase the company's building capabilities.

Out of her most recent new home designs, everyone agrees that Tutino's creme de la creme house is one recently built in Hampstead Pines. The Stevens Fine Homes office refers to this model as the Nicklaus, a four-bedroom, three-full-bath house made up of a little over 3,000 square feet.

"With the Nicklaus, we really got to envision the [potential] buyer and what they might want coming into a home," Tutino says. "We were picking selections that are very functional. We envisioned a home with multiple people at varying ages."

Again, for this home, no presale buyer existed, but when the house went on the market, a family with kids from grade school to middle school ended up falling in love with it, just as Tutino expected.

The designer predicted the Nicklaus to be for a family who was "all over the place," but also one who could appreciate luxury details. For example, the luxury vinyl (and waterproof!) plank flooring provides durability for a family with children, without sacrificing a stunning, polished look in every room. Likewise, the kitchen and bathrooms feature radiant quartz countertops, offering the high-end look of a delicate marble, yet are tough enough to withstand heavy use.

"This is for a family who isn't focused on anything except getting to the next plan of fun," Tutino says.

But even on those busy days, parents will appreciate how the little details come together, providing an escape from a chaotic life. With all the bells and whistles in the Nicklaus, this home includes a delightful screened-in porch with a relaxing view of lush green trees and a large backyard.

Another escape, the Nicklaus' master bedroom and bathroom are some of Tutino's best work. The tray ceiling creates the vision of added space and comfort, much like the extended eight-inch baseboards and four-inch trim windows throughout the home.

The quartz countertops and marble tile paired with the stained cabinets in the master bathroom offer a lovely blend of dark and light for a sanctuary space that can easily adapt to evolving design trends.

The homeowners of this Hampstead haven will also love walking in the warm, inviting living spaces. The darker finishes in doorknobs, fireplace setting, handles, sink spout, and more bring depth to the space.

"I envisioned this great room to be a catch-all space, for toys, gaming, anything you want," Tutino says. "All the stuff fits in nicely with the darker tones of the finishes against the light figures."

The entry-door view of the open living-kitchen-dining space is a favorite of Scott Myers, superintendent on the project.

"This house, you walk in the front door, through the open rail on the stairs, there's a large kitchen island with pendant lights and barstools," he explains. "You just see everything through the back of the house. It just pops out at you."

Myers explains that the Nicklaus plan is one of Stevens Fine Homes' most popular. Although, in this home, the quartz island was extended toward the breakfast nook and additional cabinets were added. The dining room features extra-thick wainscoting for a look that makes a subtle statement.

As the superintendent on this house project, Myers schedules vendors and contract workers and ensures that everything goes as planned, which is no small feat in southeastern North Carolina, where tradespeople are in short supply.

"A big way that we're successful is that we have dedicated superintendents," Tutino says of the Steven Fine Homes process. "It's a lot of his [Myers] vision. He's responsible for making sure it comes to life, the tile is there, which way we want to run it – those details make a big difference."

Since moving into her role as design studio coordinator, Tutino has tackled a learning curve, with the help of Stevens teammates.

"I came in with all the knowledge of design trends, but with no knowledge of construction," she says. "Those were my building blocks – to know if this is a load bearing wall, how can we change that. Now my background is stronger in architecture than it is design. I'm fascinated by how things come together."

To support the general homeowner, she must know how to build with a wide range. For this home, for example, nothing could be too skewed toward one particular style. But Tutino always aims for design longevity, she says. Likewise, Stevens Fine Homes offers many classic, timeless finishes that allow longevity of the space and of the client's dollar.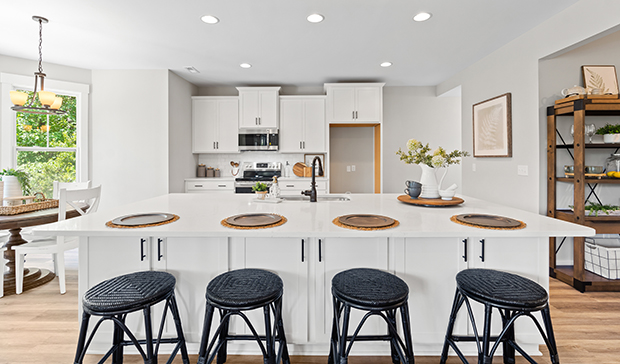 "One of the biggest mistakes you can make, I think, is to lean too hard into what you're currently buying," she explains. "Your permanent items, like trim style, need to stand the test of time. I think having longevity in those items can really do a lot for a home."

The home's staging, in this case, leaned into a farmhouse, industrial vibe with pops of leather that complement the warm floors and walls. But that's just one way to show this home.

Though, the farmhouse look certainly fits the home's exterior design, too. As one of its luxury touches, the stately red door provides a nice focal point that contrasts well with the garage doors and their farmhouse-style black hardware.

The outside of the house includes four different styles of siding – lap, board batten, cedar shake, and stone, that truly play with the landscape of this hard-to-find large homesite.

"This homesite was at the end of the street," Tutino describes. "It was our creme de le creme of the neighborhood. We put all our best things in one."

Though, she explains, homeowners could include many of this home's finishes in their own Steven build and likely stay within a $350,000 to $450,000 price range, well under the selling point of this particular home, which closed in the mid-$500's.

"You can get a high-quality vinyl plank flooring without the expense of a traditional hardwood," she says. "Maybe you can't do marble tile in every bathroom, but a grey tile with a stained cabinet can still achieve that level of beauty, without breaking the bank."

That's what a seasoned eye can bring to a new home.


Resources: stevensfinehomes.com, 910-794-8699.