Isles of Surprise
02 Nov 2022
Living the life in the Turks & Caicos

By Katie McElveen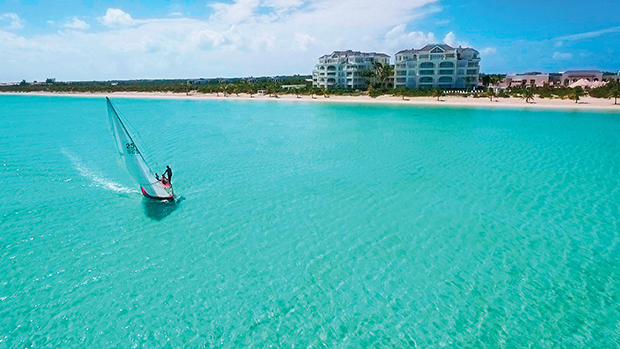 Though best-known for its wide, sun-splashed beaches, it turns out that Turks and Caicos is also a great destination for adventurers and foodies. And while it does have a well-deserved reputation for being expensive, budget options abound. Just back from a visit, where they sampled both the casual and elegant side of this archipelago, publishers Robert and Emily Sweeney share their discoveries.

Why Turks & Caicos?

Robert: As an advanced scuba diver, Turks has always been on our list, but we've never been able to make the trip work
until now.

Emily: Turks is a great place to snorkel, too, which is great now that I'm no longer diving.

What surprised you the most about the islands?

Robert: We knew there would be great wall diving, but had no idea about the range of lodging and dining options or the abundance of activities. We spent a great day kayaking through mangroves in clear kayaks. The wind made it tough going but also cleared away the bugs and humidity. We spotted lots of sea turtles and other sea life. The diving was exceptional. The reef is very close to shore, which usually means there will be some cloudiness in the water. Not here. We had at least 100 feet of visibility and were able to see coral heads, sharks, rays and lots of tropical fish.

Emily: We had a fabulous day trip from Providenciales, where we were staying, to the North and Middle Caicos, where we explored Three Marys Cays, Bambarra Beach and Mudjin Harbor. I especially loved Mudjin Harbor—the beach and water are beautiful and the limestone rocks and caves are fascinating. I had no idea the landscape would be so diverse. If you go, bring sandals with thick soles so you can hike over the rocks as well as binoculars so you can check out the pink flamingoes that live on the island. There are thousands of them.

Getting there was fun and an adventure. We took the TCI ferry from Provo to Middle Caicos, where we rented a car. The roads are bumpy, but we got around easily.

How was the food on the island?

Emily: Delicious and also diverse. Da Conch Shack is super casual; if you're lucky the conch knockers will show you how to remove the conch, island style! They serve conch any way you like along with chicken, local fish, shrimp burgers and more. Tribe serves fresh pastries in the morning and curried chicken salad for lunch; at Skull Rock Cantina we started with a conch ceviche salad that came with crispy plantains. Their grilled chicken and steak fajitas were not only sizzlin' but yummy! Both restaurants were located in the Ports of Call Resort, where we stayed the first three nights.

We enjoyed a number of fine dining restaurants as well. On the campus of The Shore Club on Long Bay, where we stayed after Ports of Call, Sui-Ren offers Asian-inspired dinners by candlelight. We started with an assortment of Makimono rolls (Asian fushion, samurai, & volcano) followed by pan seared native red snapper. The lamb chops were an incredible presentation and delicious! Sweet potato donuts were a unique and tasty dessert. Friday happens to be their sushi night with specials! Colonade poolside dining Bento box was my personal favorite!

We also loved Grace's Cottage Restaurant, where we started with escargot before moving on to grilled rack of lamb and grilled yellowtail. The accompaniments—confit shallots, grilled veggies and pommes dauphinoise, were as delicious as the mains. The garden setting is just gorgeous too. At Provence by Eric we opted for weekly special menu at the chef's table, which included yellowfin tuna crudo and pan seared Hokkaido scallops with dashi kombu beurre blanc sauce. Dessert was Chef Eric's version of tiramisu, which subs out limoncello for the espresso. Truly fabulous lemon twist to end the dinner. Parallel23 at the Palms Resort serves on a stunning al fresco terrace overlooking beautiful gardens or a domed dining room. The restaurant offers land and sea favorites with 21-day aged steaks, a signature Caesar salad and house-made pastas. Save room for their signature sticky toffee pudding! With sand in between our toes and salt in the air we ate on the beach at Bay Bistro Restaurant, all while taking in a gorgeous Caribbean sunset. We started with the coffee rubbed tuna before moving on to coconut crusted grouper and fresh blackened snapper. We loved the liquor tasting flights at Opus Restaurant Wine Bar & Grill almost as much as the food, which included tuna tartar, whole snapper and signature Opus coffee, which is infused with Grand Marnier and Frangelico.

Where did you stay?

Robert: We spent our first three nights at Ports of Call Resort, which is just across the street from both Grace Bay Beach and some of Provo's best restaurants and boutiques. Our room was super clean and spacious, with a bedroom and living room setup. It would be great for families, as they offer multi-room villas and there are grocery stores nearby. We enjoyed the pool, but if we wanted to go to the beach, they'd take us over in a golf cart. The beach area is gorgeous, and they have paddle boards, kayaks and chaise lounges available at no charge. The entire resort was recently renovated.

We spent the next three nights at The Shore Club. It's located on Long Bay Beach, which is across the island from Grace Bay Beach. It's a much quieter area and really has a sense of exclusivity. This is a luxury property in every way. The gardens are lush and pristine, the rooms expansive and the service impeccable—you can even request a butler. There are four pools, including a black bottom pool with its own cooling system that keeps the water comfortable. There are also five restaurants, a stunning spa and even free transport to the resort's sister property on Grace Bay if you want to see that side of the island. Breakfast is included, too, which is nice.

Our last two nights were at Ocean Club West, an oceanfront resort on Grace Bay, offering several room layouts, watersports and beachside dining.

We rented a car for our trip, but also used a local shuttle service, Islandlife Transportation, that could eliminate the rental all together. Excellent service that picks you up and then comes back to take you back to your resort (all done via texting).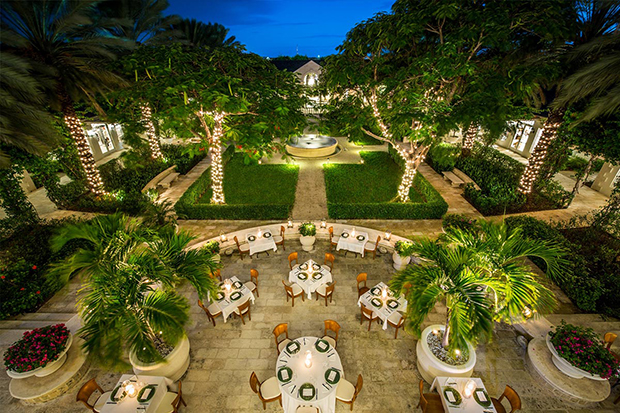 Sounds like a terrific vacation! When are you headed back?

Both: As soon as we can!



Resources

portsofcallresort.com

theshoreclubtc.com

oceanclubresorts.com