Keeping it Fresh
17 Nov 2013
Cothran Harris talks about his design work with the new O2 Fitness facility at Hanover Center, a shopping mall that has stayed the course for more than 50 years
By CECE NUNN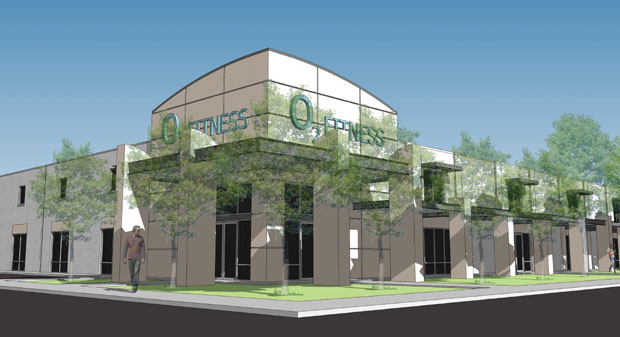 When lifelong Wilmington resident Cothran Harris was a teenager, he bought comic books at a drug store in Hanover Center, often referred to as the Port City's first shopping mall. Comic books are still for sale at the complex these days, along with meals, medicine, running shoes, jewelry, toys, clothes, groceries, office supplies, and a long list of other goods and services.
This year, a fitness center will be part of that list, with the adult Cothran Harris serving as the architect. O2 Fitness is opening a 26,000-square-foot exercise facility at Hanover Center, inside what used to be a warehouse for Sears.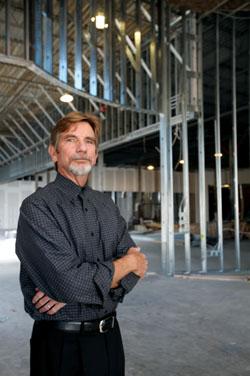 The facility, at 1315 Independence Blvd., is the result of about four years of negotiation between the Oleander Co. and the fitness center operator.
"We think it's going to be a big advantage for everybody," said Jim Smith, development manager for the Oleander Co., which manages and leases the center. After Hugh MacRae II became head of the Oleander Co. (formerly called Hugh MacRae & Co.) in 1951, he led the creation of Hanover Center in 1954.
Since then, the center's appearance has changed, but many of its good and services have remained the same.
"It's a neighborhood center where people can pretty much get everything they need for their everyday lives," Smith said of the 320,000-square-foot center.
Increasingly, exercise and fitness have become part of that list of necessities.
"We're opening a second location in Wilmington due to the overwhelming success of our first location there," said Michael Olander, CEO of O2 Fitness. "We look forward to helping new members in the Wilmington area reach and surpass their health and fitness goals at this beautiful, brand new facility in Hanover Center."
Harris, of Cothran Harris Architecture, described some of the inside of the O2 Fitness at Hanover Center, the company's 12 th location in the state and second in the Wilmington area after the O2 Fitness at Mayfaire Town Center.
"They have a group exercise room of over 3,000 square feet with a floating maple floor," Harris said. "There is a dedicated cycle room, personal training facilities, and a mind and body room for yoga and Pilates. This is all in an airy, warehouse facility with 17-foot ceilings. All of the original structure of the warehouse will be exposed on the inside. Where we have existing brick walls, they're going to be left intact."
"On the west side of it, there is a mezzanine which Sears originally used to store tires. On top of this mezzanine is where we've located the personal training area with large picture windows that overlook the neighborhood, providing plenty of sunlight."
Locker rooms with saunas and child watch facilities are included among the center's many offerings, Harris said.
Harris described the philosophy behind the outside appearance of the new O2 Fitness as well.
"Because the center is always evolving, whatever you do, you want it to fit overall with the shopping center, but you also want it to be on the leading edge," he said.
Harris said the entrance to the new O2 Fitness Club will face Park Avenue and Empie Park, a City of Wilmington with tennis courts, a dog park and a playground, and the Empie Park Fire Station.
The O2 Fitness Club location joins the bustling Oleander Drive corridor as part of what seems to be a trend of popular businesses seeking success there, including a new Starbucks where a gas station used to be, a Whole Foods grocery store, and a Trader Joe's.
Visitors to Hanover Center could see the facility taking shape behind Stein Mart as fall got under way. The Oleander Co. has more plans for the area between Stein Mart and O2 Fitness. Smith said the firm expects to add 8,000 square feet of retail space.
"We're continuing to keep it alive, keep it vibrant, and keep it new and fresh," Smith said.
Harris said Oleander Co.'s commitment to keeping the shopping center fresh is one of the reasons Hanover Center has thrived.
"The MacRae family and Oleander Co. have done a wonderful job of keeping it current and relevant as times have changed, and as the aesthetics have changed around it," Harris said, citing a major facelift that took place about 15 years ago as one example.
"They pay particular attention," Harris said, "to the day-to-day operations of the shopping center ― how clean the sidewalks are, whether there are fresh flowers in the flower beds outside. There's more to the success of a retail center than good design and attracting good tenants; there's a commitment there to making it an attractive and friendly place for people to shop and for people to visit and participate in different community activities."
Some of those community activities have included Girl Scout cookie sales, Boy Scout fundraisers, craft fairs, Salvation Army bell-ringers and car shows.
Lifelong Wilmington residents like Harris remember when the center had a Winn-Dixie instead of a Harris Teeter. Many particularly remember the May's Shoes store.
"When I was a kid, May's shoe store was one of the places we all went to get our shoes," Harris said.
Sears, which had an entrance where Stein Mart's is today, moved decades ago to Independence Mall. That mall, an indoor facility, opened in 1976. Other stores, such as May's Shoes and Rose's, have come and gone. Still others have stayed the course. And many of the Hanover Center businesses still there today were able to weather recent tough times.
Tenants were well-positioned, Smith said, for many reasons to cope with an economic downturn that affected so many businesses.
"They've got good-quality products; they've got things people need; and they've got a good following of clients," Smith said.
In addition to O2 Fitness, Stein Mart and Harris Teeter, Hanover Center is home to a Rite Aid, large K&W Cafeteria and other restaurants, Shoe Shak, Omega Sports, Hobby Lobby, Books-A-Million, a Pier 1 and more. Businesses in the center that are not part of the main strip include banks, a Chick-Fil-A, Hardee's and a Talbot's.
"It has always been more than a shopping center," Harris said. "It's been a family-oriented fixture of the Wilmington community." 910-793-3433, cothranharris.com