Architecture by Design
17 Nov 2013
A UNCW professor's science background proves to be the perfect springboard for his watercolor paintings
By JAMIE WALKER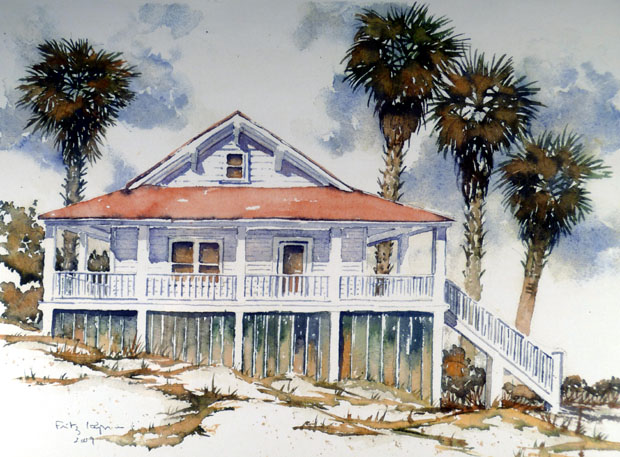 Dr. Fritz Kapraun —botanist, environmental scientist, and breeder of rare birds turned watercolor artist — ties a ribbon of pragmatism to every hat he wears. And his hats never wear out.
Kapraun's stunning architectural portraiture is born of a process with less variables, perhaps, than the scientific method.
"I think being a good artist takes a minimal amount of talent and a great amount of skill. It's a very classical, traditional point of view," says Kapraun.
As structured and organized as his portraits are, they maintain an organic flow as the colors blend and fade, awash with varying moods brought on either by generations of inhabitants or natural variables giving a voice and a personality to his subject. They tell stories.
And it's no accident, says Kapraun. While some artists believe that such revealing elements in composition are born of an ethereal "something other" than the artist, Kapraun insists that it's the exacting calculations, the daily study and practice of the artistic process that accomplishes all of it.
And this is the approach he offers to students. Since retirement as Professor Emeritus at UNCW, he has immersed himself in art. He teaches watercolor painting both at the Cameron Art Museum and at La Romita School of Art in the Umbrian Region of Italy.
"They get a lab book," he said. "And I tell them, this is how you do it. It's geometry, it's pragmatic. This is how you learn to paint."
Like his artist counterparts, though, inspiration is at the heart of his paintings. Kapraun is inspired by the spaces people inhabit, from the Victorian architecture of downtown Wilmington, the tile-roofed stucco abodes of Arizona to the Romanesque architecture of Umbria.
"Every culture has a very distinctive architecture. It's a sense of place. A house indicates lifestyle and situation. What people live in dictates the kind of life they're going to have. Architecture is really important, and I like the challenges that come with it," Kapraun said.
Kapraun first started painting 15 years ago knowing that retirement was approaching. His studies and tenure as a professor of botany and environmental science for more than 35 years afforded him extensive experience as a biological illustrator, so when choosing a retirement "hobby" he naturally gravitated toward drawing and watercolor. He took Gladys Faris's watercolor class at St. John's Museum of Art downtown on Orange and 2nd before the Cameron Art Museum was built.
"When she asked what interested each of us, I said, 'I'd like to paint one of these old houses down here'," said Kapraun. So she sent him outside to paint. And that's where he stayed. Eventually Faris sent him to Neil Watson, renowned watercolor artist in Southport. Watson, a retired neurosurgeon, shared Kapraun's pragmatism and soon became Kapraun's mentor.
"And I just kept doing it. I did it for fun and would give them to people. Then I suddenly started getting requests and people would commission me to paint their house."
Soon after Kapraun picked up his new hobby, he discovered photographer John Sakel's work. Kapraun was immediately taken. "Every one of his photographs is a beautiful presentation. He has an eye for the value system, variations of light. Each of his photographs is delightful," said Kapraun.
Kapraun eliminated the hazards and inconveniences of painting on site by using Sakel's photographs as reference points. Their work complimented one another so well, that they began showing together at galleries in town in 2003. Galleries included WHQR gallery, Spectrum Gallery, and Port City Antiques and Art Gallery to name a few.
Finding quickly that they worked well together, Sakel and Kapraun had begun travelling, eager to capture the stories hidden in the ancient architecture of Europe, and brought their work home to share. Their shows displayed stunning infrared photos alongside pastel washes that softened reverent lines honored through centuries in homes and cathedrals of Spain, London, Greece, and Italy.
It was in Italy, though, that they finally found their niche.
Kapraun signed up for a class offered by Neil Watson at La Romita School of Art in Umbria five years ago, only to hear it was cancelled in the weeks before the scheduled trip. Kapraun decided to attend anyway. Upon arrival, he was asked to teach the class himself.
"It was just an accident," he said. One that all parties benefitted from. La Romita has asked him back every year since.
Their daily journeys to quaint historical towns like Carsulae, Assisi, Orvieto, and Spoleto, are filled with exquisite cuisine, homemade grapa (Italian brandy), fine wines, and Kapraun and Sakel's brilliant wit and extensive knowledge of the region.
While Kapraun is immersed in discussions of architecture and the process used to recreate it, Sakel creates daily photo diaries for students and advised them on the mechanics of creating stellar photographs.
"I like to capture the feeling of a place. I want you (the viewer) to look at the image and say: 'What has happened here? What is going on here? And, why am I not here?'" Sakel said.
And that's usually just what he gets from viewers.
Sakel's infrared, black and white, and color images of Mt. Vesuvius, quaint hillsides, and breathtaking sunsets that bleed orange and red across the region tell innumerable tales.
"We keep going back because it's fabulous," Sakel said.
In 2014, Sakel will give a premier performance as an instructor at La Romita during the June 20-30 workshop.
Kapraun said that their trips to La Romita just make sense. "We have similar interests in art and architecture, and we just work well together."
"And most importantly," he says with a smile, "we play well with others."