Keeping the Arts Alive
02 Nov 2020
A success story in the time of Covid

By KIM HENRY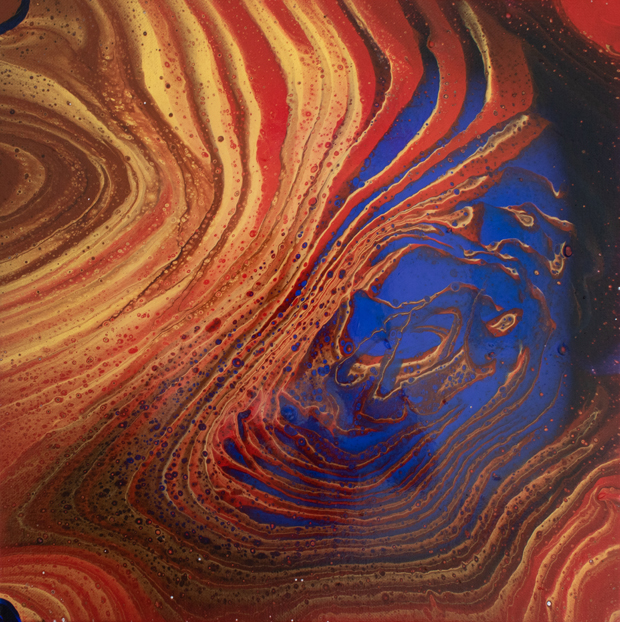 Live theatre has been on the Covid shelf since March 2020, which has left thousands of performance artists, directors, lighting designers and theatre staff in the dark. Here in Wilmington, Thalian Hall has just opened its doors for limited-seating film nights, but generally it's still pretty quiet for the theatre community. Ever resilient, local artists are working hard to find new ways to express, inspire and keep the arts alive. The Pony Collective, pioneered by two local women, is a perfect example of the creative spirit that refuses to be broken.

Chandler Davis is the dynamic Artistic Director of Thalian Association and has had a passion for musical theatre and performance arts her whole life. She directs, sings, performs and choreographs. The job demands that she chooses plays for both the main stage and the youth theatre, organizes production teams, draws up budgets, casts the plays and directs some of the shows herself. It's a very time consuming role, and in the old days, Davis wouldn't have thought twice about doing a fourteen-hour day if that's what it took to get a show up and open on time.

However, along with the rest of the country, March 2020 rolled around, and her entire world ground to a halt. "We were in the middle of Aida rehearsals and at first I just couldn't wrap my head around everything shutting down," Davis explains from her office at the Community Arts building on 2nd and Orange, "The show must go, right?!" But she soon realized that this time, the show could not go on, and here we all are nine months later and shows are only just beginning to start up once again and to a very limited audience at that.

So what does a director who's used to being extremely busy and productive do to combat the lockdown blues? Well, after a few weeks of existential crises and lots of hiking with her dog, Davis discovered a whole new passion in the shape of pour painting. Another local artist held a Facebook live class teaching this technique and Davis happened to tune in. Something clicked. She invested in a bunch of supplies and began experimenting with her own style, which happened to involve 'getting paint all over the house!' grins Davis.

Other components of the technique include: pouring acrylic paint onto varying size canvasses through holes in a cup, using a blow dryer to create streaks of paint and layering up different colors in a desired order, which gives the artist more control over the outcome. Some of Davis' designs have a silicone finish, which creates paint cells and provides even more texture.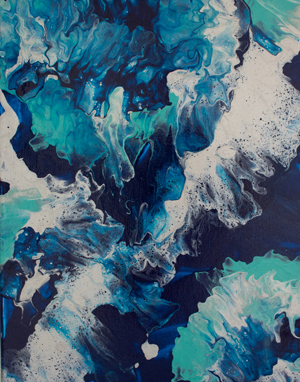 The vibrant paintings are bursting with moods, emotions, colors and diverse consistencies. Inspired by nature, Davis' recent creations tend flow in themes. "I was really into sunsets for a while. Now I feel inspired by water and dual tones," explains Davis surrounded by her impressive body of work on the walls of the Community Arts building.

One thing organically led to another and soon enough The Pony Collective was established by Davis and her close friend, local artist, Leah Chappell. The Collective is specifically to support female artists, and has established a website, Facebook page and accepts commissions. "I love working with a client. We talk about the colors they're interested in, the size and shape of the canvass in relation to the space it's going to occupy and the mood that they're looking to express," Davis shares.

Although the work does not literally portray current events, there's no mistaking that this initiative is a direct response to the present moment. As an industry, the arts are having to rethink its entire framework and as an individual, Davis had a similar challenge. The Collective is committed to empowering other female artists in these difficult times. Unlike live theatre, working on a painting is very Covid friendly and doesn't rely on having close contact with other people. "It's very therapeutic," smiles Davis, "and although I sometimes suffer from imposter syndrome, I'm completely addicted!"

In these strange times, we're all having to rethink our world, jobs and lifestyles. So it's always inspiring to look around and see how other people are handling the obstacles. If there is any silver lining to Covid, it has provided some people with a break from intense working lives and allowed time for them to turn their hands to new ventures. Davis expresses how lucky she feels to have found something new that is both fulfilling and enables her to continue to be creative. So once again, thank goodness for the innovation of artists, because no one wants to live in a world without art.