Leading the Community to Better Health
07 Sep 2017

The new Zimmer Cancer Center expansion brings top quality treatment resources to Wilmington
By EMILY GORMAN FANCY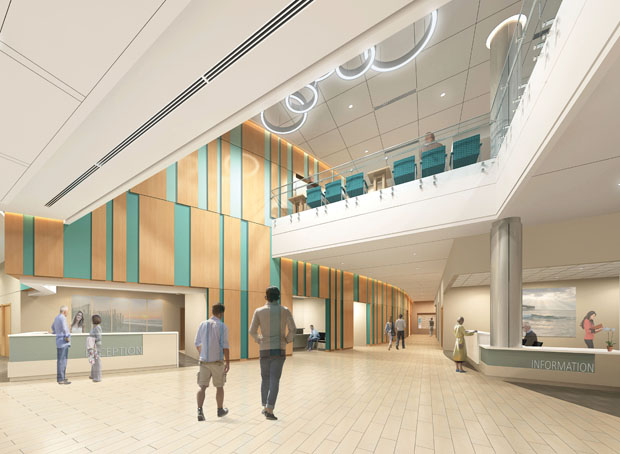 A cancer diagnosis can be devastating and challenging for anyone, but patients in the greater Wilmington area can rest assured that access to advanced treatment and services is right in our own backyard at the newly renovated, state-of-the-art NHRMC Zimmer Cancer Center. Through advancements in cancer detection, diagnosis, and treatment, survival rates and quality of life for cancer patients have improved, offering new hope.
Over an 18-month period, the Zimmer Cancer Center underwent a $14.5-million renovation. The new Zimmer Cancer Center, which opened to patients on August 28, boasts patient care areas and onsite offices for the physicians and staff of Cape Fear Cancer Specialists; space for gynecologic oncology, surgical oncology, radiation oncology, and multi-disciplinary programs; access to diagnostics, outpatient infusion, clinical trials, treatment options, community resources and support groups; and the Inspiration Center offering patients educational resources and community support. With all of these services and resources under one roof, patients can undergo everything from physician's visits to diagnostic tests to support group meetings all in one facility.
"The new expansion will without a doubt, provide greater services to New Hanover and the surrounding counties," says Dr. Andrew Schreiber, medical oncologist with NHRMC Physician Group – Cape Fear Cancer Specialists. "Specifically, the new enlarged cancer center will allow us to treat patients in a more timely fashion. Also, support staff including nutrition, palliative care, pharmacology, nursing and physicians will all be increased."
Before creating the design plans for the new expansion, the Zimmer Cancer Center staff sought input from patients and their families, physicians, social workers, and other caregivers to learn how the expanded center could better meet their needs. These ideas fueled the design plan, which led to an expansion that more than doubled the size of the original facility from 32,000 to 73,000 square feet.
As one of the larger pieces of the expansion, Cape Fear Cancer Specialists moved its medical practice into the new Zimmer Cancer Center, giving patients direct access to comprehensive care from a team of dedicated experts, according to Claire Parker, NHRMC media coordinator. "By moving the Wilmington office into the Zimmer Cancer Center, the Cape Fear Cancer Specialists team has the advantage of being able to collaborate more efficiently to better serve our patients."
The expansion also enhanced the NHRMC Lung Program, which offers a more comprehensive, streamlined approach to medical care for lung cancer patients. After a patient's initial diagnosis, the Lung Program's team of multidisciplinary physicians study the test results and work together to create a treatment plan, allowing specialized medical care to begin as soon as possible. "The newly created multi-physician lung cancer clinic will continue to grow and see patients more often, increasing the ability to provide multidisciplinary care to more individuals in need," Dr. Schreiber says.
Recognizing the outstanding care extends beyond medical treatment, another key component of the expansion is the new Inspiration Center. With its location on the ground floor of the new facility, the Inspiration Center will be a beacon of healing and hope for patients and their families.
Michelle Hoadley, director of radiation oncology at the Zimmer Cancer Center who was part of the team who collaborated on the Inspiration Center's design, says they took into consideration patients, their families, and relevant community resources and services. Hoadley described the final product as "an inviting and cozy" space, complete with a library offering resources on a wide range of topics, including caregiving, coping strategies, health, fitness, and educational information about various types of cancer diagnoses. Additionally, there are three private consultation rooms for meetings with medical staff, financial counselors, social workers, and other personnel.
The Inspiration Center's multipurpose room offers an open space for medical classes and webinars as well as health and wellness classes, including yoga, pilates, nutrition, and aromatherapy. The space will also be used for continuing education for physicians and other staff members. Adjacent to the multipurpose room is a private space for on-site massage therapy.
"As our cancer program has grown, we have run out of space to offer all of the programs we'd like to provide. With our new facility, we are better equipped to meet the needs of the community," Hoadley explains.
In addition to the Inspiration Center, the ground floor will also encompass surgical oncology, gynecological oncology, and radiation oncology. The second floor will house medical oncology services and the new enhanced infusion suite, which has been expanded from 15 to 48 chairs. Along with the larger number of chairs, comes the option to bring along a companion for support as well as to make the infusion experience as private or as social as the patient desires.
The Zimmer Cancer Center draws patients from throughout southeastern North Carolina and beyond, allowing patients to receive top-notch care close to home without having to drive to Duke. The enhanced Zimmer Cancer Center will offer more clinical trials testing modern chemotherapy drugs and treatment, radiation, and surgical protocols.
By bringing together a wealth of healthcare providers and resources in one state-of-the-art facility, the newly expanded Zimmer Cancer Center builds upon NHRMC's motto of "Leading our community to outstanding health". "The remodeled cancer center provides a magnificent space for all patients to receive excellent care from multiple providers," says Dr. Schreiber.