Soaring to New Heights
07 Sep 2017
A dream team proves, if you build it, they will come
By CHRISTINE HENNESSEY » Photos by G. FRANK HART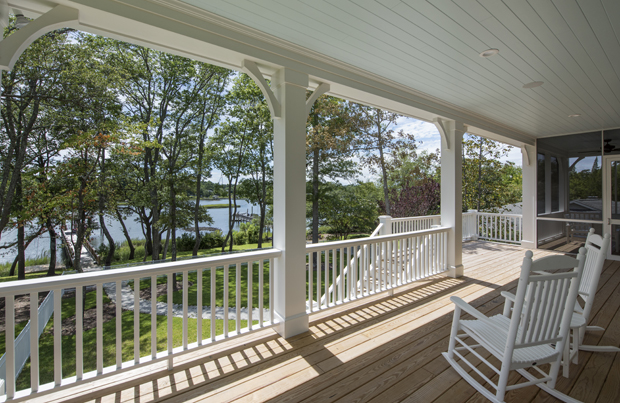 Most people start to downsize as they get older, buying a smaller place when the kids move out and winnowing their belongings to a few beloved pieces. Joe and Marta Jacobus did the complete opposite. "We decided to upsize," Marta says, laughing. The couple has a large extended family, including 40 nieces and nephews, most of who live in Ohio and enjoy summer trips to the beach. "We wanted a house where we could entertain everyone," Marta explains. "We were really building this house for our guests."
Joe came to coastal North Carolina in 1985 and started a small and successful cabinetry business. Eventually it grew into MarKraft Cabinets, which continues to serve the Wilmington and Nashville areas to this day. "Ever since I moved here, I had a vision of a house on the water," he says. In 2006 the couple sold their current house and bought a place in Marsh Oaks, where they planned to live for a year or two while they designed and built their dream home. Instead, due to unlucky timing that coincided with the housing crisis, the couple lived in their "temporary home" for the next eleven years.
Then, two years ago, they found the perfect lot in Pages Creek. Thanks to a peninsula that jetted out to a point and a saltwater marsh at one end, it was surrounded by water on four sides—exactly what Joe envisioned all those years ago. They bought the lot, cleared it, and hired RMB Building & Design to bring the home they'd dreamed about for so long to life.
The Right Builder for the Job
Because of Joe's work at MarKraft Cabinets, he had good relationships with many local builders. Nevertheless, he and Marta chose RMB Building & Design for their project. One reason was because they knew Mack Braxton, the owner, was reputable, reliable, and trustworthy. Another reason was the fact that Mack's wife was one of Marta's best friends. "We never had to worry that the job wouldn't be completed and we trusted that he'd do what we wanted," Marta says. That level of trust was the biggest reason the Jacobuses felt comfortable working with RMB.
Mack Braxton has been building homes in and around Wilmington since 1990, and founded RMB Building & Design in 2003. A boutique builder, the firm does everything completely in-house, from design all the way to construction. In the last few years, they've taken on more renovation projects as well, updating older homes in Landfall—many of which Mack built 30 years ago. The firm is also known for their energy efficient homes, which is notable due the size of their projects. For the last two years, they won the North Carolina Home Builders Association's award for Best Energy Efficient Single Family Project. Because RMB doesn't build 100 houses a year, they're able to spend more time on site, giving each home the time and attention it deserves.
"Mack isn't just a builder," Joe explains. "He's a designer, too." This was important to the Jacobuses due to the unique shape of the lot they'd purchased. While they had many ideas of what they wanted—they'd been planning this project for eleven years, after all—they needed help coming up with a design that not only fit the space, but celebrated it.
"I'm a designer, but only as far as kitchens are concerned," Joe says. "I work in hundreds of houses a year, but I'm not an architect. Mack filled all that in."
Marta agrees. "Mack is excellent at taking his client's vision and getting it into blueprint form. What he does is so far beyond anything we could envision in our heads."
This skill is due, at least in part, to RMB's process. They start by sending the client an extensive lifestyle questionnaire that goes through the house room by room, inside and out, asking specific questions about what they want. Inspiration photos help, and the Jacobuses had plenty. "They had some pictures of coastal looking shingle houses, lots of exterior space with porches, and tons of windows," Mack says. With these pieces, he began to see what the Jacobuses saw.
Once the design was finalized and the permits were secured—a process that took about six to eight months—it was time to break ground.
Coming Together Under One Roof
Despite the house's size and unique features, the entire project took just about two years from beginning to end. "We started planning and designing in July 2015," Mack says, shuffling through paperwork. "Got the building permit in February 2016, and finished the house in February 2017."
Marta describes the style of the home as southern coastal, while also capturing the essence of the water it borders. "We're creek people," Marta says. This is easy to appreciate, especially from the vantage point of the dock that extends into Pages Creek, complete with boatlift and kayaks.
This style was, of course, intentional, and based on many conversations between the Jacobuses and the RMB team. "They wanted a very coastal look," Mack says. "Shake shingles on the outside of the house, metal roof. They were talking about a treehouse feel, because of all the trees on the lot, so we designed a tall tower staircase surrounded by windows."
The house itself is three stories tall and highlights the impressive view from every available angle, thanks to those windows and a wrap-around porch. The first level of the home is twelve feet above sea level, and includes a three-car garage—a feature Joe has always wanted. There's also a large rec room that leads to a spacious patio, which faces the water and the dock, as well as a small kitchen. Joe's office is also down there and boasts its own views of the water on two sides.
The couple spends most of their time on the second floor, which is where everything they need on a day to day basis—including master bedroom, master bath, and a large laundry room—are located. Joe designed the big oak kitchen himself, and the open floor plan allows a seamless transition from kitchen to living room to dining room, all with a perfect view of the fireplace.
The third and final floor, accessed by the large staircase, opens to a loft-style room, ideal for game nights and movie marathons. There are guest bedrooms at either end of the floor, along with their own bathrooms. "The view from the loft is one of the best in the house," Joe says. "On a clear day, you can see all the way to Figure Eight Island."
To choose the exterior and interior colors of the house, Marta worked closely with Marilyn Kimberly Hill, an interior designer from Nashville. The second floor, where they spend most of their time, is painted in peaceful, beachy pastels, while the third floor features brighter colors and navy accents. Marilyn was able to capture the coastal themes the Jacobuses wanted, despite the fact that she was from landlocked Tennessee. "She also helps in our showrooms, so we've worked together for several years," Joe says. "We appreciated how well she coordinated with Mack. Everyone operated as a team. Even though we had the same issues that every construction site has, we were able to easily work through all of them."
In addition to the 5,000 square foot house, the Jacobuses also built a shop for Joe's woodworking hobby. Crowning the shop is an 800 square foot efficiency apartment, affectionately known as the Shack. "The grandkids love it," Joe says. "We're going to outfit it with bunk beds pretty soon."
Finally Living the Creek Life
"Building a home is hard and stressful," Joe says. "I've been around the business all my life so I knew that going in. Mack made that hard experience amazing, and we ended up with a fantastic product."
Joe acknowledges that building a home is an educational process. It requires digging deep to ask yourself hard questions and putting your expectations out there. This was certainly true for the Jacobuses, who moved into their home this past March. From the beginning, they knew they wanted a home with plenty of room to entertain family and friends. After a steady stream of visitors all summer long, that's exactly what they got.
"You have to know what you want," Marta says. "That's key."
Resources
Builder: RMB Building & Design, 910-256-6326, www.rmbbuildinganddesign.com
Kitchen Cabinetry: Markraft Cabinets, 910-793-0202, www.markraft.com
Interior Design: Marilyn Kimberly Hill, 615-543-5699, www.marilynkimberly.com