Wilmington's finest finds between buns, plus the bubbly brews you want to wash them down
By FANNY SLATER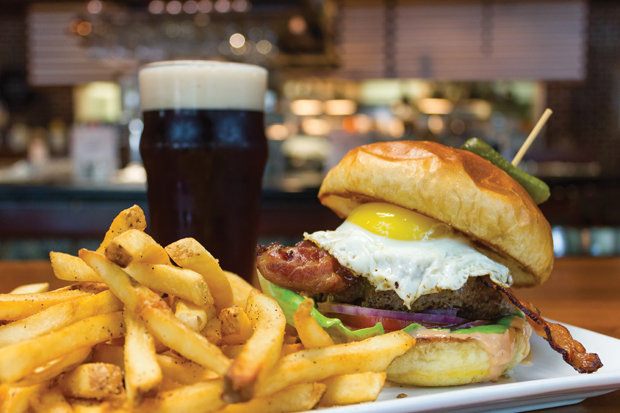 There's a reason long lost cousins and neighbors you've never met pop up at your backyard cookout—and no, it's not because of your "world famous" guacamole. Nothing assembles an audience like the smoky scent of a grill covered from edge to edge in juicy burgers (well, other than a cooler full of beer). One meaty, charbroiled bite and you're infused with a mouthful of memories. Yellow mustard and American cheese soar you back to the era of jelly shoes, sprinkler skipping, and the angelic voices of New Kids on the Block. Creamy swiss and rye bread drift you to that New Jersey diner, where you and your grandmother once shared a patty melt and chocolate malt.
The point is—burgers are perfect. They are a drip-down-your-arm, no-forks-required, satisfying miracle from foodie heaven. You can slice them down the middle to explore their wondrous interior and fluffy inner-buns. You can fearlessly attack them whole, knowing full-well you'll end up with mayonnaise on your elbows. It doesn't matter how you approach them or which hops you choose to wash them down—but where they come from certainly holds some merit.
Here's your Wilmington guide to scouting out the best burgers and beers in town.
Beach House Burgers
(910) 458-8586
Finger-licking, double-stacked patties on the Kure Beach Pier with a side of sandy toes? Don't mind if I do. Beach House Burgers is a tourist favorite and a diamond in the rough, all in one charismatic shack. This seasonal, charmingly modest hamburger, hot dog, and ice cream joint dishes out some of the freshest and thickest made-to-order burgers on the island. A family-owned and operated business, the oceanside hut is equally celebrated for its service as well as its dangerously delicious chili burgers. After a long day of wave-hopping and SPF-applying, you deserve to recharge your batteries at BHB.
Bessie Burger
www.bessieburger.com
(910) 399-4487
How could you not love a place whose most popular (and most patriotic) burger is dubbed "The Clinton" and boasts a classic lineup of American cheese, mayonnaise, lettuce, and tomato? Cross over the bridge to Leland for Bessie Burger. You won't be sorry. Successful small restaurant owners know that the food leaves just as much of an impression as the friendliness. Ask around and you'll hear consistent feedback that Bessie has a warm, customer-pleasing atmosphere and a reputable assortment of fresh burgers, hand-cut fries, and thick shakes. The Germantown—mushrooms, bacon, and Swiss—is a crowd pleaser, and the magnificently crunchy onion rings are made with love.
Bill's Front Porch Pub & Brewery
www.billsfrontporch.com
(910) 762-6333
There's only one word that comes to mind when describing the upscale New American cuisine, handcrafted brews, and exceptional staff at Bill's Front Porch: ridonkulous. Hey, I didn't say it was a real word. Still slightly new to Wilmington's dining scene, it wasn't long after opening that this Market Street eatery grew into one of the top pub grubs in the Port City. The only thing better than their flagship ale (the Mosaic—an earthy, juicy American-style IPA) is Bill's Bacon BBQ burger loaded with meat on meat on meat. No really, this masterpiece has thick cut bacon, house smoked pork, half a pound of Angus beef, barbeque sauce and slaw. Bibs, anyone?
Capt'n Bill's Backyard Grill
www.captnbills.com
(910) 762-0173
How does one work off Captain Bill's outrageous Slop Burger (an impressive medley of freshly ground beef doused in cheese, Memaw's Chili, and garden-picked veggies)? On their sand volleyball courts, of course. This lively sports bar has the swagger of a fully stocked indoor restaurant with a side of courtside cabana-life where the pitchers are ice-cold and you can't beat the view. If watching sports via television sounds more like your thing, belly up to the big screen and grab yourself one of those savory chili burgers and a local brew or two to wash it down.
Carolina Girls Grillin Café
cgsgrillincafe.com
(910) 251-8004
This friendly, fast-casual café may be famous for their chicken salad, but don't let their wildly satisfying burgers pass you by. Each nearly six-ounce all-beef patty is formed by hand, dusted with CG's burger seasoning, and grilled to order. The Mushroom Swiss Burger with charred onions is a slam dunk every time. CG's sandwich aficionados are well-versed in saying "no thanks" to preservatives, and "yes please" to scratchmade everything. These masterminds also know that when it comes to creating a perfect handheld, the exterior makes or breaks the deal. From the sweet Hawaiian to the airy buns, the house-baked breads are out of this world.
Dig & Dive
www.diganddive.com
(910) 228-5791
Eat. Drink. Play. Repeat. That's the motto at this beer-centric, sports-infused dining and active lifestyle destination. Dig & Dive carries way more than the triple threat, as they're one of Wilmington's top spots for soft sand outdoor volleyball, cornhole, bocce ball, and dodgeball. Regulars may come for the workout, but they stay for the burgers. D&D's executive chef starts with a voluptuous blend of ground-up short rib, brisket, and chuck and cooks each bad boy to order. Front runners include the Breakfast Burger with fried egg, apple-wood smoked bacon, crispy hashbrowns, and maple syrup. For those not feeling brunch or beef, take an assist from the jalapeno-cilantro sauce smothered Turkey Burger or Black Bean with avocado, roasted tomatoes, and house sauce.
Dixie Grill
www.thedixiegrillwilmington.wordpress.com
(910) 762-7280
This vintage diner is a hot spot for natives and tourists alike. Just take a stroll through the intersection at Market and Front around 10 AM on a Saturday and you'll see what I mean. Dixie is notorious for their simple yet eclectic selection of brews, hip vibe, and updated greasy spoon-like dishes. For a truly solid lunchtime order, do like the locals do and go for the Stafford Burger with chargrilled apple-sage pork sausage, ground sirloin, sharp melted provolone, mayo, and LTO on a toasted Kaiser. Crack open a tall PBR, ask for a side of homemade ranch, and you'll fit right in.
Fox & Hound
www.foxandhound.com
(910) 509-0805
Considered Mayfaire's most beloved tavern—and the best spot to grab a quick bite and an ale before the movies—Fox & Hound is rarely without a hungry herd. The walls are decorated with infinite TVs and taps, which makes for the kind of environment you won't want to leave. From North Carolina's finest craft beers to familiar domestics, there's a perfect pint no matter the palate. Not much goes better with hops than a mouthwatering burger, and there are plenty to pick from. If you're feeling saucy, opt for the Voodoo with blackened ground chuck, pepper jack cheese, pico de gallo, fresh jalapeños, fried onion straws, crisp lettuce, and tangy chipotle aioli.
French's Classic Burgers
(910) 790-5884
Though the building is petite, you can't miss the bright yellow structure and enormous red sign. But if you do, turn around. No matter how you get there, make your way down Carolina Beach Road to French's. This lovely longtime eatery offers blissful bites of nostalgia—not to mention gloriously messy burgers and dogs. This classic mom and pop shop puts out piping hot fries and outstanding, no-frills patties topped "all the way" with mustard, chili, slaw, and onions. French's fabulous prices, consistently fresh food, and inviting atmosphere keep folks lining up (or rolling through the drive-thru) when those undeniable cravings hit.
Hell's Kitchen
www.hellskitchenbar.com
(910) 763-4133
Come to catch a game on the colossal big screen—but stay for the signature burgers, stellar roster of hops, and waffle fries floating in a stream of queso and chives. Hell's Kitchen is a downtown character in itself that provides Thursday night trivia for the younger crowd and welcoming pub-type environment for the fam. If you're on the meat-free path, lean towards the Health Attack (a veggie and chickpea patty cloaked in nacho cheese, fried pickles, and onions) for your main squeeze. For those with a not-so-shy appetite, let the dark side reel you in with The Devil Made Me Do It Burger—a massive patty splashed in bacon barbeque sauce, crowned with crispy bacon, smoky cheddar, and an over easy fried egg.
Hops Supply Co.
www.hopssupplyco.com
(910) 833-8867
Wilmington foodies rejoiced when rumors of one of the first gastropubs surfaced a few years back. Hops Supply Co. falls into that unique "gourmet pub food" category, and they've lived up to those standards and exceeded every edible expectation. There's nothing like finishing off a flight of four with a stack of braised short rib nachos, but that's not the only dish where they're beefing up beef. The addictive HOPSCO burger is a daily-ground, succulent work-of-art (a mixture of fatty chuck and high-quality ribeye) that rests between a chewy pretzel roll and is decorated with bacon and herby, garlicky homemade boursin cheese.
Hwy 55 Burgers Shakes & Fries
www.hwy55.com
You don't need a time machine to travel back to the American Bandstand era where a cozy booth, a classic cheeseburger, and hand-squeezed lemonade were all you needed for your Friday night buzz. Hwy 55 is a North Carolina-based chain of quaint 1950s diners that strive to maintain a customer-employee bond. The burger menu is pleasantly straightforward (one, two, or three fresh-never-frozen patties covered in all the free toppings you can handle and cooked how you like it). And if you go big or go home, you came to the right place. Step up to The Fifty-Five Challenge, where fifty-five ounces of meat meets fries and a drink. Gobble it down in under thirty, and the tab is on them.
Jimbo's
(910) 799-2211
Nope, you didn't read the sign wrong. Jimbo's is open 12 AM – 2 PM every day. Whether you've just clocked out after a late work shift or have just closed down the bars—this old-time diner is at your service. Feel free to sip a hot cup of joe and start skimming through the extensive breakfast choices, but you need not flip further than the burger for a brilliant meal. There's nothing like smoky, chargrilled flavor of a classic diner burger—and Jimbo's dishes out exactly that. Don't expect to find fancy toppings or words like aioli. This traditional burger is an epic bite of the past that you can have at any time of the night.
Merritt's Burger House
(910) 763-5844
When a restaurant has been delivering incredible food and service for nearly sixty years, I think it's fair to say they're doing something right. This charming drive-up is like nowhere else in Wilmington—and tried-and-true patrons are happy to keep it that way. This longtime landmark accepts cash only and platters up (on an old school aluminum tray, of course) "flat" grill-pressed burgers, righteous chili dogs, and crinkle cut fries. If you haven't been eating at Merritt's for decades like many of the regulars have, one trip to this old-fashioned gem—where everyone calls you darlin' and the house brew is sweet tea—will have you looking forward to your next time back.
Ogden Tap Room
www.ogdentaproom.com
(910) 821-8185
They say less is more. They were wrong. At Ogden Tap Room, your faced with forty taps (each broken down with tasting notes) to choose from—and there ain't nothing wrong with that. In addition to the boundless rows of brews, this neighborhood tavern offers superior modern American fare (along with a kid's menu for those with picky palates). OTap lets you be the chef with their "build your own burgers, dogs, and chicken" option. Red-meat-eating carnivores can start with an eight-ounce base of fresh prime beef or farm-raised bison. Load on as many free fixins' as your buns can handle, and then get your upgrade on with specialty garnishes like house-made beer cheese or a marinated Portobello.
Pender's Café
(910) 762-4065
While dozens of downtown restaurants have flipped, closed, and changed hands over the last forty years—Pender's Café has proudly stood strong. From the bright red Coca-Cola memorabilia adorning the walls to the faithfully-seasoned flattop, this beloved Front Street tradition (with owner Maxine Pender at the helm) has housed infinite loyal diners over the last two decades. The restaurant's trademark item, The Pender Burger, served on red-checkered paper, unapologetically boasts two four-ounce patties with a mountain of melting cheese, shaved iceberg lettuce, tomato, pickles, onions, and a heaping side of fries.
Pine Valley Market
www.pinevalleymarket.com
(910) 350-3663
This Wilmington staple started as a simple butcher shop and transformed into one of the most praised catering companies, grill and gourmet store in town. Owners Christi Ferretti and Kathy Webb have shaped Pine Valley into the type of café where you come in for a casual meal and leave feeling like family. Their signature Market Burger isn't piled high with the kitchen's choice of toppings. PVM allows the freshly ground, hand-pattied Certified Angus chuck (with gorgeous grill marks, I might add) speak for itself—and lets the guest dress the sandwich to their liking.
Platypus & Gnome
www.platypusandgnome.com
(910) 769-9300
Catchy name, seriously good food. If you haven't already overdosed on your daily pork intake, head to this globally-inspired eatery for a pile of meat that will knock your socks off. P&G's Bacon Bacon Burger features a pork belly-infused patty topped with sweet bacon jam, smoked gouda, and more bacon. Rich is an understatement, but if you're craving a decadent dinner—welcome to the big leagues. Triple bacon and cheese not flashy enough for you? Go for the Elk Burger with savory caramelized shallots, mushrooms, tangy blue cheese, and a rich red wine reduction sauce.
PT's Grille
www.ptsgrille.com
Sharpen your pencils (and your ordering skills) because the order pads at PT's Olde Fashioned Grille are ready for whatever your stomach requires. Thanks to a handful of convenient locations all over town and a reputation for prompt service, PT's is the perfect quick counter service you want when you've got cookout-style-food on the brain. Old-fashioned and chargrilled to order, every sandwich at this beachy eatery is out-of-this-world. Even the Garden Burgers get two thumbs up. For the classic beef, choose your size and top it to your heart's desire. No matter what your go-to garnishes are, it's the flame-kissed patties (and the freshly squeezed lemonade) that make PT's a winner every time.
RuckerJohns
www.ruckerjohns.com
Customers go wild for RuckerJohn's buttery croissants, but it turns out that folks flock to the burgers as well. Listed on the menu as "Burgers with more" RJ's isn't messing around as each base is a handmade, Certified Angus Beef patty where one tasty choice sounds better than the next. Feeling that east coast vibe? Ask for the Carolina Burger with homemade Thousand Island dressing, Monterey Jack cheese, Applewood bacon, lettuce, tomato, sliced Bermuda onion, and a spoonful of sour cream on a toasted bun. Not "local" enough for you? The BBQ Beach Burger (with shredded cheddar, BBQ sauce, bacon, and grilled onions) will have you contemplating surf lessons.
Spicoli
(910) 256-0339
If you find yourself in Wrightsville Beach with a late-night cheeseburger craving (or you're just on the hunt for a family-oriented place to grub), Spicoli is at your service. This Lumina Commons semi-newcomer is a retro-themed beer-and-wing joint where, if you're a child-of-the-nineties—your youthful heartstrings may get a tug. But no matter when you were born, the knockout burgers will still give you all the feels. The Mahoney (glazed with sweet bourbon bacon jam and caramelized onions) and the Trans-Am—a familiar blend of secret sauce, cheese, pickle, and LTO—are among top-sellers.
Tazy's Burgers & Grill
www.tazys.com
(910) 397-2944
Christened the king of "Awesome Aussie Sandwiches," Tazy's has been cranking out spectacular burgers for almost twenty years. This upscale grill is all about preparing fresh, cooked-to-order reasonably priced sandwiches (on freshly baked toasted French rolls) with a down-under twist. The atmosphere screams 50s-esque café with a hint of modern flair. On a rainy day, snag a seat in their spacious indoor dining area, and when those warm Wilmington days come around—have them throw a spiced Aussie Angus burger on "the barby" and enjoy it (along with an ice-cold beer) on the patio. Veg-heads go crazy for The Vegemite with grilled zucchini and onions, summer squash, eggplant, and roasted peppers.
The Fork n' Cork
www.theforkncork.com
(910) 228-5247
Treat yourself to a gourmet lunch at this Market Street bar where the piled-high sandwiches are made from scratch and the craft beer flows like the Cape Fear River. Formerly known as the Patty Wagon food truck—it's no surprise that this quirky café has become legendary for their enormous, three-napkin burgers. Where's the beef? You can get that here, of course, but there's much more ground-meat territory to explore. Try the Lamb Burger with mint, oregano, salty feta, and homemade tzatziki sauce. Wanna take it up a notch? The Duck Duck Goose burger will leave you speechless with its union of ground duck patty, country pâté, fried duck egg, port wine cherry sauce, arugula, and shaved red onion.
Tilted Kilt Pub & Eatery
www.tiltedkilt.com
In search of a one-of-a-kind dining experience? This is your stop. Tilted Kilt is a Celtic-themed sports bar specializing in Irish, Scottish, English, and American comfort food, craft beers, and lovely ladies. Tilted Kilt may be renowned for those Kilt Girls® and their unmatched attentive service, but the amazing food keeps patrons coming back for more. Every Big Arse® Burger is prepared with high-quality ground beef. Make it a "Dublin" by doubling up on the meat and cheese, or a Skinny Arse® by subbing in a turkey burger or spicy black bean patty. For something truly off-the-charts, tackle the Double D Burger (aka "Dublin Dare") with two deep fried patties, Applewood smoked bacon, cheddar, and Kilt Burner mayo.
Two Guys Grille
www.twoguysgrill.com
You'll find a lot more than two guys in this leisurely southeastern grill. Two Guys prides themselves on being a casual burger joint where everything is done a step above. They're known for their chargrilled sammies and bomb fries, but the Famous Phillies (chockfull of peppers, onions, mushrooms, and creamy white American) draw in loads of northern transplants who are looking for a taste of home. The Tarheel Burger—a Carolina favorite topped with American cheese, spicy mustard, red onions, chili, and slaw—will indulge all of your senses; while the Fried Pickle Burger will satisfy your craving for a crunch.