Elegance with an Edge
06 Sep 2017
Boutique owner, Kendall Hurt, turns heartbreak into happiness
By JOHANNA COLBURN » Photos by KELLY STARBUCK PHOTOGRAPHY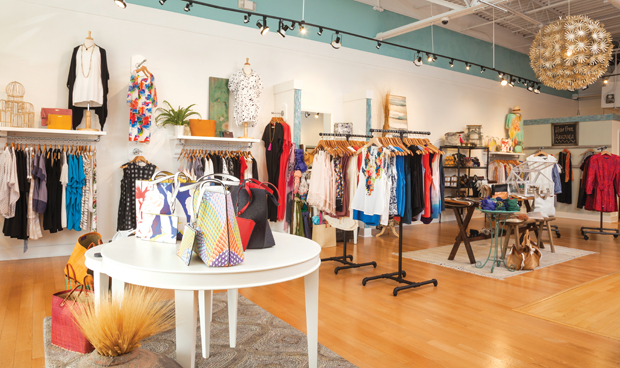 Wilmington's Meadowlark is a boutique inspired by an extraordinary story rooted in love. In December 2009, owner Kendall Hurt lost her mother to an early on-set of Alzheimer's. A month later, Hurt heard a bird singing each morning. She found it odd to hear a new bird in the height of winter - not to mention it was so present that it permeated the brick walls of her house. "Each day I felt my Mom's presence through the bird's song," explains Hurt. "I'd even say "goodbye, Mom" when I'd get into my car to go to work each day. I could not see the bird the first year. By the second year, I was finally able to find and see her, but was never able to get a clear enough view to know size and color. By the third year, I was able to see all of the bird and determine she was an Eastern Meadowlark. This shop is for both my Mom and I."
A robust career in many sectors of retail allowed Hurt to reach where she is today. From the retail floor, to real estate, to opening new stores for Advance Auto Parts, Hurt planned to open her shop after careful planning. She knew she wanted to move and start a new career. "I decided on what I wanted to do and then set out to find the right place," explains Hurt. "I determined it to be Wilmington and then one month later, found a location." After a month of negotiations and giving notice, she arrived in Wilmington from Roanoke, Virginia on September 15th, 2016 and took possession of the retail space. She had help from her father and close friends who came to assist setting up the store. With only this incredible limited window of time to open her doors, Hurt welcomed customers on October 15th, 2016.
Hurt focuses on buying wearable art with transitional pieces that can go from the office to a dinner date to lunch with girlfriends. When buying, she waits for her gut to react. "When I get really excited, smile from ear-to-ear and feel excitement in my stomach, I know I've found something special," states Hurt. "I have to touch the fabrics to make sure they feel great and are of excellent quality. I look for beauty and architecture in the designs. Special and distinctive touches make it feel special to the wearer and enjoyably viewed by others." Meadowlark is a one-of-a-kind boutique offering women's fine clothing, artistic jewelry, distinctive bags and original accessories. Customers find updated classics and elegance with an edge.
Meadowlark's mission is to provide the customer with a captivating shopping experience. Exploring the shop is delightful and stylists' assistance is available to help customers discover what can be. "We hope that you feel you've made new friends and most of all, want you to find something that makes you feel special and beautiful," states Hurt. In selecting products and providing shop space, special efforts are given to supporting female and regionally-owned businesses as well as working with environmentally-conscious companies.
No matter your age or style, the boutique has something for everyone. Personal style and individual personality is represented. The team at Meadowlark also strives to dress many shapes and sizes by carrying sizes 0-14/16. The boutique offers breathtaking new brands that are not found anywhere else and focuses on a broad age-range. Customers will find hand-beaded sandals made in Tanzania, handmade jewelry from Roanoke Virginia artist Christie Kans of JiHi Designs, and other adornments and baubles supporting and made by proud communities around the world.
Meadowlark carries several small, budding designer brands from the Southeast region including Marie Oliver, Abbey Glass and Britt Ryan. Hurt personally works with these designers and is able to discover their inspiration as they walk her through their collections. "It's a unique way in which we stand out and have that southern touch," states Hurt. "Each of the brands are fresh, chic and perfectly paired with the Wilmington woman. They're a great mix of metropolitan with a southern essence."
The boutique continues to evolve with a commitment to customer service. New garments arrive daily and there is a freshness in the creativity in how Hurt and her team share them. "My team is amazing," states Hurt. "So much of what you see and experience is them and their passion for what we are doing in the store. They each bring an exclusive skill and have an area of focus in the business. Francesca and Merritt are both realtors with a love for people and fashion. Elizabeth is a Marketing and Business double major at the University of North Carolina Wilmington with a very bright future. The team are super engaged – it's not just a job for them. We are a family."
"The style forecast for Fall 2017 is so exciting," states Hurt. "From red, feathers, fur, fringe, pantsuits, floral to super flashy fabrics - get ready to have fun!" The team plans to subtly incorporate these trends into their classic silhouettes to help keep life interesting. "We plan to add shoes in the future and continue to look for new, intriguing designers," states Hurt. To keep things exhilarating and social, the boutique hosts events and trunk shows each month. The first anniversary celebration is on the evening of October 13th, where the team will roll out fall fashions with lively music and cocktails. meadowlarkshop.net