Life of the Paddy
04 Mar 2022
Where to Find Wilmington's Best St. Patrick's Day Bashes
By Fanny Slater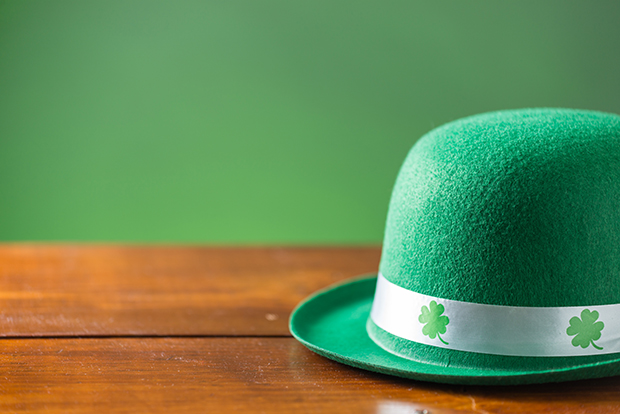 Whether you channel the cheerful spirit of St. Patrick's Day through fashioning an epic green ensemble, partaking in as many potato appetizers as possible, or sipping spicy whiskey before noon among other lively lads—you're certainly not alone.
In fact, if celebrating the jubilant holiday is part of your regular March repertoire and you happen to reside in Wilmington, you're in very good company. Our dynamic Port City prides itself on many things, and one of them is our ability to pull off a heck of a theme party. So, for many locals (even those with no Irish heritage whatsoever), March 17th is a day dedicated to coming together, letting loose, and rejoicing in the joy of being alive.
Join us, won't you? …Safely, of course.
We're in Omicron times, after all, and the world has yet to return to neutral. However, after a two-year stretch branded by regularly cancelled activities, establishments are gearing up to gather once again. From family-friendly parades to kitchens dishing out copious amounts of corned beef, below is your guide to which Wilmington breweries, bars, and beyond are bringing the revelry for this rowdy occasion.
Keep in mind that since St. Patty's Day falls on a Thursday this year, some official events may take place the weekend before the 17th rather than on the actual day.
Social media is your best bet for confirming final details.
Having a pint at the pub is kind of a no-brainer here, and there's no harm in starting early. Kick things off with "Kegs & Eggs" at the Goat & Compass. This humble NoFo dive has been swinging open their heavy wooden doors early for St. Patty's Day festivities for years. Come thirsty and don't forget to check the chalkboard brimming with bad handwriting and Irish-themed specials. Like owner Scott Wagner says every year when the holiday arrives, "Can't drink all day if you don't start first thing in the morning."
If you're still wondering why you saw a sea of green last September floating down Front Street, it's because (as I said), Wilmington loves an excuse to throw a party. Downtown's annual St. Patrick's Day Parade is the place to be for an extravagant fiesta, and as it turns out — the organizers were so committed to redeeming the cancelled event in March 2021, they arranged a "Halfway to St. Patrick's Day Festival" last fall. Well played, friends. That being said, you can plan on folks lining back up once the actual celebration comes around this year. The buoyant spectacle, bagpipes and all, marches at 11am. Afterwards, the music and food festival will be in full force with live entertainment, dancing, craft vendors, and green activities galore.
While you're frolicking down Front, pop into Front Street Brewery for a malty Irish Red Ale and one of the biggest whiskey selections in town. Too many to choose from? Get your sample on with a flight of three and yell "who's your laddy?" at the nearest patron in green. Tip your bartenders, don't drink and drive, but definitely drink and eat FSB's dangerously delicious slow-cooked pulled chicken nachos.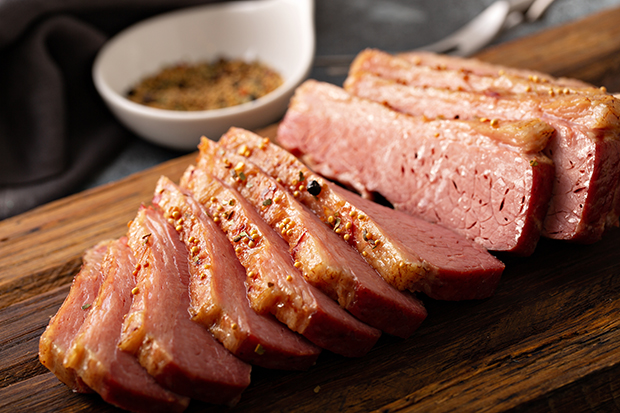 Good luck never fails to come to fruition at downtown's most bona fide Irish pub, Slainte. And after a double dose of pandemic life—I think we're all ready to raise a glass to a little hope for the future. With a digital ticker just above the bar that annually counts down the days, hours, and minutes until St. Patrick's Day—this small, yet spirited, space is obviously a can't-miss stop. It's also the ideal setting for sporting your coveted green "Masters Jacket" among other whiskey-loving members. The spiffy personalized threads identify you as having reached 100 points within Slainte's one-of-a-kind-program. Basically, it means you drank a lot of Jameson and get to walk around on St. Patty's Day matching others who did the same. Congratulations!
If you're seeking some savory Irish eats by the beach, paddle over to Waterman's Brewing. They crush the craft beer and pub grub game, and head chef Drew Stanley is known for dishing out inventive creations based on seasonality, special soirees, and what mood he woke up in. After everything and everyone shut down in March of 2020, Waterman's made up for lost time with a killer corned beef and cabbage stew last year. Pair whatever Chef Stanley concocts this March with one of Waterman's flawlessly formulated beers.
Keep the sandy-toed vibes going strong by heading to Stoked in Carolina Beach. This dock-and-dine seafood spot is throwing their own stellar shindig on Thursday from 4 to 9 pm featuring Irish food, freebies, and live music from Jason Duggins from Montgomery Gentry Band.
When it comes to hosting an Irish hoopla, The Harp pretty much has that covered all year round. So on St. Patty's Day, this homey tavern doesn't hold back. They expect a rush of happy customers ready to clink glasses and get their jig on. From serving up loads of their extraordinary, authentic Irish fare (like the signature Shepherd's Pie topped with light-as-air mashed potatoes) to breaking out backyard tents complete with music and dancing, we guarantee there won't be a dull moment.
Just down the street, hit the Dubliner's annual outdoor blowout where Irish car bomb lovers unite. The Carolina Beach pub will boast an endless supply of whiskey bottles and Guinness kegs. Expect some slight adjustments for safe accommodation, of course, but also plan on live music, corned beef and cabbage, and plenty of shamrocks.
End the evening with a bang (well, technically a high-pitched whistle from a piccolo in this case). If you planned on playing "I'm Shipping Up to Boston" on repeat to celebrate St. Patrick's Day — and don't' feel like watching The Departed three times in a row — why not just catch Dropkick Murphys live? As the luck of the Irish would have it — the American Celtic punk band is making a pit stop on their tour in Wilmington Friday, March 11th at our gorgeous outdoor Greenfield Lake Amphitheater. Tickets are dwindling, so jump on this exciting music experience before it's too late.
Dubliner's Pub & Patio
1756 Carolina Beach Rd, Wilmington
Front Street Brewery
9 N Front St, Wilmington
Goats & Compass
710 N 4th St, Wilmington
The Harp
1423 S 3rd St, Wilmington
Slainte Irish Pub
7 N Front St
Stoked Restaurant
313 Canal Dr, Carolina Beach
Waterman's Brewing
1610 Pavilion Pl, Wilmington