Living History
03 Jul 2019
Piecing together puzzles of the port
By TERESA McLAMB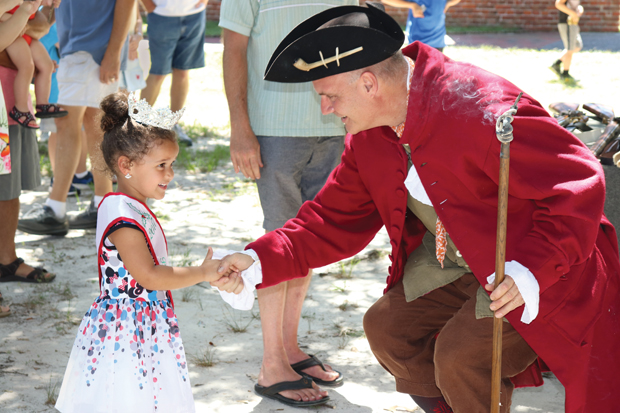 Growing up in the small North Carolina town of Clinton created an ideal childhood for Jim McKee. "It was wonderful, just the closeness of everybody. It's a different time and place." Because everyone knew everyone else, all the parents looked out for all the kids, and the kids took care of each other," McKee recalled. "I have friends I've had for 30 or 40 years."
The rural, agricultural area provided a backdrop for a myriad of activities. "We grew up outside; played golf, sports, fishing, canoeing, boating. We spent a lot of time at White Lake. In high school, when we skipped school, all people had to do was go to White Lake, and you'd find us. There's a section of White Lake called Little Clinton, because so many of the houses are vacation homes for Clinton residents," McKee said.
McKee developed his love of history through osmosis. "My mom always loved history, my dad as well. The first few places I lived were loaded with history," said McKee. Born in Winston Salem, he moved at six months old to Newport News, Virginia. "Every weekend we were in Williamsburg or Yorktown, at least that's what it seemed like as a kid. It was thrust on me. Family vacations centered around a national park, historic site, museum, or something similar," he said.
"At a young age I knew I was going to be in history or dinosaurs," McKee said. By the age of seven, he knew the names of all the dinosaurs.
While young McKee loved comic books, he relished reading history. "Even the fiction books I read were historical fiction or alternate histories," he said.
By his undergraduate years, McKee was certain a knowledge of US history was required for his livelihood, but he found the classes he got the most out of were European and world history.
"The coolest class was the politics of Nazi Germany; the professor was a former German officer in World War II," said McKee. A member of the Hitler Youth, he was tapped at age 13 to be in the SS. "Because of his age, he was sent to Vienna, so he never fought," McKee said. Nonetheless, his experiences made the class come alive.
The most rewarding undergraduate class for McKee was golf. A scratch golfer, he was picked up by the golf instructor, who happened to be the football coach for his regular best-ball competition with other coaches. The coach paid McKee's share of the pot, and McKee shared the winnings. "I was his ringer for almost two years. It wasn't a lot of money, but it was beer money. I could get away with it; I wasn't on the golf team or football team. I played rugby, which wasn't recognized by the NCAA," said McKee. And he's still paying for the ten years he played rugby. "Most people treat their bodies like a temple; I treat mine like a tent," McKee laughed.
It would be 30 years and a lot of work experience later when McKee received his masters degree. Because his interests didn't match an existing program at SNHU, they developed a degree just for him in US, military and public history. "I had so much experience, and I was so far along in my career that I was doing this for myself, not as a career move," said McKee. He laments that despite the commercials, the university did not dispatch a bus to Southport to deliver the degree.
McKee's career began as a ranger/interpreter with the National Parks Service in Fredericksburg & Spotsylvania National Military Park. He helped operate two visitor centers, researched, guided tours and was introduced to archeology. The site includes four major battle fields where 100,000 soldiers fell. "The bloodiest 12 square miles in North America. You're talking about a godly percentage of the casualties from 1862 to 1864…right here," McKee said.
It was also where his competitive nature got him banned from every dart bar in the region.
McKee left the job after two years and went home to Southport. His parents moved there in 1988 while he was in college, so he had been in and out of town frequently. He settled there in 1992.
Walking down Moore Street on March 23, 1992, he walked by City Hall and noticed workers digging up palm trees and replacing them with live oaks in preparation for the town's bicentennial celebration. He looked into one of the holes. "Low and behold there was a brick wall running in the hole. Before I could say anything, in went the oak tree," said McKee. After a bit of discussion, McKee and the two workmen, one of who was a town alderman, grabbed shovels and started digging a few feet away. "Sure enough, there was a brick wall. It was colonial," he said. McKee volunteered to excavate the area for no pay. "I wound up excavating the whole front lawn of city hall from March to December of 1992."
"I started learning all I could about the history of Southport and the area," McKee said. He visited Brunswick Town for the first time in a decade. He met the underwater archeologists at Fort Fisher.
It would be four years before McKee could definitively say what he found in the dig. Reviewing an inventory of items burned in 1775 when Fort Johnston was destroyed, he realized he found the house of Captain Abraham Collet, the last British commander of Fort Johnston.
"Collet is another one that ties this story together for me. I got my start here digging up Collet's house. Collet did a map of North Carolina in 1770 (he got the credit, but didn't really do it), so a lot of information we have regarding routes and troop movements is because of his map. Because I'm digging Collet's house, I get to know the people at Brunswick Town, and that's when my love affair with this site began; May of 1992 I absolutely fell in love with this site," said McKee.
Little did he know it would take 20 years for somebody to leave before a job would open.
In the interim, McKee was director of a nonprofit called Southport 2000 and later worked at the maritime museum. With Southport 2000, he ran the visitors center, created and managed festivals, economic development, historic preservation and was Main Street manager. When he started the job, 30% of the downtown space was vacant. Their database of visitors was about 150,000 individuals. "In 1993, you came here for two reasons. You lived here or you were lost," McKee said.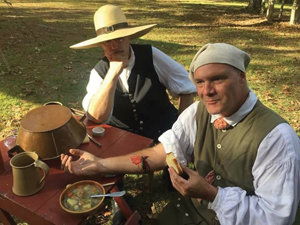 One of the purposes of Southport 2000 was to make it a destination. By the year 2000, occupancy was almost 100%, in the business district and expanding, and the tourism database was more than one million people. "I'd love to say it was all my doing, but a lot of it was the real estate market," McKee said. During the entire time, his budget was never more than $25,000, and his salary had to come out of that as well.
"I told myself a long time ago I was never going to get rich monetarily doing what I love to do. As it is, I look at myself right now and for the last twenty or thirty years, and I'm the richest person in the world," said McKee.
He's reminded of the riches every day when he goes to work. "Every single day and definitely since I've been here at Brunswick Town, there's a new day, a new finding, and rarely a dull moment," McKee said.
Which takes him back to Collet.
McKee calls up one of his favorite analogies. "You can look at Brunswick Town as a blank canvas, but the best way to describe it is a jigsaw puzzle. You get your puzzle on the table and line up the pieces. Then the cat jumps on the table, and you're scrambling to get the pieces. You realize three quarters of the pieces are gone. Later the cat may stroll by and hock up part of one of the pieces or you find one behind the sofa cushion. That's what the site is like," said McKee.
He had always heard that St. Phillips Church was burned in the Revolution, but never a timeframe. Research revealed that Brunswick had been burned in March and again in May of 1776. Looking at the site and records, McKee believes St. Phillips was burned in the March raid which was led by none other than Capt. Collet.
"The thing I found about Collet was that the people hated him, and the feeling was mutual. They called him 'that pert audacious little scoundrel.'" McKee said.
Archeology near the church continues. A possible Civil War burial site is among planned excavations.
Past excavations have unearthed many Dutch artifacts including pipe stems and a bronze jaw harp, but their owners are unknown. Some were in a house owned by Prudence McIlhenny which was probably leased to someone else. Because the town was a port, there were likely many transients.
Ongoing excavations of the gun emplacements have revealed many new artifacts. In June, gun emplacement #2 on the southern battery of Fort Anderson was complete with a new carriage and a 32-pound cannon. It's been eleven years in the making as colonial finds and other issues delayed the project.
One of this summer's major projects is continuation of last summer's dig into an unidentified structure. Researchers rely heavily on documents including C. J. Sauthier's 1769 map of the town. During last summer's field school with East Carolina University, ground penetrating radar indicated a structure on a different lot from where the Sauthier map indicated.
"We opened up three units last year. It was a brick foundation, no ballast stone, and the artifact pattern dated it to about 1750. Its artifacts closely related to what's coming out of taverns," said McKee. The field school is back again and digging the same site. "They've been working on it for weeks now," he said in May, "and haven't found the corners. The ruin is huge. It's looking more and more like this is Nath Moore's front and the other structure is either his house or Edward Scott's house. It's all brick." The first Brunswick Town structure excavated in 1958 employs ballast stone which would have come into the area around 1731 when the town was declared an official port of entry.
"Here we go again with the pieces of the puzzle," McKee said.