Living the Sweet Life
03 Jan 2015
Jess Reedy balances work and play at her downtown yoga and pottery studio.
By KIM HENRY Photos by KELLY STARBUCK for SALT Studio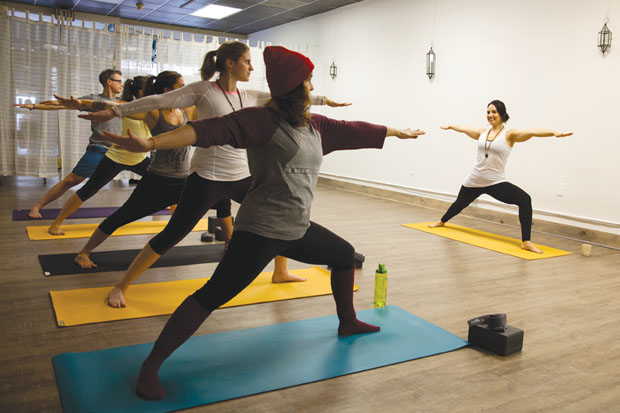 Times are changing, and no place is this more evident than in today's workplace. Generation Y is fueling the work-from-home revolution, rejecting the 9-to-5 template and fusing a practical need to feed their bodies with a heightened need to feed their souls. Jess Reedy, founder of Pineapple Studios on N. Front Street, is a Wilmington role model for what this pioneering concept can actually look like.
Walking into the studio in Downtown Wilmington, with its fresh white walls, inviting wooden floor and airy, light ambience is a little like stepping into someone's dream space—and that's exactly what it is. Twenty-six-year-old Reedy's Pineapple Studios is the physical manifestation of her idea of the "sweet life." Fusing the unlikely combination of yoga and pottery under one roof was not the result of some high-end corporate strategy or the product of extensive market research. In fact, it was simply Reedy taking the two things she most loves to do in the world and combining them to create her business.
Reedy's college days were spent bouncing between her pottery wheel and her yoga mat. While obtaining her art degree at East Carolina University, she supported herself by teaching yoga. "I loved my life and realized that I had found the elements that work for me. I thought, 'There's no reason why they won't work for other people too,'" smiles barefoot Reedy. "Yoga and pottery are both very therapeutic. They allow you to work through your stuff without having to talk too much. Your body pushes through it on the mat and your hands get to make it at the wheel."
Finding the balance is an inherent part of the Pineapple exploration—balance between the discipline of yoga and the creative abandon of pottery, the yogi and the smoothies, the artist and all-nighters drinking coffee. Although Reedy's dream is at the heart of the studio, it is still a business and needs to work on that level, too. "At first it was a whole lot of failing," says Reedy honestly, "and messing up has been a huge part of my learning experience." Balancing a savvy business sense with openhearted principles is a tightrope walk in itself. Reedy recently made all of the studio's yoga classes pay-what-you-can, which makes it accessible to anyone who walks through the door—but it was also a financial risk.
How can it survive making such an offer? "Somehow it's working out," she acknowledges. "On one hand the two genres can support each other, and on the other, I find that people who can give generously for the yoga classes enjoy doing so, which allows those who can't to still come in and practice. There is a certain kind of magic to trusting that things are exactly how they need to be."
Taking a solo leap into owning an out-of-the-box business at the tender age of 25 involved a whole lot of heart, courage, investors and a big fat loan. But Reedy, who single-handedly renovated the space, will be celebrating the studio's one-year anniversary on January 11. The special day offers a range of classes, good food and great company. Reedy savors the fact that her doors are open to whoever wishes to step inside. Seniors and children, men and women, and patrons black and white are utilizing the space. The studio currently offers daily yoga classes, pottery classes, sells its handmade products from its own gallery and has an artist-in-residence program. Four yoga teachers and two pottery teachers, in addition to Reedy, also teach classes. The Pineapple community knows no bounds and is steadily growing.
Wilmington local Beth Quinn is one of many people who enjoy Pineapple Studios' offerings. "I take one-on-one yoga with Jess and she makes me happy from the inside out," beams Quinn. Reedy had wanted to be in Wilmington ever since she visited while on a summer vacation from college. "Everything seemed to align here. When I walked into this space, it perfectly matched the drawings I'd made of what I'd need to house both yoga and pottery. The synchronicity made it easier to make the leap," recalls Reedy.
Blazing her own trail, Reedy is dedicated to living her own vision of a sweet life. By offering up her dream to the community, she inherently poses the question to us all: what makes life sweet for you, and are you living it?