Leading the Charge for Change
03 Jan 2015
WDI's Ed Wolverton reflects on Downtown Wilmington's bright future ahead
By BRIDGET CALLAHAN Photos by KELLY STARBUCK for SALT Studio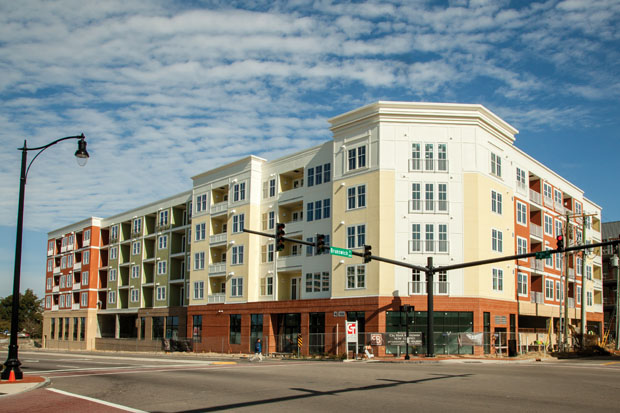 The N. Front Street offices of Wilmington Downtown Incorporated are pleasantly cluttered and plastered with photos, posters of projects, brochures, and studies. One might expect the words "public-private partnership" to invoke a sense of corporate sterility, but instead, there is a palpable air of real emotional investment.
WDI's president, Ed Wolverton, looks like he would be just as comfortable teaching an English class as recruiting multi-million dollar hotel investors. That's perhaps something he inherited from his father, who spent most of Wolverton's childhood leading university administrations across the country.
"We ended up at college campuses all across the country: Tufts outside Boston, to Florida State, California at Berkeley, the University of Illinois, Miami of Ohio, a really small school in Cincinnati you would have never heard of," he recounts. "You really get an appreciation of the different quirks of each community, and the way they tick and operate. The different regions have a lot of commonalities, but there are differences, too. Then as a youngster, you have to understand the need to be flexible, with your approach and how you come into a new community. You have to be able to make friends, meet people, and navigate through the social infrastructure of where you are. I think it really gives you an ability to be flexible and problem solving and dealing with other people. You adapt."
That's a skill set Wolverton has found particularly useful in his career. After getting his masters in public administration from Mississippi State, he initially thought his calling was in city governance. But his first job, as a mayoral assistant in Americus, GA, showed him his talents might lie elsewhere. While working to find a use for an old hotel in the downtown area, he developed a passion for utilizing the inherent interconnectedness of downtown communities. Later he would go on to apply that passion to starting downtown revitalization programs in cities like Charlotte, Savannah, Wichita, and Greensboro.
WDI is not a new organization; they've actually been around for almost 30 years. Wolverton has been with them a little over one year. When asked what it's like trying to lead an already established organization, instead of starting from scratch as he's used to, he's upbeat about the experience so far.
"It's been an easy transition. There are certain institutionalized things that come into play. Sometimes people, after 30 years, already have a perception of what the organization does or doesn't do. So that's something you have to address, to try and break through and make sure people understand what you're doing, and how and why you're doing it. But that's not all different from starting a new program anywhere, where people already have a perception about downtown—'no one ever goes down there, it's a haven for crime, etc.' Here, we don't have as much of that. Many people already see the businesses, the tourism aspect, the residential center, the historic district. People can see that there's been lots of care taken through the years, and there are lots of good things here, as opposed to the abandonment that leads to a community finally saying 'Oh, we've got to do something.' We're not starting from the lowest ebb."
His optimism only gets brighter as he discusses all the changes downtown Wilmington is going to see in the next few years, and is seeing already.
"There's a fascinating example with what's going on along Grace and Front Street right now with the opening of the Marriott Courtyard in February. Look at just what's happened there in the last six months. There was an adult lingerie store directly across the street, they've now closed and a high-end women's and men's clothing store is going in that spot. There was a bar that was only open a couple of nights a week that has now transitioned into a Jamaican restaurant that hasn't opened yet, called The Empire Room. They're working on those renovations now. The building that is directly on the corner has been vacant for about two or three years; a real estate company has leased that, and right next door, a bottle shop has gone in, Bombers Beverage Company, and now on the corner of Front we've got Outdoor Equipped.
A lot of it has been driven by the hotel. A big project comes in, and now entrepreneurs are saying 'Wait a minute, now there's a bunch of out of town visitors there, and it can be something better than an adult lingerie store, or a bar that open two nights a week,'" Wolverton explains.
Plenty more big projects are on the horizon for downtown Wilmington, especially on the North Side. There's the much anticipated Cape Fear Community College Fine Arts Center, which should open mid-2015, and the new City Block apartments in the Brooklyn Arts District. Holiday Inn Express has announced plans for a new 95-room hotel along Grace Street, and the Pier 33 Apartments on the other side of the convention center will add another 300 units of downtown housing as well as 30,000 square feet of retail space. All in all, Wolverton is predicting an almost 50% increase in the downtown residential population.
There will certainly be enough beer for them. The opening of Flytrap Brewery and Bombers Beverage Company is just the beginning for the downtown craft beer invasion. Upcoming openings include Ironclad Brewery on 2nd and Palate Bottle Shop in Brooklyn. Waterline Brewery has also announced it will be opening a facility on Surry St., underneath the Cape Fear Memorial Bridge, sometime in 2015. Wolverton believes this kind of entrepreneurial momentum will just continue to build. And WDI will be there, planting more seeds.
"Everyone has a stake in downtown," Wolverton says, smiling. "It's great that so many people have such strong passions about what they want to see and what is happening in their community. There is a real connectedness here. That's refreshing as a professional, seeing that passion. Building an umbrella that everyone can be a part of, and helping to guide how things move forward is important for this organization." To learn more, visit wilmingtondowntown.com.