A new Wilmington charter school shows promising results, and is on a path to roll-out statewide
By TERESA A. MCLAMB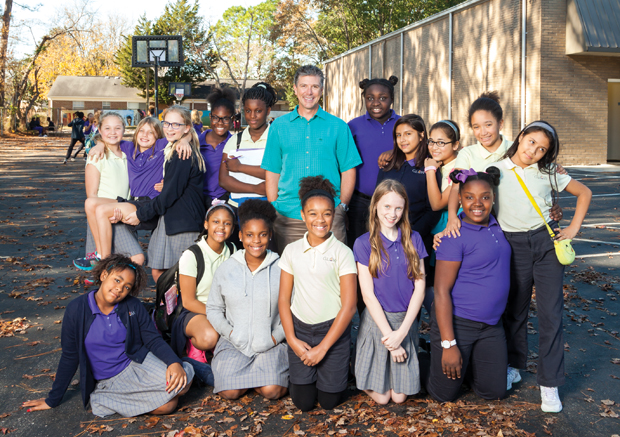 Chalk drawings replicating the Lascaux, France cave paintings line the hallway and ceiling in a former church activity center off College Road. Nearby, handmade posters depicting the everyday uses of negative numbers outline a classroom door. From inside the room, girls' voices rise in excited animation as teams of four and five six-graders discuss their respective projects. My student tour guide, Linda, explains that each team is operating a business. Their discussion isn't just analysis of their project, it's peer mentoring in math. As she shows me through the re-purposed building, the smile never leaves her face. "Everyone is happy here," she says.
Here is Girls Leadership Academy of Wilmington, GLOW, the state's first all-girl charter school. It targets girls from households with minimal resources. GLOW opened in August with the first class of 100 students and a long waiting list. Its president is Todd Godbey, publisher, consummate volunteer, child advocate.
Godbey came to Wilmington in 1999 to open a boat business. Post 9-11 he tried his hands at a couple of other jobs, and moved away for a while. In 2007 he returned to Wilmington and founded Nancy Hall Publications to produce Kidsville News. He also became more and more entrenched in the volunteer community in Wilmington, especially as it relates to child welfare.
"I grew up in a small town with a grandfather and father who were involved in local politics. They raised me with the belief and culture that it's our job to leave the community better than we found it. I've always been passionate about serving, being involved in nonprofits and being involved with things that are making a difference in people's lives, and making the community stronger and better," Godbey said. To that end, he's served on the boards of the Carousel Center, the North Brunswick Chamber, and the Cape Fear Center for Inquiry. He and his husband founded the Children's Foster Care Fund to benefit children in long term foster care.
Through connections made in these efforts, Godbey was recruited by GLOW's executive committee to lead establishment of the school. He turned Nancy Hall over to his employees and jumped in.
"The school is based on a model that started more than 20 years ago in East Harlem," he said. "It has grown to multiple locations in New York City and an affiliate group across the country. We are School 17 in that group. The network was just recognized as one of the 14 most innovative schools in the country."
Statistically, on a national level, at-risk minority girls are graduating high school at a 60% rate and going to college at 8% to 10%. Inside the network, 96% to 100% of the girls are accepted into a four-year college. A large chalkboard at GLOW displays the mantra: We WILL go to college!
Godbey said the current attendance rate is 98.4%. "The kids are engaged and want to be in school. They're involved in leadership decisions, and they're held accountable for grades and building sisterhood among their peers."
GLOW got its original push from Wilmington resident and retired Food Network executive Judi Girard. A volunteer at the East Harlem school, she and others in the community had a conversation about generational poverty which led to visit the NYC school. "In LaGuardia, they decided to bring it to Wilmington," Godbey said. The process had some ups and downs, even dead-stops, he said. Godbey became involved in 2014 as a volunteer and took the helm in 2015.
The school has a clear vision: She will go to college, graduate, and succeed in life.
"We're attempting to remove barriers and create an equal access to opportunity and equal outcomes for families with fewer resources," he explained. "Most of our girls qualify for free or reduced lunch and will be the first in their family to go to college."
To fill their first class, GLOW reached out to the highest poverty elementary schools in Wilmington, and built relationships through community organizations, churches, and the housing authority. They filed for an amendment with the state that would allow them to reserve 80% of their enrollment for those who qualify for free or reduced lunch.
While most of the state's charter schools do not provide transportation for students, GLOW does. They also have extended after-school hours, a full-time college-bound counselor for the girls and their families, and elective classes that include yoga and tennis.
"All those things cost a lot of money and the need to go out and raise funds," Godbey said. "That's why we have a school and a foundation. We're funded by the state on a per pupil allotment, but it doesn't cover the way we have to run the school to produce the desired outcome. That takes more resources."
An event featuring celebrity chef Giada De Laurentis on January 26 and 27 will help with the needed funds. Several ticket-only functions are planned. Giada is the granddaughter of Dino De Laurentis who founded Wilmington's film industry. Tickets and information are available at www.glowacademy.net. Last January, a successful fundraiser featured chef Emeril Lagasse.
Originally chartered for 75 students, there was such a demand that the state agreed to increase the allotment to 100. The first class will graduate in 2023. This year's budget is $1.3 million.
Recruitment for the class of 2024 has begun. At their first parent night, there was standing room only. Each year a new class will be added until the school reaches planned capacity of 700 students in the sixth through twelfth grades.
As plans proceed for the Wilmington school, the board is also thinking ahead to fulfillment of the state's request that they take the idea state-wide. "When we went before the State Board of Education, they said 'Please take this movement across the state of North Carolina.'" Godbey said. To do that, the Wilmington school has "to get this right first. Every single day we're doing the hard work of getting to know these kids and assessing where they are and helping them to catch up. We're creating systems of operation so that when we go out for school #2, we have a system we can replicate. I'm very focused on getting this right so we're prepared to replicate." he said.
They're also concerned with the physical facility which will be quickly outgrown. Decisions have to be made about whether to expand or build. They need about 60,000 square feet of building space and enough acreage for athletic fields. They also need to be convenient to public transportation. "We have to be in a place that is safe," Godbey emphasized.
"I always default to the idea that it is going to take the entire village to pull this off." As the smallest community in the network, Wilmington is poised to also see the greatest economic impact of girls and families who might have been dependent on the system becoming self-sufficient and contributing. It's a lofty but achievable goal, he says. "It's going to take the entire village to participate as volunteers and as donors as we fund the school and the building program. We're going to need everybody."