Local entrepreneur and surfer, Kevin Murphy, uses his passion for the sea to meet others needs
By TERESA A. McLAMB Photo by KELLY STARBUCK PHOTOGRAPHY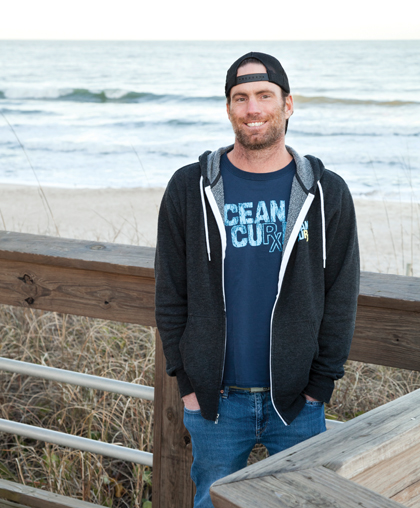 Growing up in a small town on the Finger Lakes of New York, Kevin Murphy loved nothing more than playing outdoors. "I was very energetic. I would do anything you could possibly do behind a boat," Murphy recalls. Looking back, it seems a bit ironic – Murphy says he was teacher's nightmare. He often reminds himself of this as he currently works with his fifth graders at Mary C. William Elementary.
As a kid, Murphy enjoyed skiing and snowboarding in winter and wakeboarding in the summer. He worked as a lifeguard, managed swimming pools and even helped the fire department with water rescues. From the age of four through college he swam competitively. "At one point, I ranked about tenth in the country," Murphy says. His specialties were free style and butterfly.
When he headed off to St. Bonaventure University in southwest New York, it was to swim. "I wanted to advance my career. I knew the coaches, and I knew they competed at the highest level," Murphy says. His first choice had been to attend Notre Dame, the alma mater of his grandfather, but he was able to compete against their swimmers. "I even beat them one time. That was exciting."
His intention, throughout his education, was to become a college swim coach. "That's really what I thought I was going to do, but I kept finding out that I would have to spend a lot of time somewhere I didn't want to be," he explains. The move south solidified a change of career direction.
Murphy's first move was to Raleigh with five friends who had secured him a job managing a pool. He lived there for four years and taught the fourth grade while also coaching for the Marlins of the US Swimming Association.
When his friends moved, Murphy headed for the beach. "When I moved, I didn't bring my boat, so the first thing I did was start surfing," says Murphy. He worked for the Wrightsville Beach Surf Camp for a while and taught fifth grade at St. Mary's Catholic School for nine years. Four years ago, he returned to the public-school system. "There I got to work with the demographic I always wanted to work with. Some are low income, highly challenged kids with everything stacked against them, but they're excited to learn," explains Murphy.
Murphy's passion, Ocean Cure, came at the beginning of his Wilmington area career. "After working for the WB Surf Camp, I knew I wanted to focus on a nonprofit type of camp," Murphy says. He also knew the only way it could run, the way he envisioned, was to have a for-profit business as well.
Odysea Surf Camp was founded about 12 years ago. Through Odysea, Murphy employs about 18 certified NC school teachers during the summer. "We help to facilitate the UNCW Marine Quest surf programs and have our regular kids mixed in there. We take care of their camps all summer at the boardwalk at Carolina Beach," Murphy says. In addition to about two hours of surf lessons, the kids are taught marine safety, lifeguarding skills, oceanography, marine biology and more for an hour. Camps are held Monday through Friday all summer.
Odysea's success has made Ocean Cure possible. "We help people who are not able to get into the water without specialized assistance. We get them into the ocean for some sort of physical activity, mental relief and positive energy. We have grown so much that now we work with children as young as four and adults into their late 90s," says Murphy.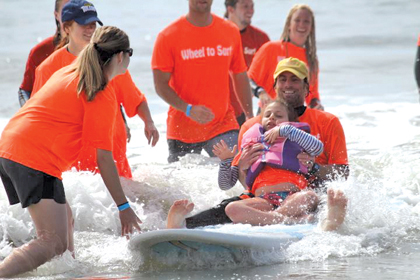 Participants may be children with cerebral palsy, cystic fibrosis and life-threatening diseases; adults suffering from drug addiction, PTSD, blindness, paralysis and many others. They hold paddleboard sessions through Little Pink House of Hope for women fighting breast cancer. They work with several groups to meet specific needs including Boys and Girls Club, Cape Fear Visual Resource Center, Lower Cape Fear Hospice and Make-A-Wish. "We've worked with a number of people whose last wish is to come to the beach," Murphy says.
Most sessions are on the weekend, and many of the volunteers who work with Ocean Cure are the teachers who are employed by Odysea, but others in the community also pitch in.
While surfing and other water activities are a mainstay of Ocean Cure, access to the beach has become another priority for the organization. "We have four beach wheelchairs, and we have the beach walkway where people and their loved ones can get down to the beach," says Murphy. Thanks to volunteers and a good working relationship with the Town of Carolina Beach, they held more than 25 camps last summer.
Since founding the nonprofit, Murphy estimates they've served more than 2,000 individuals. They recently began to include family members in the camps. Their Wounded Warrior camps offer the entire family a weekend of activities. "We've probably served more than 100 people who have passed. They're no longer with us, but they got to enjoy the beach. We get notes from families telling us how much it meant to their loved one," Murphy says. It's also the genesis for their motto Danielle Murphy crafted: "We measure our success by the smiles we create."
Continuing to improve beach accessibility is a top priority. The group introduced specialized beach flooring this past year, which allows someone in a regular wheelchair to get onto the strand. "They can come down and hang out with their family close to the ocean. They can experience the beach and the waves like everyone else. We want to expand that," Murphy explains. The flooring weighs more than a ton and takes about two hours for a team of volunteers to assemble on site. It also has to be quickly removed and stored in case of a major storm. The organization pays approximately $2,000 per month in storage fees for equipment it provides and maintains.
Murphy has received calls from more than two-dozen municipalities who want to know how they have made their beach so accessible. He's happy to share information and ideas, but has no plans to expand his program into other towns. Murphy would rather concentrate on making the original Ocean Cure bigger and better for the town he calls home.
"Every day this past summer, when I went down to sweep the floor, I'd see older couples in their walkers or kids in their wheel chairs enjoying being close to the ocean. That makes it as worth it as you can imagine," says Murphy.
Ocean Cure welcomes ideas and questions, especially if someone has a group that needs to be served. "We can usually make it happen," Murphy says.