Wilmington in Bloom
04 Mar 2019
NC Azalea Festival embarks on its 72nd year
By JUDY ROYAL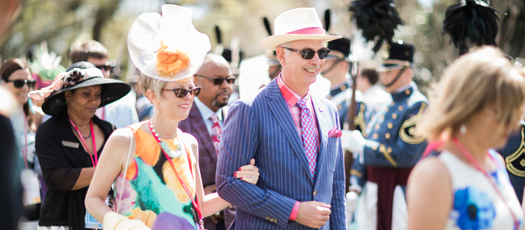 As the North Carolina Azalea Festival prepares for its 72nd year when it descends upon the Port City April 3-7, organizers are confident that the lineup of events will include something that appeals to everyone. In fact, that's one of their most important goals, and there is even a multicultural committee dedicated to it.
"The number one topic when we sit down as a board to talk about the following year's event is diversity," said Jonathan Hedge, president of the current Azalea Festival Board of Directors. "We try to lay out an event we feel can touch everybody. That's our biggest challenge, but we've met it well."
Azalea Festival Executive Director Alison English and her staff are constantly working to add something fresh to the mix of old favorites to ensure the annual celebration of spring casts a wide net.
"No matter what you like – whether it's dogs, parades, kettle corn, funnel cakes, music, gardens, boxing, coins – there's literally something for everybody, and everybody is so happy and filled with love for our city and love for our fellow neighbors and community," she said. "It's just a great time. Everybody's joyful and loving everything about our city. I don't know why anyone would not be a part of that."
Despite the massive lineup of entertainment and attractions that has evolved over the decades, Mother Nature has been the simple inspiration for the Azalea Festival since its inception. After heading up the transformation of Greenfield Lake to a landscaped park from 1934 until about 10 years later, Dr. Houston Moore had the idea to launch an annual festival that would coincide with the blooming of spring flowers. The first North Carolina Azalea Festival was held in 1948 and drew over 60,000 spectators. These days, the festival attracts up to 300,000 people and has an economic impact of well over $50 million, a figure that was determined during a 2011 study. Organizers are planning to launch another study to update that figure.
This year – in addition to the well-known parade, street fair, home and garden tours, fireworks, nationally known entertainment and the coronation of a queen and princess – new events include a pre-festival Paws on Parade dog party on March 23, a games section at the street fair with cornhole and giant Jenga and a window decorating contest for downtown merchants. In addition, Wilmington was selected as one of 15 cities nationwide to host 2019 Navy Week, which will coincide with the Azalea Festival and include dozens of sailors visiting to take part in the celebration.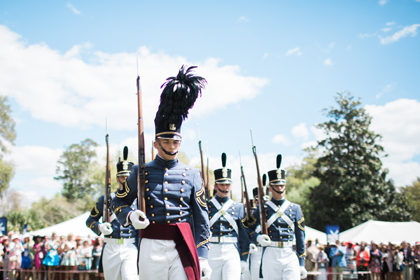 "We're really excited to have them involved," English said.
While planning for all of this is kicking into warp speed as the 2019 festival draws closer, organizers are also looking to the future and discussing upcoming years, including the 75th anniversary in 2022.
"As the festival continues to grow, it's bigger and has a whole lot more moving parts," Hedge said. "It becomes more complicated, and there are more logistical challenges that lend themselves to needing that extra time to plan accordingly."
Before the Azalea Festival puts anything out to the market, organizers want to make sure it's perfect, he added.
"I'll give you a little secret of the inner workings of the Azalea Festival," Hedge said. "We are always teasing the market. You'll see a little something happen as a new event or something we just changed the way we did, but really that's us testing a new procedure or new function to see if this is going to be able to work out right. If it does, we put it at full scale."
The Azalea Festival has been involved with the International Festivals & Events Association (IFEA) for the past several years and is learning lots of tricks of the trade from national events such as the Indy 500, Kentucky Derby and Rose Bowl Parade and also competing in the largest category of events and winning awards against many of those big names.
In addition to staff members and the volunteer board, the Azalea Festival depends on an army of committee chairs, co-chairs and other volunteers that help everything run smoothly, and their service does not go unnoticed. Longtime volunteer Jean Lawler, who has been involved with the festival for over 50 years and served as the 2017 president, was named 2018 Volunteer of the Year by the IFEA last fall, and in May 2017, Azalea Festival volunteers were honored by the State of North Carolina with the Governor's Volunteer Service Award.
"Our volunteers are second to none," Hedge said. "They are the most dedicated people you will ever meet. They love our town. They love what the Azalea Festival represents. Everything they do shows that 100 percent."
Despite the widespread success of the Azalea Festival that causes thousands to flock to it every year, organizers go out of their way to bring a part of it to others who might not be fortunate enough to attend. The Thursday of the festival is Community Day and involves the queen and her court visiting a local school, the New Hanover Regional Medical Center Betty H. Cameron Women's & Children's Hospital and the Brigade Boys & Girls Club.
"This year's festival is a chance for everyone to come together and honor the area following Hurricane Florence last fall," English said.
"Festivals and events are made to celebrate the community, and more than ever this year I think we want to remind people why we love to live here," she said. "We have the beach, we have the river and we have history. I just really hope that people have an opportunity to come out and enjoy themselves and Wilmington and are reminded of what our community is about. It's going to be a really special time and event considering what we all went through in September."
For detailed information about the North Carolina Azalea Festival, visit ncazaleafestival.org.