Nikki's Hibachi Steakhouse & Sushi Bar
08 Sep 2015
Nikki's Hibachi Steakhouse & Sushi Bar
1055 Military Cutoff Road
910.509.8998
nikkissushibar.com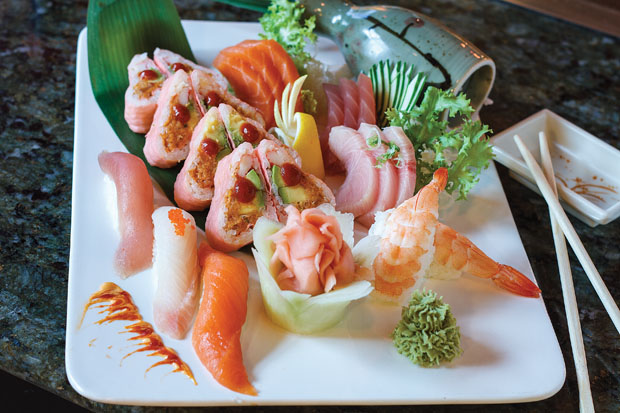 By BRIDGET CALLAHAN
Photos by JAMES STEFIUK
There are lots of wonderful places to eat in Wilmington, but good luck picking a restaurant when you're on a date with a vegan. Though in recent years the dining scene has improved, unless they really like hummus, there still aren't many menu choices at most places. So it's no surprise to find Nikki's Sushi packed on a Thursday night with young couples on their first uncomfortable dates, and older couples who have learned over the years what places will suit both his desire for fresh tuna rolls and her gluten-free, vegetarian diet.
Owner Johnny Chen and his brother Andy are both Chinese-born, and emigrated in their early twenties after training in Japan. Both have trained as sushi chefs all over the world, but Andy was the first to set up shop in North Carolina, with a restaurant in Surf City. Chen, who was running a sushi bar in West Palm Beach at the time, found himself falling in love with the North Carolina clientele each time he came up to visit. They, in turn, fell in love with his inexhaustible smile and sushi skills.
"My brother said, why don't you come here and try it? So I came up for one month, which turned into three months, and after six months, I decided to open up my own business. I told everyone back home, pack up, sell the house, we're moving here," Chen says.
The first Nikki's location was opened downtown in 2003. Based on the success of that initial venture, the brothers soon expanded. Now, twelve years later, in addition to that first Front Street location, there are Nikki's in midtown at Independence Mall, near the college on Racine, and in Carolina Beach. Their fine dining flagship is Nikki's Hibachi Steakhouse in Mayfaire, and they just opened a huge new sushi and lo mein restaurant in Southport last November, a huge boon for the Southport area. Nikki's is very much a family franchise, and the brothers each have their own locations that they manage, to keep that close, personal touch.
Each location has a little bit of a different menu. The downtown and Carolina beach locations focus on sushi, and more simple, light fare. Racine and the Independence mall locations offer more Chinese and Japanese entrees in addition to sushi, and both just revamped their menus with new dishes. The Mayfaire location has an extensive hibachi menu for larger, more celebratory parties. Sushi is most important to Chen though, it's his passion and art form. There are over a hundred different rolls in their sushi database, and he creates new ones every day for specials.
"When you enjoy it, you don't get tired. There's always something new. And the customers enjoy it too, they get excited," Chen says.
Creativity and freshness are two of the defining values of the Nikki's franchise. Chen is happy to customize for every request and dietary need, and his menus reflect that. Don't eat seaweed? Try a cucumber wrapped roll, or one wrapped in soy paper. Change up your favorites by using brown rice instead of white. Whether you're gluten-free, vegan, or just not into seafood, there is a roll for you on the menu. And Chen is used to the hesitant sushi-novice. For those easing themselves into the idea of raw fish, he recommends the Crunchy Roll, deep-fried and stuffed with salmon, crab, cream cheese, and a spicy sweet sauce, or something simple and bright, like the Sunshine roll made with lemon, avocado, and cucumber. There's also sweet, creamy inari, which is fried tofu skin, or the sweet potato tempura roll, both customer favorites. Don't worry, for the more practiced fan, there are plenty of traditional sushi rolls as well, which showcase his incredible and practiced skill.
When you are in the mood for something fancier, Nikki's Hibachi Steakhouse offers a full bar, and full menu of fried and grilled favorites from fresh-cut hanger steak to jumbo shrimp. If you head there for your birthday with three or more friends, they'll even comp the least expensive entree for you, because hey, it's a party. Nikki's Hibachi turns nine this September, and for their own birthday they'll be getting a glamorous new makeover. After all, whose mom wouldn't be wowed by the Nikki's Famous Imperial Dinner, featuring filet mignon, scallops, and lobster, all infused with that savory smoky hibachi flavor? Or a giant pile of jumbo shrimp and fresh vegetables coated in sweet, salty teriyaki sauce? Chen insists that all the food be as fresh as possible. To him, that's really what keeps his customers coming back.
Chen also prides himself on sourcing as many ingredients as possible from local fishermen and local farmers. Nikki's restaurants employ over a hundred people in the New Hanover area, and countless vendors. Eliza Santos, general manager, says the trick to their success is Chen's desire for innovation combined with a deep respect for the traditional Japanese culinary arts.
"I think the special thing about Nikki's is the loyalty of the customers. He's really gotten that part right. He has customers from ten years ago that still come to see him, and in the restaurant business, that's hard to do," Santos says.
No matter how his sushi empire expands in the future, Chen's enthusiasm for making people excellent food shows no signs of fading. From casual lunch take-out to fancy dinner, Nikki's Sushi remains a Wilmington tradition, and one of the best dining experiences to be had in town.