Nothing Bundt Cakes
04 Jan 2018
1437 Military Cutoff Rd., Wilmington
(910) 679-8797
nothingbundtcakes.com
By BRIDGET CALLAHAN Photos by ERIN WHITTLE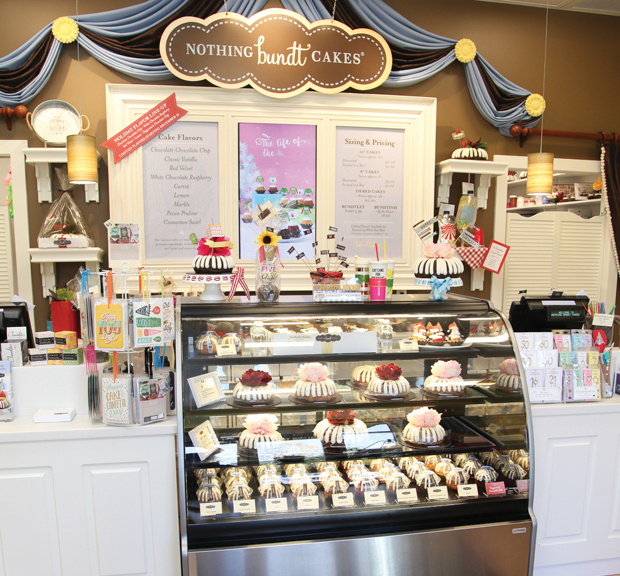 Is anything more symbolic of a celebration than cake? Birthday cake. Wedding cake. Cakes to celebrate new jobs, cakes for anniversaries, cakes for baby showers. A cake is a gathering -- a community of people coming together just to be happy, to lift up someone's accomplishments, or cheer someone up.
Cat and Greg Marinich, owners of the newly opened Nothing Bundt Cakes on Military Cutoff Road, never expected to end up owning a bakery in North Carolina. The two met when they were both students at UNCW, they got married young, when Greg was commissioned as an officer in the Army. The couple only expected to stay with the Army for four years, but four years turned into a lifetime of traveling from base to base, all around the globe. Cat became a school teacher and learned how to change schools and jobs frequently to meet the Army's demands. Twenty-eight years later, it was finally time for Greg to retire. They were living in Brussels, Belgium, their two sons were grown, and they found themselves thinking about Wilmington, where it all started.
"The Army involved a lot of team-building and pulling together on both our parts, within our family, and within our unit. We knew we wanted to open up our own business at some point. We weren't sure what, but we knew we wanted to do something where we were building another team and family," Cat says. "Moving around every three years with your family, and changing schools, it makes you creative problem solvers. Anything that happens, we just say, "Okay, well, what are we going to do?""
Two best friends in Las Vegas started Nothing Bundt Cakes in 1997, with a recipe for cake so good the company now has dozens of franchise locations all over the country. A friend of the Marinichs opened her own Nothing Bundt Cakes location in Memphis, TN and quietly suggested the couple look into the fast growing company.
She said, "It's a phenomenal company. It's super hard work, but it's a happy business," Cat remembers. "We never thought we'd own a bakery, really. But, it just fits us so well. Their values really meshed with everything we wanted to do if we opened a business."
Neither of the Marinichs had any prior baking experience, or experience running a bakery. But, they tackled the new challenge with the same tenacity and optimism they tackled with each Army posting. After months of training, with all the requisite agonies of setting up ovens and getting the wrong eggs in, they opened this past year to immediate success.
"Some of the challenge is, you don't know what you don't know," Greg says. "Even though you feel very well supported by the franchise, there are lots of things that they just can't prepare you for. But, we went into the business knowing that the combination of my military experience and Cat's teaching experience are very complimentary."
The bundt cake gained popularity in the 70s, as much for its iconic look as its tastiness. Nothing Bundt Cakes does, in fact, carry nothing but bundt cakes. With ten flavors, and over 400 decorating and design options, the brand has become a party designer's dream. No matter what the occasion, you can find a design that will wow, and throughout the colorful store, you'll also find all sorts of little gifts and cards to complement the party. However, the main thing is, they make an exceptionally good cake.
"I can be confident, relying on the fact, that this product sells itself. Even if I am getting into my first business, at my age, and having never owned anything like this before," Greg says.
"Yeah, people just flip over the cake," Cat adds.
The cakes come in four different sizes. There are the regular 8" and 10" bundt cakes, frosted, decorated, tiered, however you like them. The individual bundtlets are perfectly sized for two people to split after dinner, or for one person to huddle down for an afternoon of snow-bound reading and coffee. And lastly, the little bite-sized bundtinis, are sold by the dozen. The flavors are all across the board, from crunchy praline to bright lemon. Greg's favorite flavor is the white chocolate raspberry, while Cat prefers the chocolate chip-studded red velvet.
Each month or two brings a new seasonal flavor. October and November was, like the rest of the world, dedicated to Pumpkin Spice, and December was the decadent Peppermint Chocolate Chip. January's feature will be Chocolate Turtle, and February will see the return of Confetti - a flavor so popular last September, they're soon putting it on the permanent menu. Of course, in addition, the shop will have lots of beautifully wrapped cakes and gifts for Valentine's Day on hand.
The Marinichs wanted a business that would allow them to build relationships with people and make their customers happy. But, the nicest part of their story, is the happiness this store has brought them.
"One of the most exciting things," Cat says, "is that our two sons have both decided they want to be a part of this. They were doing their own thing, attending school and working outside Wilmington. But, now they've moved back. Our older son, Jack is now our baker, and our younger son, Nick has been with us since we opened. Nick has done everything. He was a dishwasher, and then he was out front, now he delivers and also helps bake. It's truly become the family business we had hoped for."
After a lifetime of packing, traveling, and saying goodbye, a bakery in Wilmington has not only brought the Marinichs all back together, but also given them a reason to stay put for good.