Off to a Flying Start!
04 Jan 2023
One of Wilmington's largest breweries has expanded its machine — and is loving every second

By Kim Henry » Photos by G. Frank Hart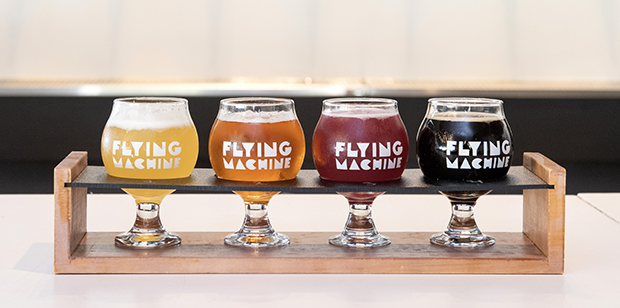 Flying Machine Brewing may be churning out fine beverages like a well-oiled production line but there is nothing standardized about their innovative creations. In fact, the dynamic duo behind the machine were so inspired by their original brewery on Randall Parkway that they couldn't resist when an ideal spot became available close to Wrightsville Beach, leading to the second location opening in the fall of 2021, complete with a mouthwatering menu of food, beers and cocktails.

Grant Steadman and David Swegart, old friends from their college days at UNC, left their respective lawyer and investment banking careers, to follow their dream. A mere few years later, COVID-19 pandemic and all, the pioneering owners are excited about the recent expansion. "It was a little tough to take the leap, but we are stoked to be doing something we are passionate about," shares Steadman, from the stylish comfort of the Taproom and Kitchen. Renovating the old sports bar to align with their signature relaxed, yet bespoke brand has manifested a spacious, light venue with a seating capacity of around 120, two separate bars and an events room. A large front deck accommodates outdoor dining when the weather permits, and one of the Taprooms many perks is easy, ample, and free parking.

Steadman is the first to credit the entire Flying Machine team for the ever-growing success of its new venture. His award-winning Executive Chef, Ryan Jankowski, found himself in the kitchen at a young age and has never looked back. "I consider myself a global cuisine chef. I am French trained with a background in many different cuisines. I try not to let any of them define me but to center them with a Southern touch," enthuses Jankowski, whose love of coastal cuisine combined with his own personal flare drives the interesting Flying Machine menu. Alongside more traditional pub food of loaded fries and burgers, there's a myriad of eclectic flavors, with an emphasis on seafood, providing something for a wide range of contemporary culinary needs.

Accompanied by a choice of house-made fries, BBQ chips, salad or simple greens, you can opt for one of the distinctive handheld burgers, including a Southern-inspired cornmeal fried oyster burger in a brioche bun. Vegetarian, vegan or gluten free? The Flying Machine has got you covered with options such as a made-from-scratch cauliflower patty with pickled beets and mushrooms, slavered in a tahini and miso sauce. If one of your party is hankering for something a little different, the additional entree choices include duck breast, 6oz Denver steak, and a house-made shrimp and oyster pot pie, one of Steadman's personal favorites.

Celebrating the best of coastal living, the Flying Machine team sources fresh, sustainable local ingredients as much as possible and make a point of appreciating their cliental. "Our love for this area is a big inspiration for us, from the intracoastal waterway and beaches to the businesses and people surrounding us. We love to give back to our community whether as an oyster roast, hosting dinners for organizations like Surfers Healing or just talking to a guest coming in for a beer and loaded fries," shares Jankowski.

Nurturing a welcoming sense of community seems to be as much a priority as delivering a delicious culinary experience for all. In addition to the events space and a few TVs for sports lovers, the Taproom hosts trivia nights on Wednesday and live music and brunch on Sundays, complete with special menus.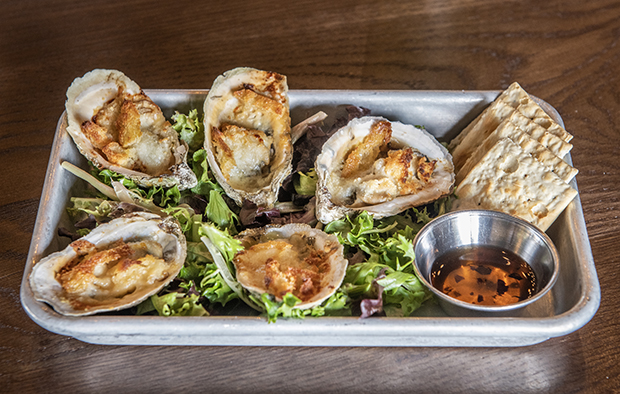 But let's get back to the roots of the machine—its innovative beverages! In addition to around 20 different house-brewed beers and a selection of ciders, the Taproom is also gaining a well-deserved reputation for delicious cocktails. NC-native Brian Pratt is the force behind the liquid temptations which range from classic margaritas and daiquiris to his very own originals. With nearly 20 years of experience behind the bar, the Beverage Director's combinations include a maple fig bitter with bone marrow, washed bourbon or prosecco, and chai and tequila to cite a few of his tantalizing blends.

The menus change on a seasonal basis, with the whole crew firmly dedicated to keeping their ocean-to-table themed dining and innovative drinking experience fresh and new for everyone involved. Committed to a fair price point, even in this challenging climate, the Flying Machine Taproom and Kitchen has certainly risen the bar in more ways than one. flyingmachinewb.com or flyingmachine.beer